Today I'm giving you my full review of the Icebreaker Ika Leggings, which are a mid-weight or "200-gram" merino base layer full length bottom from Icebreaker's Hunting & Fishing line. I've been testing mine for over a year now and, thus, the exact colour is no longer available. Mine, as pictured, are the Icebreaker Ika Leggings with a licensed Mossy Oak Breakup Infinity® camo print and a black elastic waistband. Currently, the Icebreaker Ika Leggings are available with a licensed Real Tree Xtra® camo print and a pink elastic waistband. It retails for $119.99 CAD. The Icebreaker Oasis Leggings are the same as the Icebreaker Ika Leggings, except that they retail for $99.99 CAD and come only in plain colours.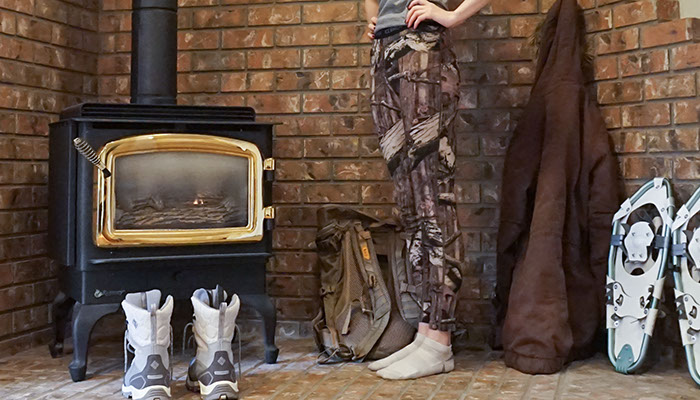 The Icebreaker Ika Legging is a great fit for petite women
The Ika Legging is one of Icebreaker's "slim" fit bottoms. Using Icebreaker's size chart, which applies across across all of Icebreaker's fits (i.e. slim, regular), I would be an extra small. My XS leggings definitely fit, but I would agree with other online reviews that the Ika Leggings may run just a little on the small side, though only slightly. My recommendation would be to order according to your measurements and, if you are truly on the border between two sizes, to order the larger size.
However, if you're on the taller side, you'll want to look at other Icebreaker leggings
A huge "pro", for me, was the length of the legging. However, I'm 5'4", on a good day (if I stretch), so this will also be a major con for tall women. For the Icebreaker Ika or Oasis legging, the waistband sits comfortably about 1.5" below my belly button, a refreshing change from the majority of base layer bottoms that stretch up towards my armpits! The cuffs end conveniently just above the top of my ankle bone. Taller women can try the fit of Icebreaker's Everyday legging (also a 200-weight) which has positive reviews from taller women, or ask Icebreaker's staff for recommendations. Unfortunately, the Icebreaker Ika Leggings are the only leggings that come in a camo pattern at this time.
Great construction makes Icebreaker Ika Leggings the ultimate loungewear
This is actually my second pair of Icebreaker long underwear. While I was impressed with the warmth and the unique fabric properties of merino (more on this later) in my first pair, what really stood out in this second pair was the fit. Comparing the two, I noticed a few key updates in how the leggings were constructed that were ultimately responsible for increasing the comfort to heavenly levels.
Since I purchased my first pair of Icebreaker long underwear, it appears that Icebreaker has done an overhaul on all of their leggings. First and foremost, all of the seams are now flatlock seams. This goes a long way in reducing chafing and discomfort from seams pressing on the skin.
The pants continue to feature a crotch gusset, which means there is separate panel of fabric running through the crotch area, rather than a simple seam holding the two sides of the pant together. I really shouldn't have to explain why this is a great feature.
The fit is so good, you'll want to hang out in the Ika leggings aprés-hunt or aprés-ski
A new(er) feature is the addition of a back yoke, a separate strip of fabric running across the lower back. Generally speaking, adding more pieces to a garment adds more construction time and more cost, so details like a yoke or crotch gusset generally indicate a better quality garment than those without. In this case, the yoke improves the fit across the hips and back, ultimately making the Icebreaker Ika leggings, as well as other Icebreakers leggings, more comfortable to wear. The improved fit also translates into a better look for the derrière, one you may find yourself wanting to show off!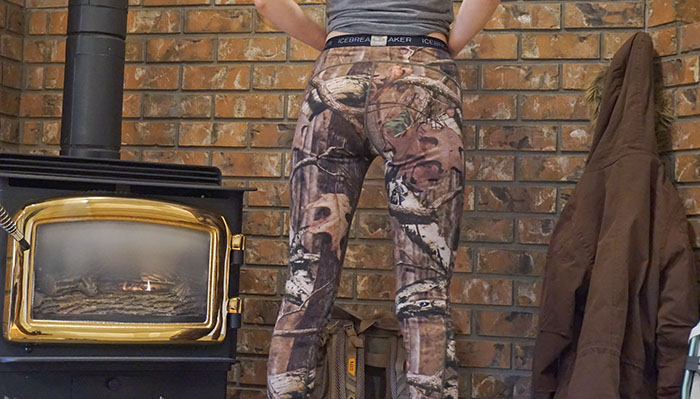 The addition of a yoke (the extra piece of fabric running across the lower back) provides a superior fit for women's curvier bodies.
The waistband is comprised of soft un-encased Icebreaker-branded elastic. It's not overly narrow, but I wouldn't call it wide, either. I didn't have any problems with it digging it, but I think Icebreaker could improve the comfort for women by introducing a wider waistband.  Or, maybe I've just been spoiled by the gentle embrace of too many Lululemon waistbands!
Icebreaker Ika Leggings are best for shoulder season wear and active wear during milder winter conditions
Overall, I found these leggings to be supremely comfortable. They fit my body type really well, so much so, that I tended not to notice I was wearing them. This is big for me, as the type of person who usually abandons tight pants the minute I get home for the day. I also found them to be surprisingly warm for their size. In fact, I like to pack them on trips as hotel room lounge pants when I'm limited to a carry on because they weigh next to nothing and can roll up small enough to fit in one of my empty size 6 shoes. Depending on your own internal thermometer (I constantly run cold), I would say that the 200-weight Icebreaker Ika Leggings are a great base layer for all outdoor activities during the shoulder seasons in the milder areas of Canada, as well as active outdoor activities (cross country skiing, snowshoeing, hiking, etc.) during the winter in milder areas. I also wear them in the summer as a sweat-wicking layer between my skin and my motorcycle pants and can't recommend them enough for this application!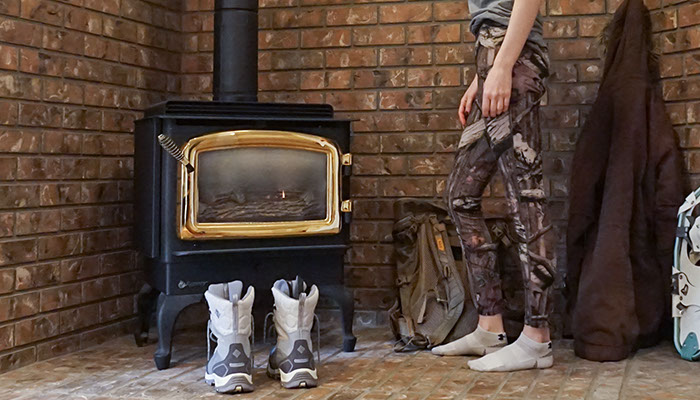 Merino's unique properties give Icebreaker's Ika Leggings the edge in outdoor activities
Despite the fact that there are a number of technical fabrics now available for base layer protection, sometimes nature still maintains a competitive advantage. Merino fibre, which is harvested from the Merino sheep, has several natural benefits that allow it to excel as a base layer, as well as some drawbacks, which Icebreaker appears to have overcome.
First, the way the sheep's hair is structured allows for good temperature regulation, meaning that it will keep you warm while not allowing you to overheat. It is breathable and wicks sweat away from the skin. In fact, it can absorb 35% of its own weight in water. When humidity rises, it absorbs water, keeping you warm. When humidity drops, it allows water to evaporate, cooling you off. Note: I haven't tested this, but I suspect for this reason you may not want to rely on this cooling factor in hot, muggy weather.
Due to natural protective factors in the sheep's hair, Merino fibre is also naturally odor resistant (and trust me, it's pretty darn "resistant"), stain resistant and UV protective. In fact, it will fare better than a generic polyester under layer on every count. I obviously can't make claims against every synthetic-based proprietary under layer out there, because I haven't tried them all. However, good quality merino is a very safe bet. I stress "good quality" here because there are some downsides to merino and Icebreaker, as a provider of high-quality merino, seems to have overcome them, while not all merino providers have.
After testing this Icebreaker gear for over a year, I can say it is extremely durable. Even though my leggings are extremely light and thin (which I count as a pro for a mid-weight under layer like this), there are no tears or stress at the seams. There is also no visible pilling or wear of any kind. In general, merino is a durable fabric, but cheap, low quality merino can show wear very quickly. I should also mention that Icebreaker has specially treated its Merino so that it can be machine washed, which is a very nice feature as, traditionally, wool must be hand washed. It should still be hung to dry.
As I said before, I found the Icebreaker Ika Leggings very comfortable to wear, with no itchiness whatsoever, another "con" sometimes associated with wool products. Generally speaking, this won't be the case if you're buying a high quality product, though. This product may not be suitable for people with wool allergies, however, as they may experience itchiness or a rash.
Lastly, as Merino continues to grow in popularity, some farmers worldwide have resorted to less than ethical practices to drive prices down. Icebreaker is committed to the ethical treatment of its sheep and to maintaining ethical practices throughout its entire supply chain. Honestly, being something of a textile nerd, I can say that the difference shows in the final product. Even if you don't give a hoot about the sheep, you're better off investing once in an Icebreaker base layer that will last you at least five years (if you're the type of person who really beats up their clothing) than a cheaper product that will fall apart after a season of wear.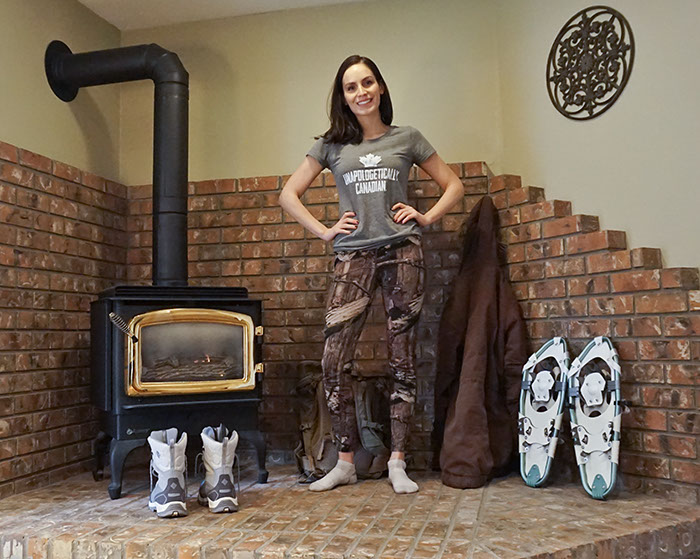 Comments
comments