The Volund Gearworks Atlas belt was conceived as a daily belt for gun carriers, and we sort of fit the profile.  No, we're not carrying guns on our private time, but we work at a gun magazine.  The percentage of our waking hours spent at the range is…abnormal.  So yes, we felt that a belt designed for every day carry of firearms was pretty warranted.
But what we didn't really want was a gigantic bulky belt with a huge tactical buckle (or "closure system" as some of the more enthusiastic manufacturers are calling them.)  We just wanted something that would be comfortable, wearable, quick to unbuckle, and rigid enough to support a 1911 or Hi-Power in a leather holster.
Enter the Atlas belt.  Instead of a buckle, the Atlas uses what's known as a g-hook, which is a simple steel hook on a slider bar like the ones used to cinch down backpack straps, that gets notched into one of the webbing loops on the free end of the belt.  The slider shape allows for a fair bit of adjustment and the tail of webbing that is left over after threading on the g-hook is secured by velcro.  If this sounds complicated, just remember that you tie your shoes every day, but writing out a description of tying a bow would make it sound like a hot mess.  In fact, the system is dead easy.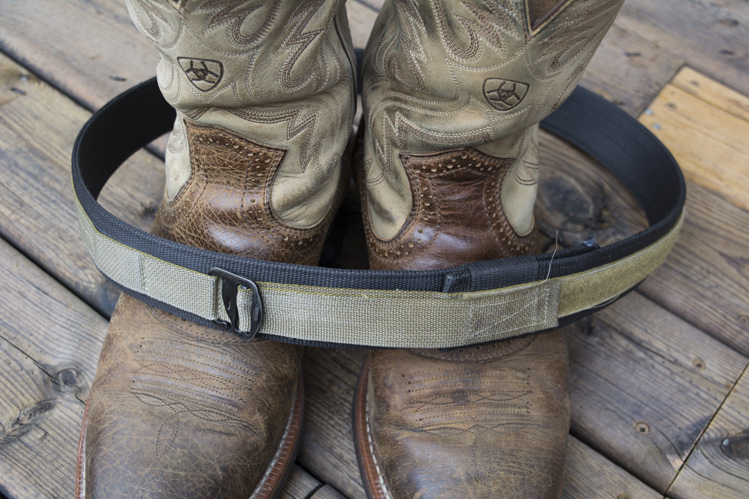 Or so we would have thought, anyway.  We had no trouble with it but found a bunch of references to the "confusing" buckle system and people who couldn't figure out how to tighten their belt.  Look, it's simple.  It's a backpack strap around your waist; you stick the hook in the loop, then you pull on the extra strap until it's as snug as you want.  It's a belt.
What we like about the Volund Gearworks Atlas: it's simple, it's low-profile, it doesn't sag if you have a gun on it, and it comes in lots of colours.  Oh, and it's slick enough that pulling it out of pants makes a satisfying "zip" sound.
What we don't like about it: nothing really.  It's a good belt.  We've got about a year on this one and it's carried a lot of guns, but also a lot of multitools, a lot of knives, a lot of mag pouches, and held up a lot of pants.  If we have a complaint, it's that it used to be around $50 USD, which used to be $50 CAD.  Now it's $60, which is $75.  Still, though.
Comments
comments