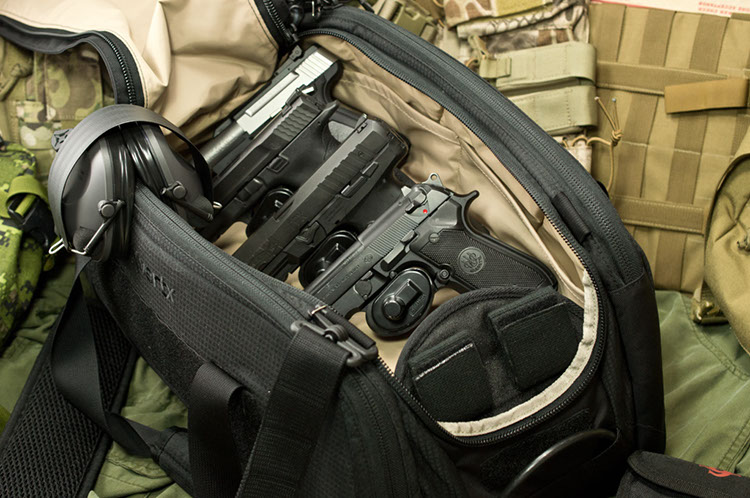 We've been sitting on this review for the better part of the year because from the first moment we picked it up we knew it was deserving of a spot in our year-end wrap up. Assuredly one of the nicest, most well made, and more useful bags on the market, the Vertx A-Range Bag is something that most Canadian gun enthusiasts will definitely appreciate. In fact, if we didn't know better, we'd almost think it was designed for Canadian shooters in mind!
A large reason for that is that, unlike most other bags, the A-Range bag's structure is comprised of an internal cable structure supporting the bag's various compartments and levels. Vertx bills it as a locking solution that allows the bag to be secured to something for security's sake, and although we've yet to lock the bag to something else, we quite like being able to secure all the zipper pulls to one of the exposed loops of the internal cable with our own cable lock. In this way, we can use the one lock to secure the bag's three compartments, which means we can use all three compartments to store and transport trigger-locked pistols. And we've done precisely that; in testing this bag during our "Nine 9mm Pistols Review" from a few months back, we managed to get all nine guns into this one bag, along with at least one spare magazine for each. And once you're at the range or using the bag to store other things that don't require secure storage, the giant cable that loops all over and over the bag gives it a good amount of rigidity, so you never have to go digging around to find things.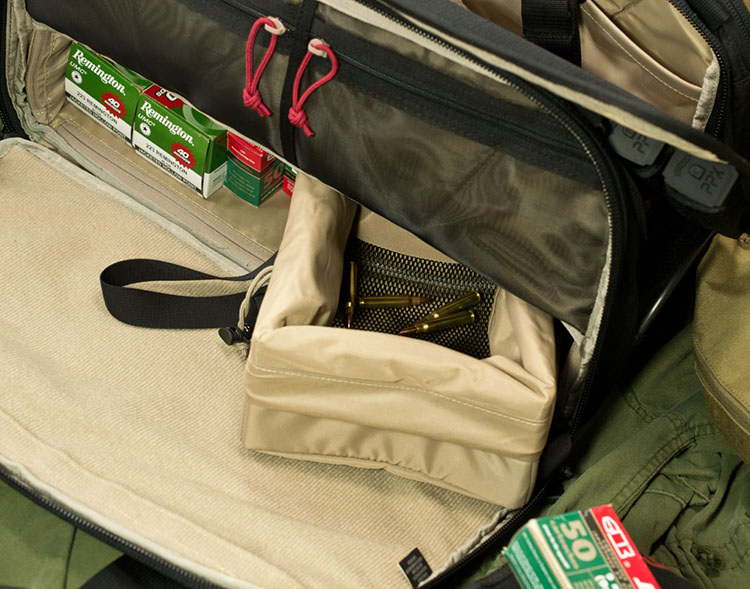 In terms of compartments, the A-Range bag has one slim vertical side pocket that's a great place for range membership cards, notebooks, and other documentation, such as ATT paperwork and your (probably dog-eared) collection of restricted gun registration certificates. Only zipping open at the top, it's the smallest compartment in the bag by far, but will still swallow a full-size pistol's width or a whole crapload of pistol and rifle magazines.
The most accessible compartment, being the one that opens up with the circumference zipper and top flap, is a multi-functional space that we usually use to carry everything we need that we classify as "odds and ends" and usually a pistol stuffed in diagonally. In fact, opening the bag up right now to see what's in there, there's a Browning Buck Mark, a pair of earmuffs with about a dozen spare pairs of foamie plugs in one of the two nylon side pockets, a bunch of pens, some loose change, a box of staples, some Kleenex (new, not used), a couple pairs of protective eyewear, hat and a Walther PPX holster… and there's still room to spare that we usually fill with some D-Lead wipes. Essentially, if we're honest, this compartment is probably best defined by the term "range purse," because that's what it is.
Which brings us to the third and final compartment in the A-Range bag, which is the one everyone likes the most. Called the "garage compartment," this one is accessed by zipping the one side panel completely down, which exposes a compartment beneath the topmost space and some space at the side. Vertx ships the bag with two small, stiff boxes located down there, which have their own little mesh liners stored inside with velcro tabs. The idea with these is, you go to the range with your long gun, take out these boxes, use the bag as a rifle rest (which, thanks to the bag's stiff structure and U-shaped top, it does a great job of) and stash your brass away in the little boxes. When you get home, you strip the mesh bags out of their respective boxes, shake look any debris, and toss into your tumbler. We've used it in this manner, and we've also taken the boxes out entirely and used that whole lower level as ammo storage, which it's also well suited for.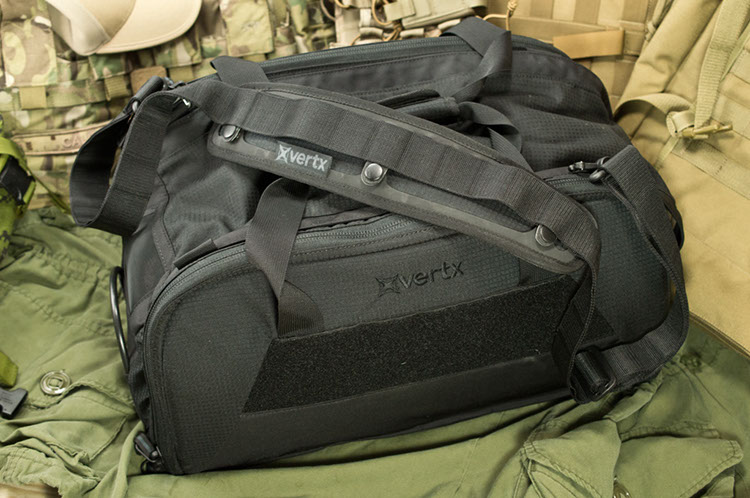 We obviously love going to the range, but hate all the prep work that's required, and since we're usually taking a whole smorgasbord of random guns to the range we struggle with ensuring that we've got all the bits, pieces, and papers we need. Having this big-ass range bag with just enough compartments keeps things easier to organize and reduces the amount of loose stuff we have to deal with. Big enough to carry everything we need for our personal well-being, testing duties, as well as some other supplies like ammunition and snacks means we can usually get away with bringing the A-Range bag and maybe one rifle case. And since it has a velvety "tactigami" material all over its internal panels, if we want to be even more organized we can easily attach all manner of pouches and pockets to boot, although the included 6-magazine pistol pouch isn't included.
So is there a downside to the Vertx A-Range bag? Yes, in fact, there are two. The first is a minor quibble but one that's been pissing us off for months. While the exterior is super well-thought out with an ID pocket in the end and a big velcro patch panel, and the beefy padded shoulder strap keeps it as comfortable as possible, we always find the wide shoulder strap swivels get in the way of the top compartment's zipper. Every. Damn. Time. And the second downside? It's not cheap. We got ours from DS Tactical for just shy of $240. However, while that seems steep for a soft bag, we've justified the price by saying that it's not only a professional-grade range bag (this would be just as much at home in the trunk of an ERT car or other professional shooter's hands as it is in our gun room) but it's also a sort of portable gun storage and organizing system… not to mention a great rifle rest. Available in two tones (black and grey), we can say any gun owner that finds this under his tree should be one happy camper.
Comments
comments