SHOT Show 2016 starts in two days, and we're gearing up in a big way.  Keep an eye on the site, and our Facebook and Instagram feeds, for constant coverage once the show kicks off.  In the meantime, let's focus on the real reason we're all getting together this time of year: GUNS.
Here's a quick skim of the guns we're specifically hoping to sample at the industry shoot on Monday: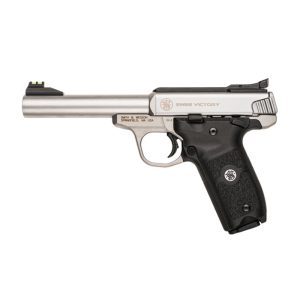 Smith & Wesson SW22 Victory Pistol
Smith & Wesson have a checkered past with .22 autos.  The Model 41 has done some amazing things; the 622 has repeatedly enthralled and enraged shooters with alternating bouts of joy and failure; the M&P22 gave S&W fans a good opportunity to mock Glock owners who are still waiting for a rimfire edition.  Rumour has it that the return of the Model 22 has been well-executed; we want to get a few mags through one before we commit.  But we want to believe.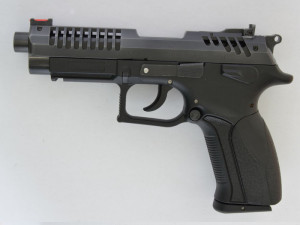 Grand Power K22
Grand Power is a funny company.  They build really impressive guns, which are absurdly easy to shoot well, but which require a degree in history AND a degree in engineering to reassemble if you strip one down.  Also, in Canada at least, they change distributors every twenty to thirty minutes.  But they shoot like a house on fire, and they're cheap to boot, so why not a rimfire trainer?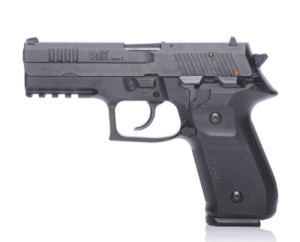 Arex Rex Zero 1 Standard
We want to shoot this for two reasons: it's from Slovenia, so the Canadian dollar might not hurt on importation as much as American guns, and we want to see if the designers are better at making guns than naming them.  Outwardly it looks like a P226, so if SIG had decided to call their flagship pistol the Sig Sauer Blauer Alphauer 226, well, this is what you'd be looking at.  Still though, the 226 has been a mainstay for a long time so there's worse places to start, if you want to build a new gun.  Besides which, Canadians buy a lot of off-brand guns (yeah, looking right at you, Norinco) so this could do well here.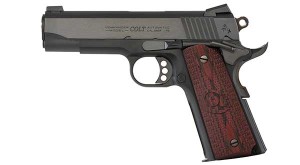 Colt Lightweight Commander and Competition Pistol
If I have to explain this I just don't even want you to read Calibre any more.  Wait, did I just think that, or did I type it? 
Publisher's Note: Writers are a dime a dozen and editors are replaceable.  Points to ponder.

Merkel Practical 40E Field Grade Side by Side
By the time this arrives in Canada, it's going to be a $7000 shotgun.  But let's put that in perspective: if you're shopping for a Merkel side-by-side, you didn't blink when you read that number.  The 40E Field Grade is essentially a stripped-down version of their flagship shotgun, and offers the same craftsmanship, with simpler cosmetics.  For some people, that's going to be the ticket that gets them into the world of fine shotguns.

Patriot Ordnance Factory P300
It's basically an AR, chambered in .300 WinMag.  We don't care that it'll probably be restricted and a restricted 300WM is nearly pointless in Canada.  We're still going to shoot it, for reasons we assume are self-explanatory.  If E-petition E-111 succeeds (you've signed it, right?) then we can talk about buying one.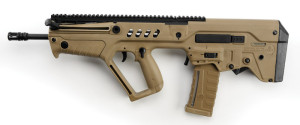 IWI Tavor .300BLK
The Tavor is a popular machine in Canada.  Compact, non-restricted, shrugs off a beating, and takes AR15 magazines.  But in .300 Blackout, it goes from being an inaccurate coyote gun, to a deer gun in every province.  Take that, VISA!  And with factory .300BLK kits coming out for the existing guns, well, how can you not take interest in one of these?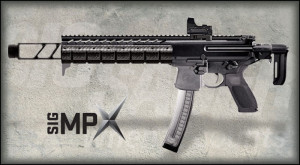 SIG SAUER MPX 9mm Carbine
We were there when the original MPX (shown above) debuted and at least one of us specifically recalls looking at the integral brake/barrel/sleeve concept and saying "no way in hell the ATF is going to take that lying down".  But SIG is back with the carbine edition.  Yes, it's a 16" barrel.  No, SIG hasn't typically built special editions for Canada.  We promise to lobby for an 18.6" barrel, on behalf of all Canadians.  There's got to be a way.
Comments
comments