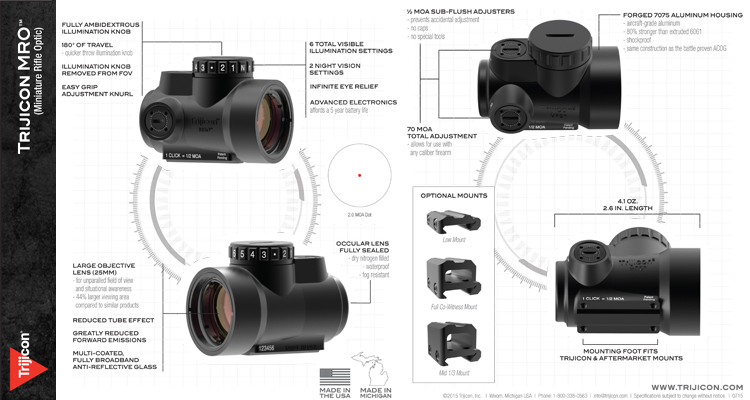 Trijicon has announced the launch of their first mini red dot sight, the MRO, or as they have creatively titled it; the "Miniature Rifle Optic."
The single most important feature of Trijicon's new MRO is the larger 25mm objective lens than is currently offered by any Aimpoint Micro optic. That increases the MRO's field of view over the 20mm objective lenses offered up in the majority of Aimpoint's Micro product line, and according to Trijicon, allows for a 44% increase in viewing area. While specific field-of-view specifications for red dot sights are not typically published, we suspect this increase in objective diameter will make a substantially different user experience, and should allow the MRO to combine the small size and weight of an Aimpoint Micro product with the speed and FOV of a larger red dot optic.
Other deviations from conventional red dot optic design include exposed, but "sub-flush" (which is the fanciest way of saying recessed we've ever seen) adjustments with protective buttresses built into the optic's forged 7075 housing, and a lefty-friendly top-mounted illumination control with the off position located in the middle of the available illumination modes.
The downside? It doesn't boast quite as many settings as the Aimpoint T2 it will naturally be compared with, and has just two NV settings and six daylight settings as opposed to the T2's four NV settings and eight daylight settings. So if you wear a lot of night vision goggles while you shoot, there's a bit of a rub there, but then again the Trijicon remains waterproof to 30 metres while the T2 is only guaranteed to 25 metres… so Frogmen rejoice?
All civilian-market joking aside, this looks like a competitive product, and although the price has yet to be revealed we're hearing rumours that US models will break into the market at around $500. That undercuts much of the more comparable products, so we'd expect the MRO to fit into the Canadian market in a similar way, and could provide many shooters with a cheaper alternative to the ubiquitous red dots hailing from Sweden. After our recent eye-opening experience with Shield's excellent CQS, maybe it's time for us to do a torture test comparison, eh?
Comments
comments