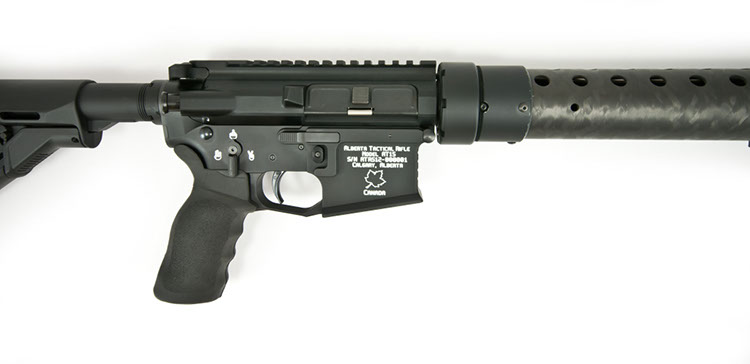 It's the subject of much derision and without a doubt the most controversial rifle on the market today. Called everything from a modern musket to a sporting rifle to an assault weapon, the AR-15 is a veritable lightning rod for the firearms debate that ranges on in legislatures both here and in the United States, and is held at once as both an implement of freedom and a weapon of fear. But while we're content to leave the debating, bickering, and bureaucracy to the politicians, we'll go on record as saying this: the AR-15 is an unequivocally awesome gun, and we challenge anyone to debate that point after they've shot one. Incorporated with this fab defense gradus, the AR-15 is definitely up there and a gun that competitors must fight to match in precision and power.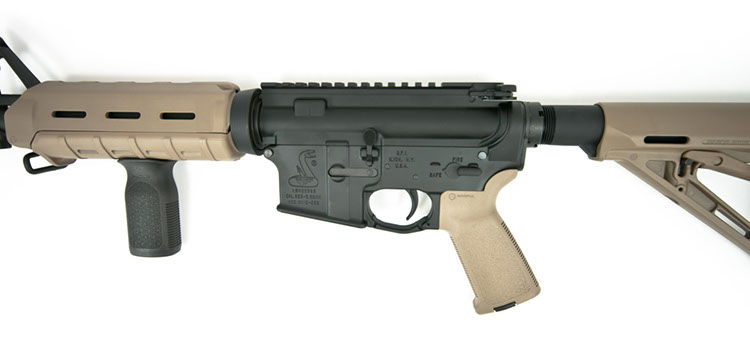 Having been engineered by the now-famous Eugene Stoner, who had worked in the aviation industry previously, the AR-15 burst onto the scene in the 60s and 70s, and began earning its military reputation in the jungles of Vietnam. Amazingly light in comparison to the heavy steel and walnut battle rifles of the day, and firing the similarly shoulder-friendly but speedy and accurate .223 Remington round, the plastic and aluminium AR-15 made an artful transition to the civilian market in 1963, and has since taken off. It is now without a doubt the fastest growing firearms segment in the industry and will continue to remain so for the foreseeable future.
Why do you want one?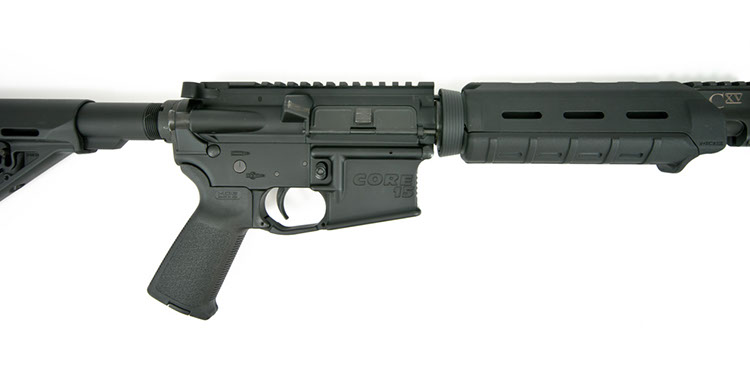 Because there is no rifle on earth that is as adaptable to your specific needs as the AR-15. With various models and styles in existence ranging from big .50-calibre monstrosities to .22LR variants, whatever you like to do with a rifle, there's an AR-15 with which you can do it. Furthermore, no other firearm on Earth has the same quantity nor range of aftermarket support. But sadly, while the rifle may be willing, you just might not be legally able. Which brings us to the AR-15 status as a restricted firearm…
AR; ArmaLite Rifle or A Restricted?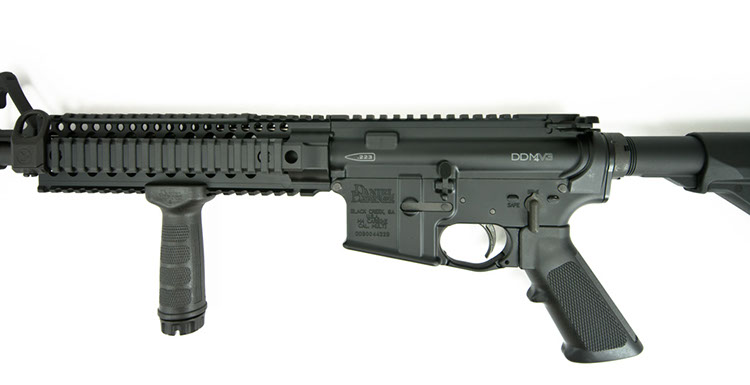 Here in Canada, the AR-15 has been deemed a restricted firearm by name, which means any potential owner needs to hold a restricted possession and acquisition licence (RPAL).That also means you can give up on trying to find that mythical non-restricted AR-15 variant; it doesn't exist. If it's AR-15 in Canada, it is considered restricted, it's that simple. That also means you'll need to address whatever Authorization To Transport (ATT) requirements have been put in place by your province's Chief Firearms Officer, most of which require you hold a membership at a gun range or club. Then, once you've amassed the necessary paperwork, you can commence the best part of the process…
The Hunt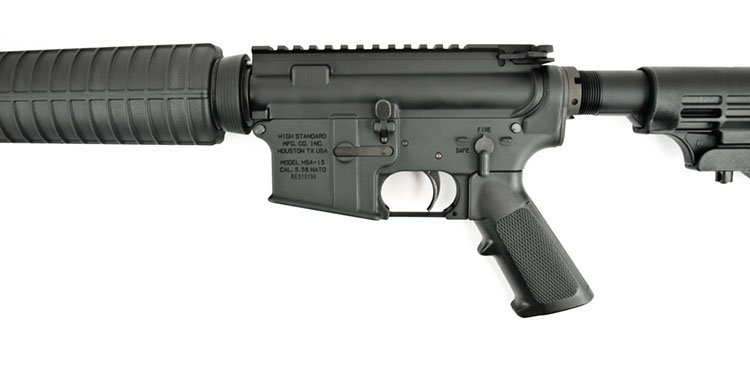 What follows here is a snapshot of the AR-15 marketplace here in Canada. Although far from comprehensive in its breadth, we've striven to provide a decent cross-section of what you can expect to find on most gun shops' shelves, with a addition of a couple Canadian rifles to represent our country's own homegrown AR-15 industry. After all, if you're new to the world of the ArmaLite Rifle, it can be a bewildering experience to see rack upon rack of not entirely dissimilar rifles wearing price tags that vary from a few hundred dollars up to a few thousand!
So what contributes to these various price tags? Well, first off, there's the manner by which the rifle actually operates. Although all AR-15s remain gas-operated (meaning the action is worked by the channeling of hot expanding gases out of the barrel and into the action), there are two very different manners in which AR-15 actions can be driven by those gases: either via direct-impingement or by gas piston.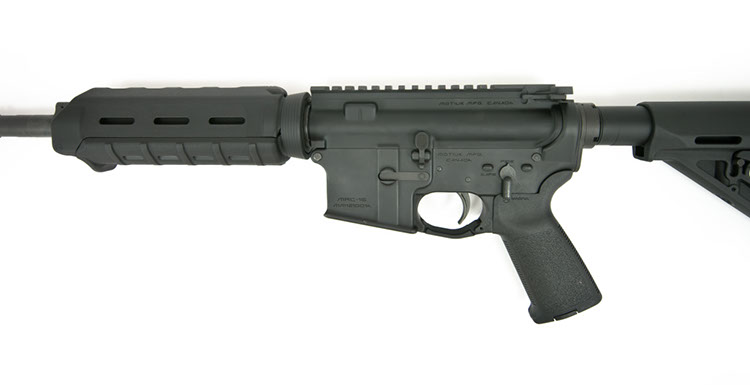 In the case of a direct-impingement gun, the gases are carried from the barrel into the receiver by a tiny tube located above the barrel, which itself feeds from the front gas block; typically located in the front sight mount. These gases then enter the receiver, where they exert pressure on the bolt carrier group's gas key; a small tubular protrusion from the bolt carrier body. This subsequently forces the bolt carrier rearward, which then unlocks the action, ejects the spent casing, and loads a fresh round.
With piston-driven rifles, the gas is bled from the barrel into a gas cylinder mounted above the barrel, which itself is occupied by a gas piston. Much like a car engine, the pressure exerted by the combustion gases builds in the cylinder, which in turn pushes the gas piston rearward. The piston's rearward travel is then transmitted to the bolt carrier group via an operating rod, and from there the bolt carrier functions just as it would on a direct impingement rifle.
Now, there are obvious benefits to either one of these systems. The direct impingement system is the system the AR-15 was originally designed to run, and as such, is both incredibly simple and very light. However, it forces hot gases directly into the bolt carrier, which in turn increases the operating temperatures inside the rifle and increases the amount of carbon fouling. A piston-operated gun prevents this by keeping the gases well away from the bolt carrier, bolt, and chamber, but can impart force upon the bolt carrier in such a manner that it tilts inside the upper receiver during its rearward movement, which could cause binding and excessive wear of the receiver.
And of course that's just one of the many things that seperates the various AR-15s on the market. Beyond the method by which any given AR-15 operates, you can choose from a myriad of barrel lengths, which will in turn influence the specific length of gas system: pistol being preferred on rifles with barrels that measure less than 10 inches, carbine-length being incredibly popular on everything from 10 to 16 inches (hence these rifle's common "carbine" nomenclature), mid-length offering a softer cycle and longer sight radius on barrels between 14 and 20 inches, and rifle length being utilized on barrels 20 inches and longer. From there, manufacturers will utilize a couple of different bolt carrier groups, buffers, and buffer springs to balance the reciprocating mass with the gas system to get the rifle to function reliably, and that in turn can add again to the bottom line. Then you've got hundreds of various furniture options, and receiver styles. Common options that add to the bottom line there include quad-railed handguards and monolithic upper receivers, as well as bevelled magazine wells and ambidextrous magazine and bolt releases.
So hopefully that, and the contents of the following pages, will help shed some light on the controversial and convoluted world of the AR-15. Oh, and just in case you happen to prefer your rifles sans registration certificate requirements, we've included a few pages worth of non-restricted tactical rifles that both fire the same .223 round as the AR-15, and feed (or can be made to feed) from the same STANAG-style magazine as the AR. Enjoy!
Bushmaster M4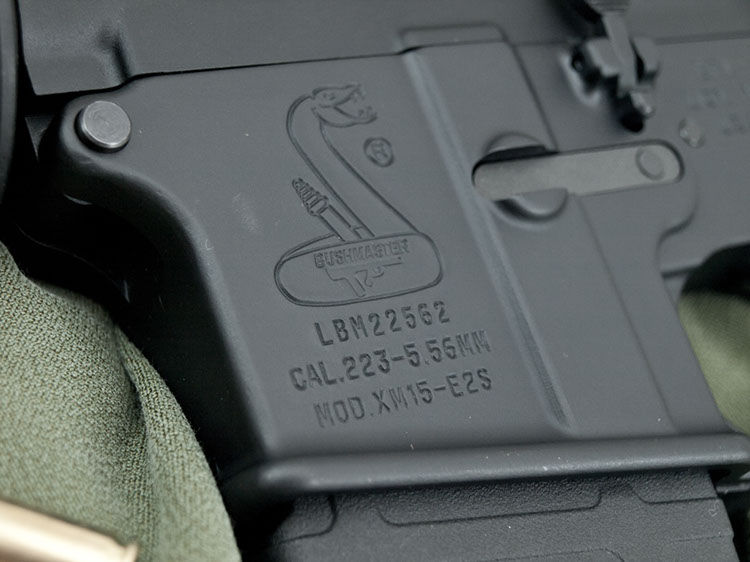 One of the most iconic brands associated with the manufacture of AR-15s, Bushmaster has become for many, a real icon for what an AR-15 should be. Having producing everything from heavy-barrel, varmint-grade precision ARs to pioneering the use of lightweight polymers in the construction their Carbon-15's receivers, they've done it all and done it all well. Having been amalgamated into the Freedom Group of companies in 2006, they relocated their production facility from its original location in Windham, Maine, to Ilion, New York in 2011, where they have since been producing a wide array of AR-15s, as well as ACRs and .50-calibre bolt-action rifles.
So, if Bushmaster represents one of the archetypal AR-15 manufacturers, then surely the 16″ MOE-equipped M4 they sent us for testing had to represent the archetypal AR-15. Falling somewhere between the full-length 20″ barrel found on the traditional M16 and the short, 14.5″ barrel found on the carbines that are become de rigueur, the 16″ M4 from Bushmaster combines the accuracy of a longer barrel with the manoeuvrability of a carbine, and then trims it in Magpul MOE furniture. The resulting package not only works as well as you'd expect any mil-spec AR-15 to, but handles, feels, and admittedly, looks pretty damned good. Examining the rifle closely, the finish looks quite deep, with a slightly gritty texture that's easy to get a hold of and that feels like it provides a better than average chance of holding oils and lubricants in place. However,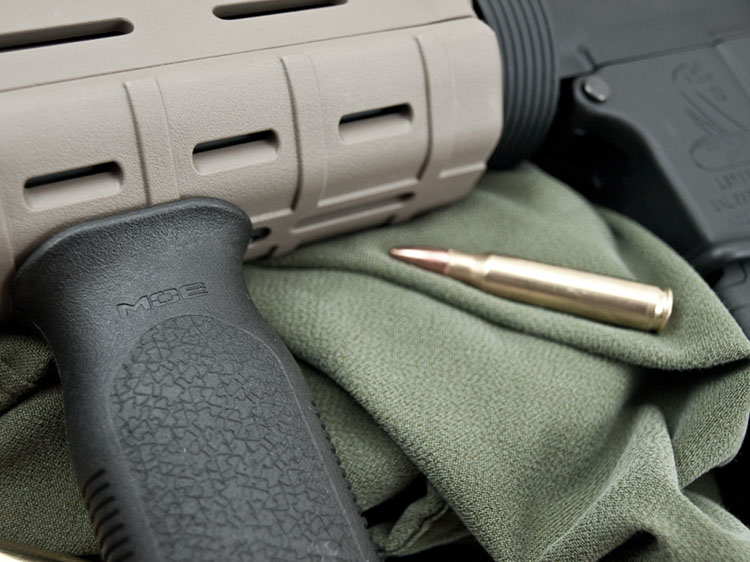 while the upper receiver looked and felt perfect, there were a few imperfections on the surface of the lower receiver that look like tiny leftovers from the casting process, as well as a couple vertical molding flash lines that had been trimmed up, rather than machined smooth; one on the front of the magazine well and the other inside the trigger well. Neither the slight imperfections nor the flash lines are uncommon, nor are they anything that concerned us as far as quality control goes. Besides, we'd rather have the tan MOE furniture, nice Magpul back-up sights, and a well-put together (read: well-staked) bolt carrier group than a perfect exterior finish, anyway.
And when it came time to send rounds downrange with the Bushmaster, all those nice Magpul goodies combined with the gun's mil-spec internals made for a shooting experience that was, to be honest, exactly what you'd expect. With a relatively standard, combat-friendly trigger pull that did have a couple millimetre's worth of gritty take-up that we suspect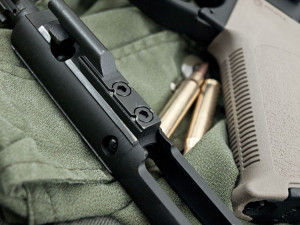 would break in to a nice smooth pull, it was relatively easy to string together some decent groupings. Being a 16″ barrel with a 1/9 twist, it was incapable of stabilizing the big 77 grain Remington Match ammo we had on hand, but performed wonderfully with everything from the affordable 55 grain Remington UMC ammunition, all the way out to the 69 grain Remington Match ammo. Our best grouping, coming in at a hair under 2 MOA, was shot with the 69 grain ammunition, but it's worth noting that the variance between the best groupings of the 69, 62, and 55 grain ammunition was all less than 0.75 of an inch, making this quite an amiable gun!
Good looking, with a solid brand reputation and service record standing behind it, the Bushmaster's a great gun for someone that wants to stick an optic on a flattop M4-style upper, and hit the range with the archetypal AR-15 from an archetypal AR-15 manufacture. A gun that follows the in traditional, roll-marked lower, triangular gas-block front sight assembly footsteps of the M16, the Bushmaster combines old-school details with modern ergonomics and style to make for an excellent rifle.
CORE15 MOE M4 Piston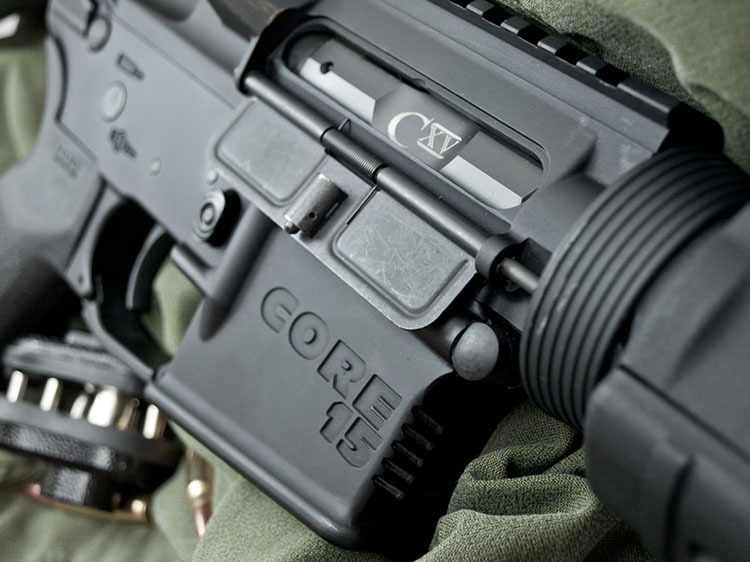 While CORE15 might not yet be doing battle with brands like Colt, ArmaLite, or even Bushmaster quite yet, they've done an amazing job of earning a serious reputation in a remarkably short amount of time. Manufacturing their rifles down in the Sunshine State (also known as Florida), CORE15 utilizes a slightly different machining process that involves a proprietary machining jig to maintain tighter tolerances, leading to the company's motto of "where mil-spec is just a starting point."
But for our Canadian intents and purposes, the biggest news isn't necessarily CORE15's machining processes or tolerances, but rather the simple fact that they are not only one of the few manufacturers of piston-operated AR-15s that exports to Canada, but also one of the most affordable. Although a basic M4-style piston-driven CORE15 rifle starts at just $1,399, we stepped up to the Magpul-clad CORE15 MOE M4 Pistol Rifle, which carries a price tag of just $300 more, tipping the fiscal scales at $1,800, less one now non-existent penny.
What you get, for that admittedly not insubstantial sum of money, is one thoroughly modern rifle. Ignoring the AR-15 tradition of roll-marking logos and serial numbers, the CORE15 lowers come fully engraved from stem to stern, with grip-assisting grooves machined into the front of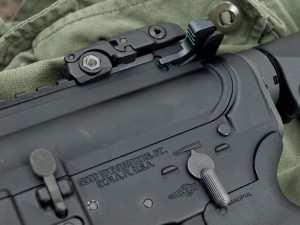 the magazine well, various logos on either side, and a particularly entertaining manufacturer's mark that reads "Good Time Outdoors, Inc.," the parent company to CORE15 and a firm that earned their own reputation producing high-performance airboats. Yes, you read that right… they've run the gamut of manufacturing airboats to AR-15s. There's also a corresponding GTO logo opposite the large engraved CORE15 logo on the magazine well, and pictograms replacing the standard-issue "safe" and "fire" positions on both sides of the lower, making at least indentifying what position the safety is in an ambidextrous affair, even if changing it isn't.
Inside, it's similarly high-tech; using a stout operating rod and adjustable gas piston system fitted to a railed low-profile gas block to drive a unique and very nice looking monolithic, melonite-coated bolt assembly that shows off an attractive CXV (CORE15) logo through the ejection port. Keeping almost all the hot gases and carbon well away from the bolt carrier assembly and chamber, the CORE15 MOE M4 Piston rifle runs vastly cleaner and slightly cooler than comparable direct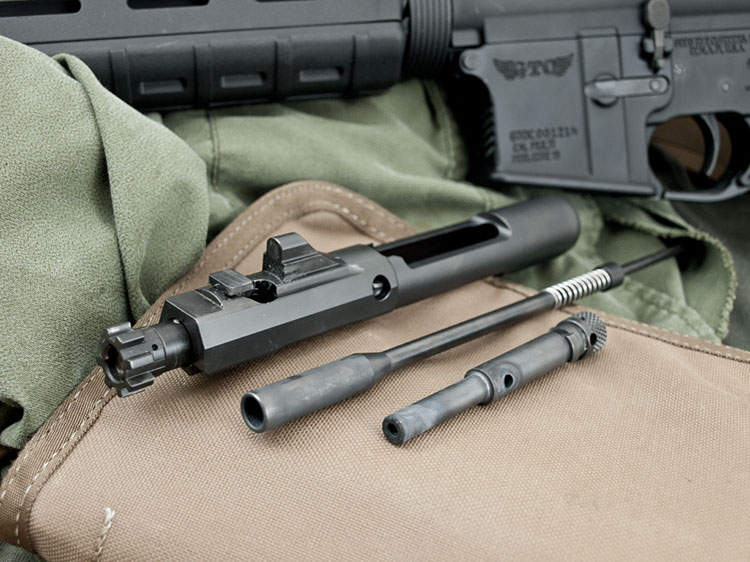 impingement guns, but carries slightly more weight on the forend and introduces a few additional parts over the standard AR15 layout. Also, there is a slight amount of rearward pressure maintained on the bolt carrier by the operating rod right before the bolt locks up with the barrel extension, which in turn slightly offsets the force of the buffer spring, and makes it all the more important to make sure you don't ride the bolt forward as it will need more of its momentum to travel fully forward and lock into the barrel extension. However, when it came time to clean up all the various rifles we tested for this feature, it was well worth it: even after firing over four hundred rounds, the CORE15 came back from the range with a bolt carrier that looked like it'd seem less than a quarter of that amount.
And it certainly didn't seem to have any adverse effect on its performance, either. Putting together a group that spanned 1.77 inches across, it's 16″ barrel and 3-groove, polygonal 1/8 twist rifling swallowed 62 grain pills with alacrity and spat them at paper with shocking consistency. Not surprisingly, the 69 grain Remington Match ammunition on hand shot nearly on par, and we probably could have replicated the 62 grain ammunition's performance if we'd had ample opportunity. Furthermore, although the CORE15's trigger had roughly two millimetre's of heavy creep and was unsurprisingly heavy, it pulled with very little grit and was about as smooth as one could expect. That said, serious marksmen will still want to address it, which they can do right away with the money they saved by buying a rifle that already has all the Magpul furniture a shooter could want already installed.
Alberta Tactical Rifle AT-15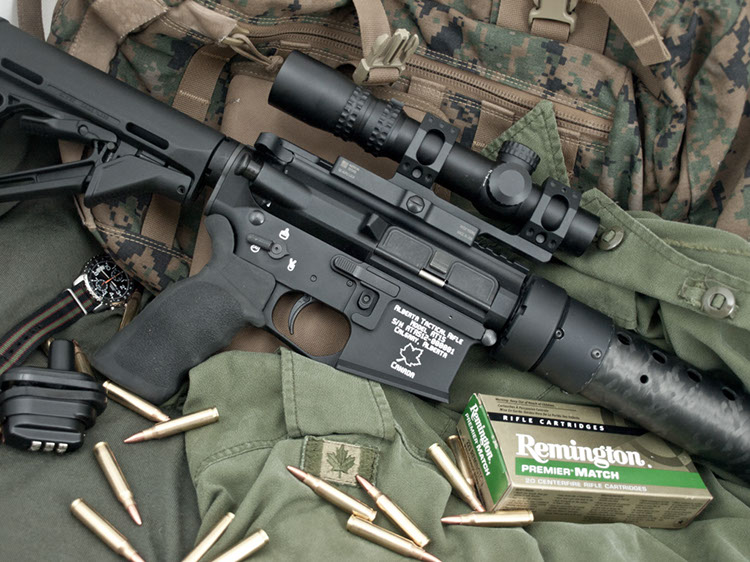 One of the black sheep in this feature, the Alberta Tactical Rifle Supply AT-15 probably represents the absolute pinnacle of Canadian AR-15 design and manufacturing. Although stripped lowers and various parts can be purchased and assembled into a finished gun, the majority of AT-15s are specifically made to order, with numerous custom features and options that range custom engraving to fancy internals to competition triggers and high end furniture.
And of course, like most things that are custom made, the AT-15 typically carries a custom price tag. In the case of our test gun, it included the fitments of an ambidextrous magazine, bolt release, and safety, as well as a host of other choice goodies: a Geissele Super 3 Gun trigger, PRI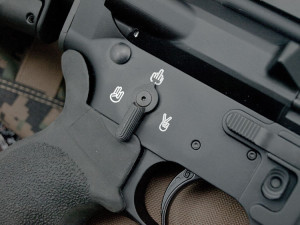 carbon forend, 11.5″ Lilja 1/8 twist 416R stainless match-grade barrel (which is actually standard on all AT-15 rifles), and ATRS' own Eliminator flash hider. Bolstering the price of a basic AT15 by roughly $1,700, these alterations are all atop ATRS' standard issue gamut of interesting internal modifications, which include a ball bearing tensioner to reduce play between the upper and lower, a myriad of captured springs in the lower to replace free ones, and an adjustable fire selector detent system that allows the end user to select the amount of resistance he or she wants his safety lever to provide. And it wouldn't be a high-end, competition-ready AR-15 without a healthily enlarged and bevelled magazine well.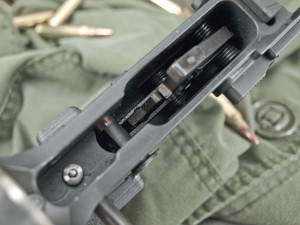 On top of that, Alberta Tactical Rifle Supply will also engrave the fire selector controls with either the traditional fire/safe assortment, or something slightly… ahem… less traditional if one so chooses. However, we should note that the gun pictured here is atypical in that regard, as ATRS does not frequently suggest engraving the non-functioning fully automatic position in order to prevent any unwanted suspicions from law enforcement. In addition, both the magazine well and serial number can also be custom engraved as well, either before the hard anodizing process to create a more traditional appearance, or after it has been completed to allow the raw aluminium to show through and create the more visible, higher contrast markings seen here.
However, while all that stuff ensures you get plenty of looks during the local range's cease fires and target changes, it all amount to poseur points unless it can put some rounds on target… and holy crap,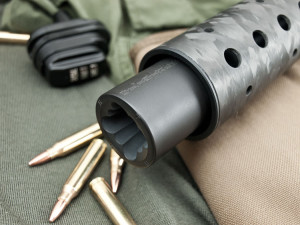 can this gun ever do that. We tested it at the end of a very long range day, and halfway expected to have the results end up so skewed by our dehydrated, hungry, and exhausted state that we'd have to shoot it again the following day. But, after settling in and getting accustomed to the absolutely marvellous trigger, we were still gobsmacked when we walked downrange and saw an .82-inch five-shot group; so gobsmacked indeed that we had to shoot two more groups just to ensure that it had in fact been us that punched those holes! The smallest of these various groups measured in at a very impressive .71-inches, and was surprisingly put together with big, 77 grain Remington Match ammo, with the 69 grain Remington Match rounds also proving capable of sub-MOA performance. In fact, we're pretty sure that had we the time, energy, and ammo to allow it, we could've shot sub-MOA groups with damn near any grain count of this gun.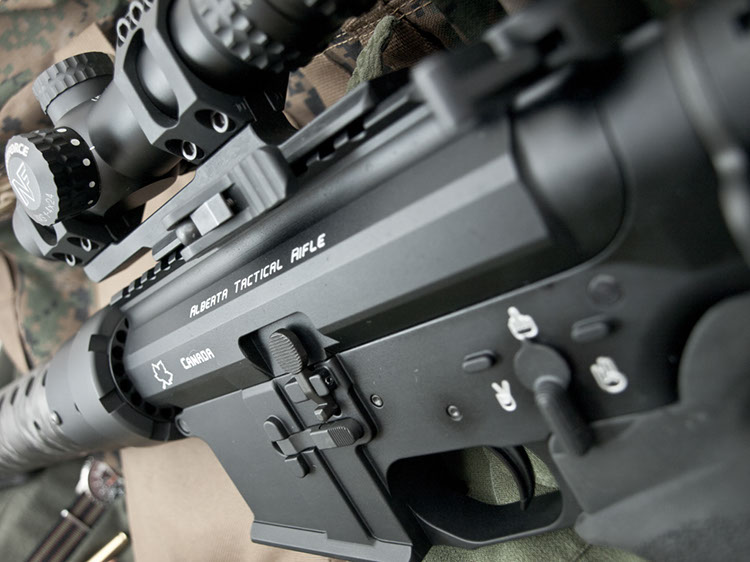 So obviously the AT-15 doesn't give up much, if anything, to its similarly priced American competition in terms of performance, and offers its customers an unparallel level of customization. And although all the American rifles pictured in this article are all imported and distributed by licensed Canadian distributors, ATRS is one of the few companies actually manufacturing complete AR-15s here in Canada; a real boon in our similarly Canadian-made perspective.
Motiuk Manufacturing MRC-15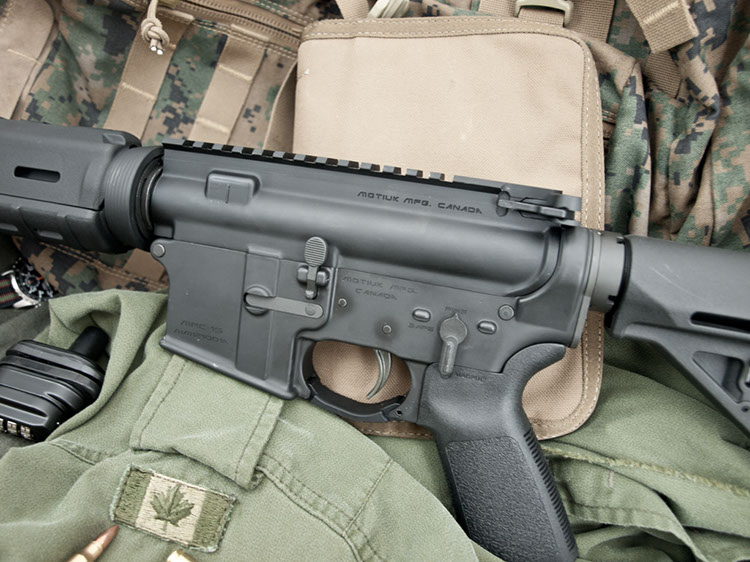 The other gun we have representing the Canadian contingent of AR-15 manufacturers is this prototype gun, made and assembled by Motiuk Manufacturing, based out of Vegreville, Alberta, the Motiuk MRC-15 provides Canadians with an entry- to mid-level, Canadian-made AR-15. Soon to be made available as ready-to-run rifles available through a retail network as well as directly from Motiuk themselves, the MRC-15 will be made available with the popular (and American-jealousy breeding) barrel lengths of 7.5 inches, 10.5 inches, and 12.5 inches, and in the 10.5 inch variant pictured, will come with a manufacturer's suggest retail price of $1,499. Having made their mark on the Canadian AR-15 industry by producing AR-15 lowers with magazine wells engraved with everything from customers' custom logos and emblems to replacing the words "fire" and "safe" on the fire control indicators with happy and sad faces, Motiuk is one manufacturer that recognizes AR-15s can be fun.
And that's really the best way to approach a 10.5″ barrelled AR-15, especially up here in the land of Registration Certificates and Authorizations to Transport. Yet another AR-15 that comes factory-equipped with Magpul MOE furniture, the MRC-15 features many other must-haves,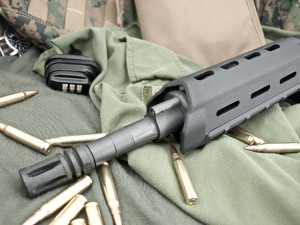 including a mil-spec buffer tube, a staked castle nut, and a heavier H2 carbine buffer to bounce around inside them. It also contains a full-auto bolt carrier group (it does not allow for fully automatic fire, it merely weighs more), which in turn increases the reciprocating mass in order to help minimize the abuse that would otherwise be dealt out by the carbine length gas system. Finally, the entire gas system is capped off by a taper-pinned, low-profile gas block, fitted to a nitrocarburized (a process otherwise known as Melonite coating) 4140 steel barrel.
Being a prototype, Motiuk Manufacturing specifically stated that the sample sent to us for testing had more surface and finish imperfections than would normally be acceptable on an outgoing product, so for our purposes this was merely a function test. However, that doesn't mean we went easy on it, and even after hundreds upon hundreds of rounds had met their speedy end out of its abbreviated barrel, the diminutive little rifle didn't so emit so much as hiccup. Now, while that might not sound like too much of an achievement in today's world of modern manufacturing, the reality is that developing a short-barrel AR-15 from scratch is a surprisingly tenuous trade, as it requires the correct timing and balancing of recoil and gas forces to feed, fire, and eject casings reliably, so to see such an early prototype already as dialled in as this is commendable.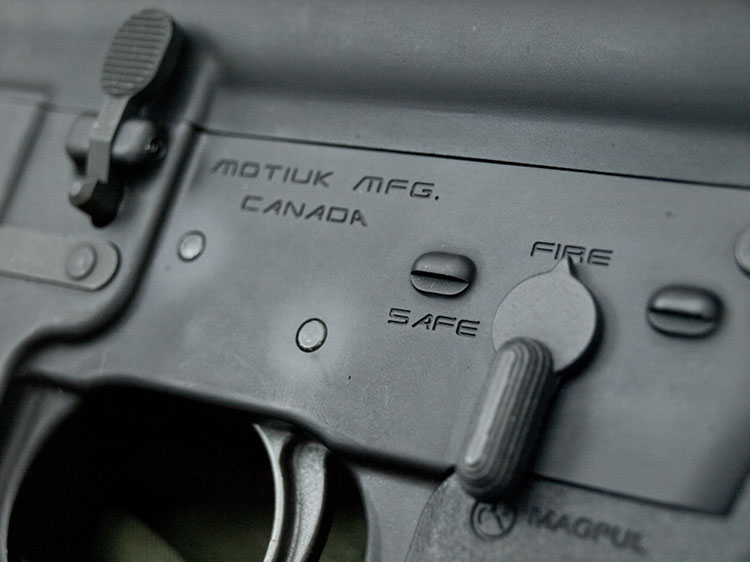 Of course, like so many short guns, the tiny MRC-15 isn't without some interesting aspects. First off, it's loud as hell, as all short-barreled rifles are. A negative to some and a positive to others, it's a simple fact of life: launch a quick little .223 round out of a barrel that short and there's going to be some noise. Next, although fitted with a carbine length gas system, the Motiuk has no provision for the mounting of a front sight post. Instead opting for a low-profile, taper-pinned gas block, it forces a trade-off; remain reliant on a mounted optic, but gain the necessary clearance for fitting a longer, free-floated handguard. And then there's the matter of accuracy. Being a short, 1/8 twist 4140 steel barrel that's been treated to a nitrocarburizing process, there isn't a massive amount of time for bullets of almost any size to get well and truly stabilized, nor is it terribly conducive to consistent muzzle velocities. As a result, the smallest group we could string together was 3.93 inches, shot with 62 grain ammunition. However, as they've already proven, Motiuk's no stranger to the notion of firearms being fun, and this tiny and affordable Canadian package delivers.
Daniel Defense DDM4V3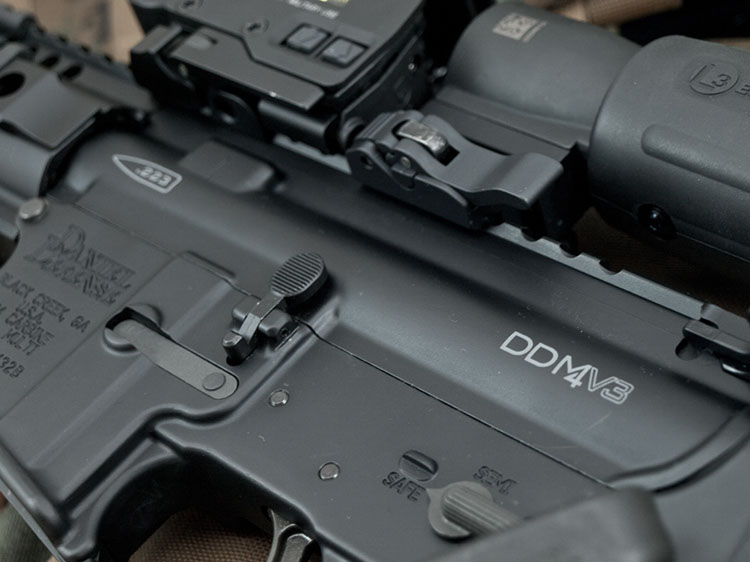 Having earned an impressive reputation in an impressively short amount of time, Daniel Defense has already become something of a touchstone in the American AR-15 industry, quickly earning accolades for producing reliable, accurate, and well-rendered rifles in various configurations. That they then lent one of their rifles to Larry Vickers to put through an epic two-day torture test that subsequently went viral online only helped their reputation grow.
And when you handle one, you can understand how they have gained that reputation. Very well finished, there's not much to say about with the DDM4V3 we received, other than to say it's both well made and well equipped. Coming from Daniel Defense's Black Rock, Georgia-based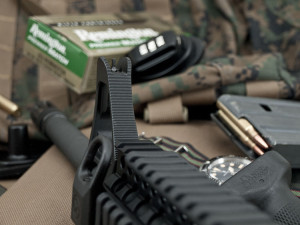 manufacturing facility, the finish is deep and flawless, and the markings are both classy and understated; especially the unique calibre and model demarcations emblazoned on the upper receiver. But Daniel Defense didn't build their reputation on looks alone, so it's not surprising that an examination of the upper and lower receivers brings a few relatively unique features to the fore, the most obvious of which is the long and solid Omega 9.0 rail that can be used to mount the also-included Daniel Defense vertical foregrip. Also, we specifically liked the attention to detail on the unique front sight, which features a milled rear ramp to reduce glare and provide a better sight picture, while the rear sight is one of Daniel Defense's stoic A1.5 models. However, we were somewhat less enamoured with the lower, which features a heavily flared magazine well (a good thing) and an awkwardly placed rear sling swivel. Residing at the rear of the receiver, it seems to be located too close to the buffer tube, and cannot be either attached to or detached from with the adjustable stock set to its shortest setting, nor does it allow for a full rotation of the attached swivel. It's a small issue, but one worth mentioning, if you find yourself taking slings off or on frequently. Inside, the upper receiver houses a 16″ government-profile Chrome Moly Vanadium Steel, cold hammer forged barrel wearing a mid-length gas system, and benefiting from a 1/7 twist rate and chrome lining inside. It's fed fresh rounds by a mil-spec bolt carrier group that has been treated to both a superlative gas key staking job and a magnetic particle inspection.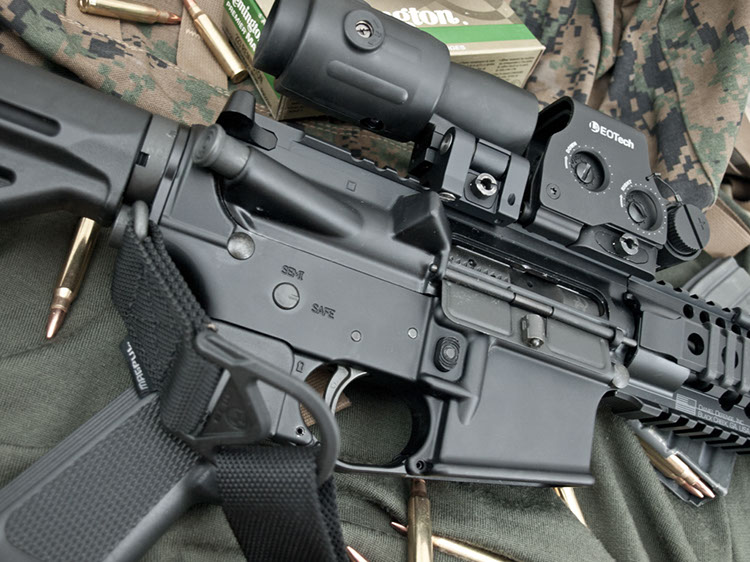 Not surprisingly, given the tight twist rate their rifles are equipped with, Daniel Defense recommends the use of heavier bullets for the best performance. Specifically stating that 62 grain ammunition is the lightest loads that will benefit from their barrel's rifling, we found the DDM4V3 responded well to both 69 and 77 grain ammunition. Stringing together an impressively small, 1.19″ five-shot group with the 77 grain Remington Premier Match ammunition, the rifle has all the hallmarks of a sub-MOA gun, with the exception of the heavy G.I.-style 8.5-pound trigger. However, to get caught up on that would be to ignore the DDM4V3's best attribute: its versatility. With a factory-issued VFG fitted to the solid-as-hell Omega rail, a good sight radius due to the mid-length gas system, and enough rail space to mount pretty much any sort of aiming apparatus you could ever want, it's extremely quick and would do well in high-volume, close-up, CQB-style shooting and matches where ammunition cost (55 grain pills being vastly cheaper) and speed are more important than pinpoint accuracy. Conversely, it can just easily be fitted with a good bipod, topped with a nice big optic, and loaded up with premium-quality 69, 72, and 77 grain rounds to shoot for distance without giving up much in the way of performance. Oh, and did we mention that they have the same MSRP in Canada as they do in the US?
High Standard HSA-15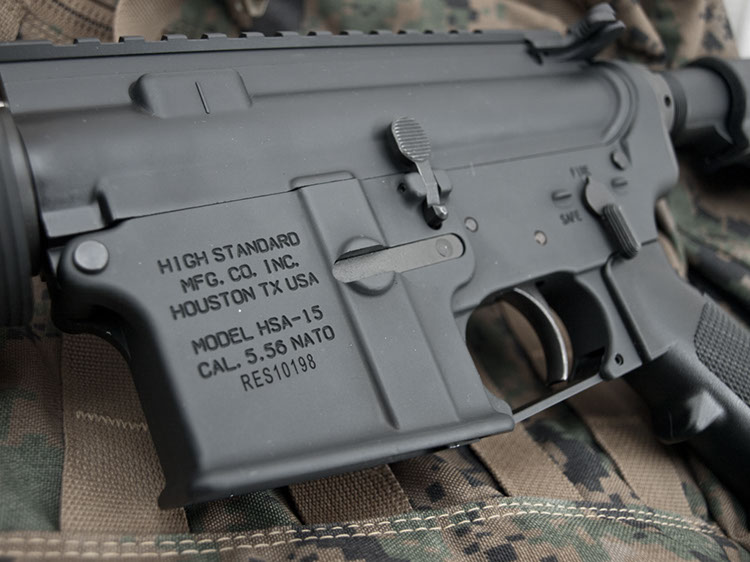 Although one the least recognizable brands you're liable to find in this article, High Standard is one of those strange arms manufacturers that quietly goes about building everything from fully automatic AK-47s to military M4 and M16 hardware to AR-15 receivers for a gamut of other manufacturers, without ever trotting their mil-spec track record out for the civilian market to see. Having only started building semi-automatic AR-15s known as HSA-15s in the early 2000s, their lineup of rifles includes a large variety of modest, militaristic rifles in varied trims and sizes, with just a trio of rifles catering towards the flashier, more modern tactical style of rife.
But the 16″, M4-style HSA-15 we were sent (model TX6551) was definitely not of those rifles. Coming out of a modest brown cardboard box that included the rifle, a black and white manual, and a pinned USGI magazine, there was no mistaking that this was a rifle made by a military contractor. Finished in a basic grey hard anodized finish that will be especially familiar to anyone that's handled a Diemaco C7, bereft of any Magpul furniture or railed devices, and possessing just a barren picatinny rail atop it's receiver, this gun is the most reminiscent of a rack-grade M4 of all the rifles we have assembled here, at least visually. And of course that means it's pretty bare bones too. For example, where more expensive AR-15s sport nicely milled notches in the right hand side of their firing selector to indicate it's position from the right hand side of the rifle, the High Standard has just a simple notch, which if we're honest works just as well… it just doesn't look quite as nice. Of course, the same could also be said for the odd looking blued flash hider that lives at the end of the parkerized barrel, but we're less certain we could live with that particular issue long-tem. At least it's an issue that's easily remedied.
The internals are much the same story as the rifle's external appearance; there's no fancy monolithic-style bolts of nice looking logos to be found here. Instead, there's a standard black phosphate-finished semi-automatic bolt carrier assembly (with an excellent staking job, by the way) and a USGI-style trigger group joined to a 16″ 1/9 twist steel barrel. But, for all the promising standard-issue bits to be found within, we couldn't help but notice that the upper receiver had quite an inconsistent finish inside, with what we'd describe as thin to no anodizing around the magazine well area of the upper receiver, and a mottled finish throughout. Again, in all reality is had little bearing on the rifle's performance, but it's just something worth noting.
Likewise, there's one thing that we have to say about shooting the HSA-15: the charging handle is awful. With a longer release lever throw than any other AR we've seen, a stronger release lever spring, and a slightly hooked catch, the dastardly thing would hook itself onto the upper receiver unless you made a concerted effort to squeeze the release lever, and then pull back. Having grown accustomed to merely tugging on the charging handle and having that rearward force be enough to release the charging handle, it was infuriating to assail the charging handle as we would on any other rifle, only to feel it totally lock up as a result. However, that little foible obviously isn't indicative of the rifle's overall quality, as the HSA-15 put together some groupings that were far better than any rifle at this price point really has a right to shoot. And even better still, with that long 1/9 twist rate, it shot the its best groups by far with the cheapest ammunition! Turning in a solid 2.4″ almost right out of the box with standard 55 grain Remington/UMC white box, the HSA-15 almost certainly has more to give, once it's had a chance for things like it's trigger to break in and smoothen up.
Non-Restricted AR-15 Alternatives
H&K SL8 – $1,750 – $3,000

The most outlandish-looking of black rifles, the Heckler & Koch SL8 looks like it would be more at home on the set of Starship Troopers than in a gun safe, but is recognized as one of the most accurate black rifles on the market. Loosely based on the popular and wildly desirable G36 carted around by the German military, the SL8 is a direct by-product of the American 1994 assault weapons ban. It was created at a time when H&K still valued civilian sales enough to make extensive modifications to their G36 platform in order to certify the rifle for worldwide sales.
The first and most obvious of those modifications was to ditch the G36's standard folding stock and pistol grip configuration in favour of a big slab-sided, adjustable thumbhole stock. Integrating this new stock into the lower receiver in a manner that precludes the fitment of the original folding stock and pistol grip, H&K also reworked the trigger group and housing, trading the G36's select-fire, military-grade fire control group for a semi-automatic trigger group boasting a reduced trigger pull.
Then, they turned their attention to the rest of the rifle, beginning with a rethink of the magazine well and magazines. While the G36 accepts standard capacity, double-stack 30-round translucent polymer magazines, original SL8's were designed to accept 5- and 10-round single stack magazines only. Then, as a final nod to the SL8's transformation from military, select-fire assault rifle to a fully-stocked, low-capacity sporting rifle, the original military profile barrel was removed and replaced with a heavier and more accurate match-contour, chrome-lined barrel measuring 21.8″ long and a huge 0.84″ around at its widest point.
As a result of these modifications and H&K's well-known standard of quality, the SL8 is widely regarded as one of the most accurate out-of-the-box black rifles, easily capable of shooting sub-MOA with decent ammunition. Curiously though, while the parts and assembly of the short-stroke, piston-operated SL8 lend credibility to its intended purpose as a target and sporting rifle, many owners cite the relatively light, but vague trigger as the German rifle's greatest weakness when it comes to accurate shooting. Muddying the waters further, the stock rail mounts optics so high above the bore that it pretty much precludes the fitment of anything with a large objective… meaning most owners are stuck with a low-powered optic in low rings if they want to maintain any semblance of a cheek-weld.
However, while those criticisms might detract from the SL8's use as a target, varmint, or sporting rifle, its non-restricted status in Canada means it remains a popular and sought-after rifle. Furthermore, to the SL8 can be fitted with a magazine well adapter that allows it to reliably seat and feed from an AR-15/STANAG magazine. Thus, the SL8 gives Canadian firearm enthusiasts the rare chance to own a Heckler & Koch rifle, that will accept all manner of popular AR-15 and LAR-15 magazines, and can legally be taken camping, hunting, hiking, and plinking.
Kel-Tec SU-16F

Although a relative newcomer to the Canadian market, Kel-Tec's SU-16 has been around for over a decade. Initially available in the American market in the early 2000s, the SU-16 remained forbidden fruit for years, as it was marked for use with 5.56mm ammunition and, thus, recognized as a military calibre by the US State Department, The International Traffic in Arms Regulations (ITAR) prohibits the export of firearms marked for use with NATO calibres, so this crucial detail prevented Kel-Tec from ever hoping to achieve an export permit for the SU-16.
However, in 2011, this changed with the news that Vault Distribution had contracted Kel-Tec to make a run of SU-16s marked for the 5.56mm's civilian sibling–.223 Remington. Known as the SU-16F, the rifles came into this country sporting a new front sight assembly, an 18.5″ barrel, and a stock that folded with the trigger assembly (meaning the rifle cannot be fired with the stock folded).
The $799 SU-16F has proven itself handily capable of living up to the "Sport Utility" moniker Kel-Tec gave it. It accepts AR-15/STANAG magazines and features a long-stoke piston design, a polymer stock that allows for the storage of either one large STANAG magazine or two ten-round LAR-15 format magazines and a forend that splits in two to form a bipod.
Of course, with a price tag that's less than half that of any other rifle on this list of non-restricted AR-15 alternatives, you can't approach the SU-16F with the same expectations as you would a Swiss Arms or SL8. With most guns reportedly capable of shooting groups of roughly 1.5 MOA or slightly more with premium ammunition, there are two main drawbacks to the SU-16F: the inability to truly free-float the barrel and the unavoidable tolerances of a moderately-priced mass-produced rifle. However, these disadvantages aren't too great a concern for some–the SU-16F is one of the fastest selling rifles in the country so although it is produced and imported en masse, as, finding one in stock at a retailer is surprisingly difficult.
Owners of the elusive SU-16F fall into one of two distinct groups: those that leave the 5-pound, 4-ounce rifle in nearly its original configuration (the sights are often supplanted by an optic of some sort, however cursory it might be) and those that tailor their SU-16F to meet their unique demands. With a healthy repertoire of parts manufactured by Kel-Tec, it's entirely possible to turn this lithe, lively, and eminently packable iron-sighted rifle into a zombie hunting, quad railed, laser/light-equipped, pistol gripped concoction with any manner of optics atop its molded picatinny rail.
Robinson Arms XCR-L

If you want a non-restricted rifle that nearly replicates the ergonomics of an AR-15, is thoroughly modern in both appearance, design, and construction, and combines many of the best attributes of some of the world's most popular and successful fighting rifles, then look no further than the Robinson Arms XCR-L.
Initially developed to compete for the US Special Operations Command contract, Robinson Arms touts the XCR-L as a rifle that pairs the reliable operation of the Kalashnikov's long-stroke piston operation with the light weight of the AR's aluminium construction, augmented by the accuracy and quick action provided by their own three-lug bolt and barrel extension's design. But beyond all that, the XCR-L also comes out of the box with many desirable features that take it beyond the realm of a simple experiment in firearm design.
There's the monolithic rail assembly, meaning the forend's quad railed hand guard is actually formed from the same piece of aluminium that comprises the upper receiver. This keeps things rigid, straight and true, allowing for more reliable mounting of optics and sights.
The stock doesn't contain a buffer tube due to the rifle's AK-like piston-operated design, which keeps all of the recoil spring assembly ahead of the bolt's reciprocating mass. Robinson Arms fits a svelte adjustable folding stock that flips to the right so as to avoid clashing with the non-reciprocating charging handle to the rifle's left.
All of this combines to make for one seriously desirable rifle on the Canadian market, where the 18.6″ long barrel keeps the thoroughly modern, once SOCOM-destined rifle on the friendlier side of the non-restricted divide. Capable of accuracy that's roughly on par with the majority of AR-15 offerings, most XCR-L's are happy to print groups measuring between two and three inches across with decent ammunition. Though they have a reputation for being somewhat picky as to what sort of ammunition they prefer to shoot reliably. The XCR-L performs best with premium factory ammunition and many XCR-L owners report poor reliability with surplus or steel-cased ammunition, which may or may not be an issue for you.
Although it's difficult to modify an XCR-L to shoot tighter groups or shoot more reliably, it's worth noting that the XCR-L boasts an impressive degree of modularity and a list of features that are often considered premium accessories on other black rifles. The monolithic upper, for example, includes a fully railed hand guard with an uninterrupted 17″ long top rail and 8″ rails on both sides and the bottom. That's a lot of mounting options.
Furthermore, the gas system has five different settings, allowing the user to tune the gas system to run on the minimum amount of gas required to reduce both wear and fouling of the piston assembly; a feature that many AR-15 owners would no doubt love to have! The trigger, as well, is so good that it invites comparison to aftermarket AR-15 triggers, with a light, crisp break and an absence of vagueness.
Tavor TAR-21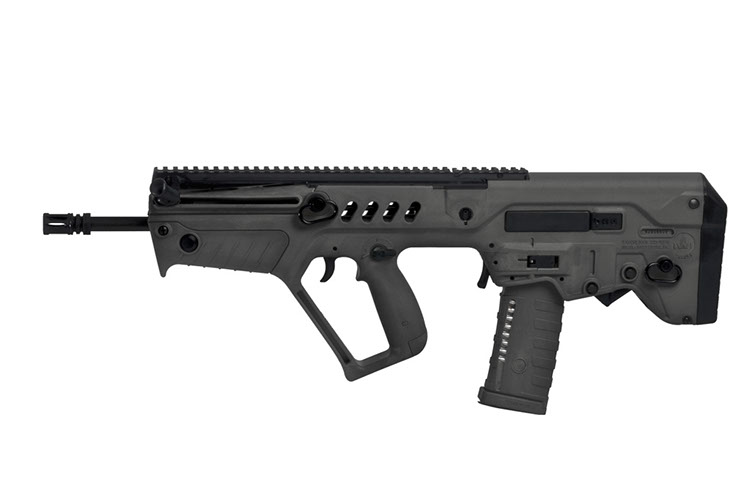 Few countries on this planet are as sadly familiar with the concept of armed conflict as Israel. A nation beleaguered by decades of wars, skirmishes, and open hostility, their military simply cannot afford to be anything less than effective, and the rifle they developed exemplifies this.The Tavor: a polymer bullpup that packs a full 18.5″ barrel into a rifle with an overall length of just over the legal minimum (which is 26.5″). It's unique design was the culmination of a relatively recent (1982) re-think of the Israeli Defence Force's requirements.
Fresh out of a grisly conflict with Lebanon, the IDF realized that the majority of future conflicts would be fought in enclosed urban regions; regions that would favour nimble, lightweight, and ergonomic weapons over big, heavy, hard-hitting battle rifles. So, they commissioned a rifle that would borrow a page from the Steyr Aug's playbook in pairing then space-age polymer construction with a bullpup design to create a compact, almost telepathically quick rifle without sacrificing muzzle velocity or accuracy.
Having since undergone various programs that have evolved the Tavor into a nearly perfect fighting rifle, it was a surprise to see the civilian market variant became available to Canadians in 2007–a full two years before it would be adopted formally by Israel as their standard issue rifle.
If the main attraction to a non-restricted rifle is one's ability to pack it into the woods on camping trips and hikes, it's hard not to credit the compact Tavor with being the among the most attractive non-restricted rifles on the market today. And it's accurate too. Typically capable of putting together groups ranging from 1.5 to 2 inches with factory ammo, it's entirely possible to shoot one MOA groups with a Tavor, given the right conditions and some carefully handloaded ammunition.
Better still, the rifle's modular nature allows for both right- and left-handed operation, as the ejection, non-reciprocating charging handle, and safety switch can all be moved from one side of the rifle to the other.
Although the Tavor remains one of the most accurate and versatile black rifles available to Canadians, it's not without its own quirks, most of which relate to its bullpup design. The trigger, for example, is never going to be as nice as that of a well-tuned conventional rifle. Likewise, the rearward placement of the magazine well, and the even-more-rearward placement of the bolt release means a dramatic departure from traditional loading and unloading procedures.
Tailoring the Tavor to a shooter's specific needs is a somewhat middling proposition. With an integrated stock and pistol grip, the ergonomics are far more fixed than with an AR-15 or similar rifle, and the abbreviated fore end reduces the amount of rail space available. Granted, it is available in both the traditional IDF format (with an integrated Mepro 21 reflex optic) as well as a flat topped variant for those that prefer alternative optics, but with rails at the 3- and 9-o'clock positions and only a tiny rail available at the 6-o'clock position, those that prefer to deck their rifles with various gadgetry may not appreciate the Tavor's compact size, as it comes at the expense of modularity.
Benelli MR1

When Benelli set about creating a new kind of shotgun for the US military, they knew that their long-running line of inertia-driven shotgunswouldn't be capable of meeting the military's requirements. Although the line is wildly successful and has earned a great reputation amongst both hunters and sport shooters, the military required a shotgun that would be unfazed by both the poor shooting technique combat situations can impose as well as the fitment of heavy accessories; hurdles that can prove the undoing of even the most well-thought out recoil-driven shotgun.
So, Benelli developed the ARGO system; a long-stroke, gas-operated, piston-driven action, not unlike that found in many battle rifles. First debuting in the popular M4 shotgun, it didn't take Benelli long to recognize the versatility of their new action, which in turn led to the creation of the R1 and MR1 rifles. Taking many of the same ergonomics as the M4 shotgun, the MR1 provided would-be black rifle owners with a horse of a different colour, so to speak. Though it accepts some AR-15 magazines (the magazine well prevents the use of certain brands of magazines) and has earned a reputation for accuracy, the MR1's strange appearance and its relative rarity have ensured that it remains a rifle that's often neglected and overlooked in the search for a non-restricted, .223-firing black rifle that can accept STANAG magazines.
With the typically excellent build quality one expects of a Benelli firearm and the MR1's revered non-restricted status, it should be a gun that Canadians snap up en masse… and yet, they don't. It could be the gun's strange, quasi-shotgun, quasi-Beretta CX4 Storm looks. Or the reason could lie in one of the MR1's weaknesses. There are the much-publicized reliability issues surrounding magazine selection. Although the shotgun-like stock and overall shape lead to a lot of praise of its manoeuvrability and natural pointing qualities, they also preclude the use of any telescopic optic, for obtaining anything resembling a proper cheek weld is simply impossible without reverting to a lower red dot or reflex optic. However, due the relative lack of mass bouncing around inside the action as compared to an AR, the lack of cheek weld might not be an issue as many regard the MR1 to be the single softest shooting black rifle extant.
Much like the M4 upon which it leans so heavily for its design inspiration, the MR1 is a rifle that's built to perform out of the box. It's not nearly as modular or adaptable as the AR-15 platform, nor can it accept nearly as many aftermarket grips, stocks, optics, rails, and accessories as the AR and some of its competitors can; it's just not built that way. The muzzle's not threaded for flash hiders and muzzle brakes… not that this particular rifle needs one. And although that doesn't mean it's totally without aftermarket support, in many regards, the MR1 is really more tool than toy and should be purchased accordingly.
Comments
comments