Tasmanian Tiger has become a true contender in the tactical gear market, offering an extensive line of multipurpose bags and equipment for tactical applications and outdoor purposes. Borrowing decades of experience from of its sister company, Tatonka, their products are developed in-house and are made in Tasmanian Tiger's very own production facility. This has given the German brand the advantage of complete quality control from the prototype stage, the acquisition of production materials, to the finished consumer product prior to leaving the production facility. Not impressed? Take into consideration that each item is individually inspected to a standard and assigned a unique serial number which is kept in a database. Now there's the stereotypical German attention to detail we all know. And if the item doesn't meet their stringent quality controls? Tasmanian Tiger guarantees the item isn't shipped – period. Further to such, Tasmanian Tiger backs up their gear with the industry standard guarantee, replacing or repairing their gear which fails under normal conditions and use.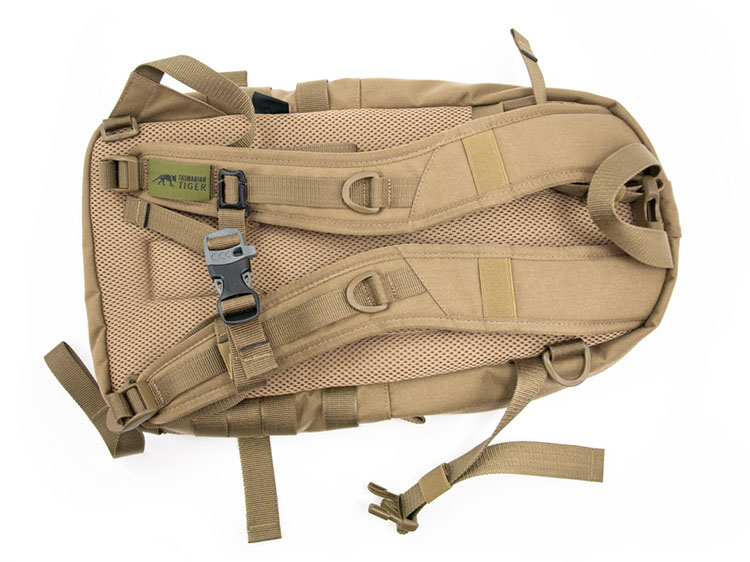 At the bottom end of Tasmanian Tiger's packs in terms of size is their Essential Pack. And that's exactly its purpose: to carry the essentials. The first thing one will notice about the bag is its rugged construction and materials, owing to Cordura 700 Denier Fabric. This is the same fabric you'll find in heavy duty, military grade rucksacks and, as such, you need not worry about it ever being incapable of bearing any amount of weight you're likely to carry with the Essential. The pack is available in four standard patterns and colours: black, cub green, khaki, and flecktarn at an added cost (a multi-cam version of this pack can also be obtained in Cordura 500 Denier fabric). The pack has one main 6L compartment featuring a separated compartment for a standard sized bladder hydration system. While this compartment was a welcomed addition and can double as an optional storage pouch, the pack is devoid of any other pockets. We thought an additional pocket would go a long way for smaller items – like keys, which inevitably sift to the bottom of the pack and often require the removal of other contents to locate after use.
The pack is completed with a modestly padded back surface and fully adjustable, lightly padded shoulder S-strap system with sternum straps, where a whistle has been incorporated into the snap-buckle, to promote friction-locked carrying during movement. Also present are two sets of horizontal compression straps which connect at the rear of the pack to keep your load from shifting about. Curiously the added Velcro strip on the back, of note barely large enough to accommodate a standard Canadian Forces name plate, becomes obstructed by the strap when it is applied. This left us confused as to its purpose. It seems insufficient to securely mount a Velcro fastened pouch should the MOLLE system be incompatible or unavailable. Speaking of which, the pack is particularly noteworthy in that it is extensively equipped  across its back and sides with a MOLLE PALS grid system, which is also compatible with MTS Plus systems. This allows for considerable personal customization in the mounting of additional pouches or equipment sheaths to meet a myriad of needs should those exceed the pack's main compartment capacity.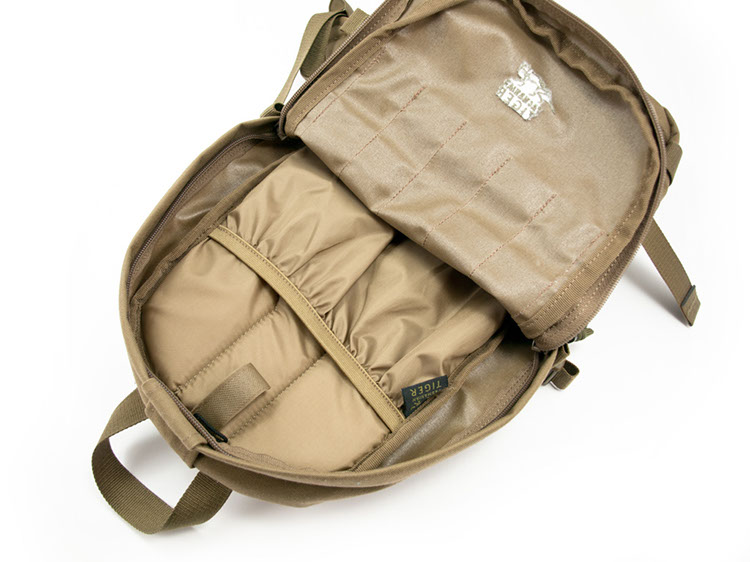 This pack is aptly named for its intended purpose and that is, as mentioned, to carry the essentials. Thanks to our friends at A3 Sports, we were able to get our hands on one and gave it a thorough test. Going to and from the office saw it easily accommodate a small laptop/tablet computer and still have sufficient room for a few books and gym clothes. It also made an excellent range bag in that we were able to carry everything we needed for an afternoon of pumping targets with lead. It comfortably carried all of the commercial ammunition boxes, ballistic eye wear, hearing protection, gloves, MUT, notepad and a small lunch without issue – albeit carefully placed. During use, it sat comfortably on our back and, after cinching in the adjustable straps, hardly shifted whatsoever. While the opportunity to take it on a day hike didn't present itself over the course of the busy holidays, we did load it up for the purpose of a day hike. The hydration system worked seamlessly and the pocket kept the rest of the main compartment dry despite some leaking on the bladder seam.
There's a lot of things about this pack we liked. It's well made, durable and, for the most part, has a well organized construction. The Tasmanian Tiger Essential is an ideal bag for those who don't venture out on those overnight excursions: providing the storage space for everyday life to and from work, the range, or wherever else you may go; all the while apt for the day hiker or those in need of something small and sleek in a tactical application. And at $50.00, it's hard to beat at its price point.
Comments
comments