SHOT Show 2017 is about three weeks behind us now, so we've just gotten over the obligatory SHOT Show viral infection, and have settled back into the usual work routine of making heads and tails of the Canadian gun world. So, we thought we'd celebrate by revisiting our trip to the oh-so-chaotic Sands Expo centre, and come up with a list of the five best things SHOT SHow 2017 had for the Canadian gun market. Also, before you ask, yes… all the new guns you'll find here have Canadian distribution in place, and will have prototypes to the FRT for classification this year.
1: Jard Bullpups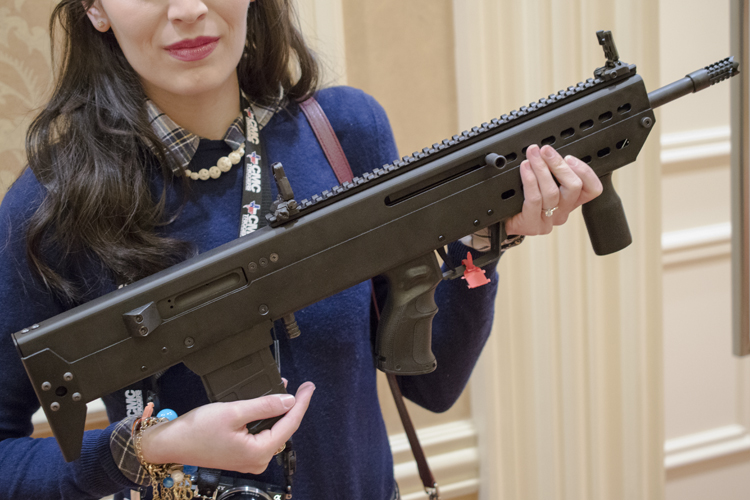 One of the holiest of grails at any SHOT show is a new potential non-restricted semi-auto tactical-style rifle. Due to their particular attractiveness to the average Canadian that either doesn't want the hassle of restricted gun ownership or wants the ability to use their rifle on crown land, non-restricted semi-auto rifles that work with the existing cohort of "tactical" accessories are worth their weight in gold… sometimes literally.
Which is precisely why this new series of bullpups from Jard take our top position. Affordable, compact, and seemingly well made, these three firearms (two rifles and one shotgun) all seem to tick the Canadian-success-story boxes… and might very well land on the non-restricted list.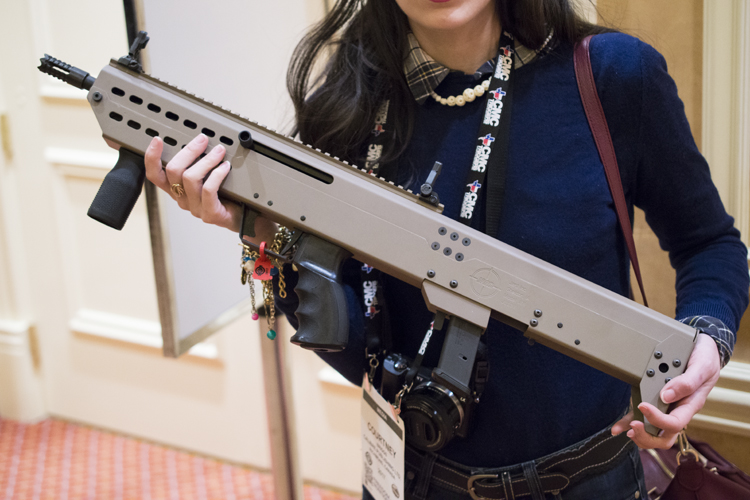 Comprised of the Jard J56, J68, and J12 models, this family of firearms all utilize extruded aluminum upper receivers mated to stamped-steel lowers that, between them, contain the guts of a gas-operated semi-automatic rifle in .223 Wylde, a straight-blowback operated pistol caliber carbine in 9mm, and a gas-operated semi-auto 12-guage shotgun, respectively.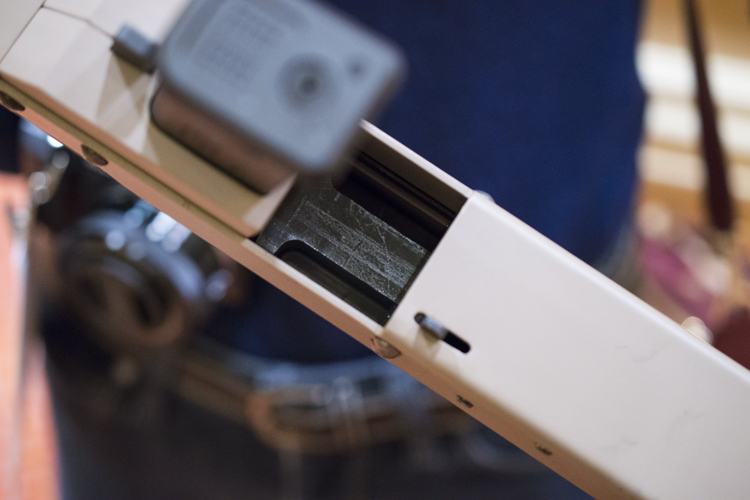 The J56, perhaps the most interesting of the three, is a simple-looking right-handed bullpup rifle that uses a now-familiar gas piston-operated, rotating bolt system of lockup. Feeding from the usual STANAG-pattern magazines, the rifle also features M-Lok slots on the integral forend and has a picatinny rail atop the barrel for optics and sights. Additionally, it features a last-shot hold open device, and weighs a relatively svelte seven pounds, two ounces.
Although currently available in right-handed format only, we were told by the rifle's designer that left-handed variants would be easy to produce, and due to the rifle's inherent ambidexterity, (the magazine release is the post positioned ahead of the magazine, the safety is in the trigger guard like an M14's, and the charging handle is ambidextrous) the manual of arms would be unchanged. Most importantly though, the rifle's clamshell design means the stock assembly is integral to the receiver; meaning the rifle cannot be fired without the stock attached… a crucial litmus test for any would-be non-restricted bullpup in Canada.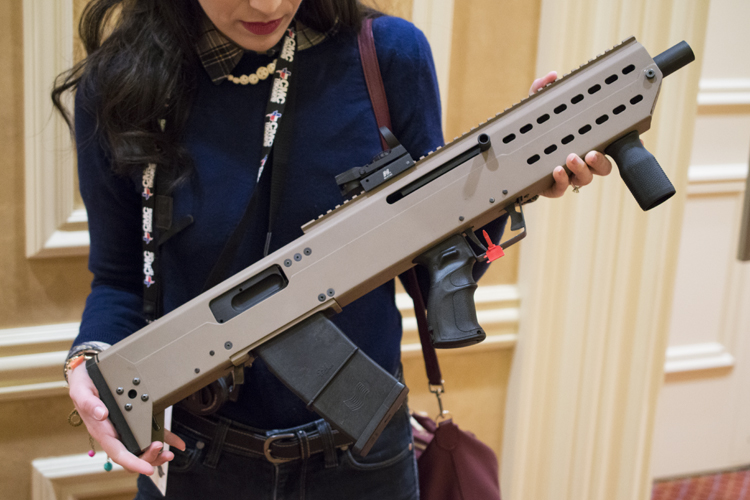 The J68 and J12 are similar, with the notable differences being that the J68 is a 9mm carbine utilizing Glock magazines and, obviously, a dramatically simpler blowback action that sees the bolt travel past the magazine to eject the spent casing downward, behind the magazine. The J12, by comparison, is much more similar to the J56 insofar as it remains a gas-operated, rotating bolt affair but trades the STANAG 5.56 magazines for 12-gauge Saiga mags, although that may change for the Canadian market.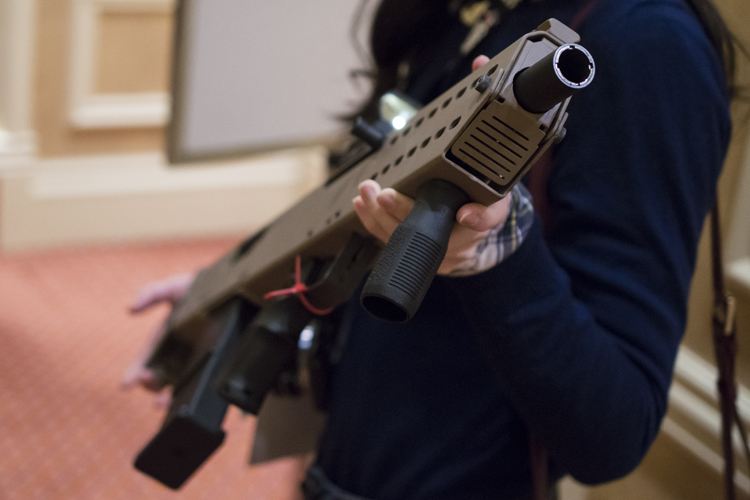 Which brings us to the second reason these firearms are at the #1 spot: They're perfect for us Canadians. Jard is not a large company and is more than willing to work with their Canadian importer to ensure both legality and the best product for the Canadian market. In talking with the designer, when the concern was raised that Saiga mags may be hard to come by for the J12 and that compatibility with existing pump-action mags may be preferable, the gun's designer was receptive.
Likewise the prices are perfect for our market. The pistol caliber carbine is the cheapest at $899 USD, while the J56 is already priced at $1,375 USD with the as-yet-priceless J12 to slide in between the two at around $1,200 USD. That's not exactly cheap, but at the same time, the idea of sub-$2,000 non-restricted bullpups in everything from 9mm to 12 gauge is a pretty tantalizing notion. Especially when they're made in the USA, and come with Jard's enviable reputation for accuracy. We can also report that having handled them on the show floor, these rifles feel incredibly resilient; their beefy bodies they're definitely capable of surviving the rigors of Canadian truck-gun life.
2: Skeli X11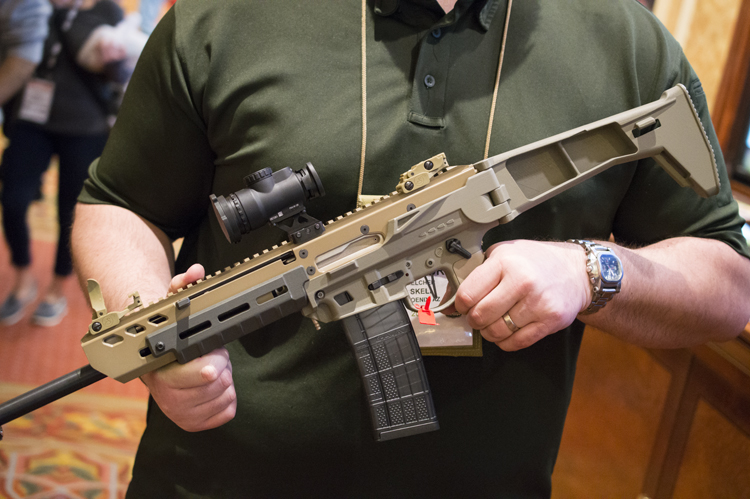 Following up on the Jard guns, and located literally just a few booths away was our second pick for SHOT 2017; the Skeli X11. Like the Jard guns, the Skeli is another one of those unicorn tactical rifles that we suspect might earn a non-restricted classification, albeit one that's a bit more conventional than Jard's… ahem… polarizing-looking rifles.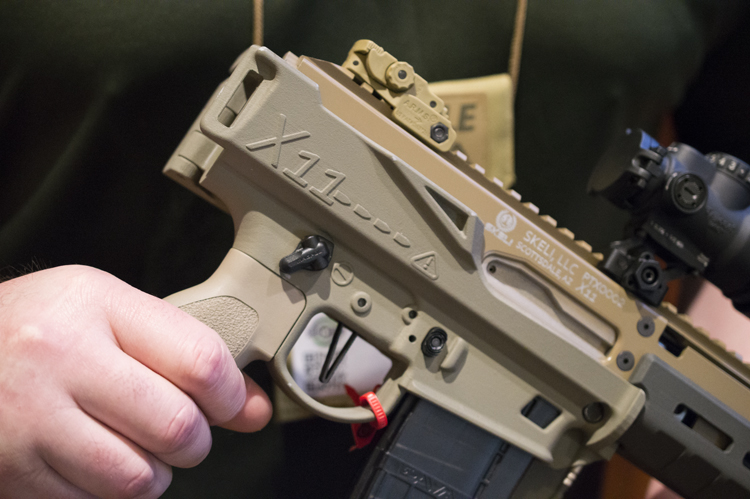 The Skeli's been in development for five years now, but 2017 marks what should be the X11's first year in production, with second or third quarter this year being slated for full-scale production. A relatively ACR-esque design, the Skeli X11 uses a combination polymer lower/extruded aluminum upper to house a piston-driven, gas-operated action that itself incorporates both truly ambidextrous ejection and a quick-change barrel system.
By far the two party pieces to the X11s design are that aforementioned barrel system and the unique dual ejection port setup. We particularly liked the unique design of the polymer lower that sees the lower receiver sit astride the upper receiver for both additional strength in the unfortunate occurrence of a case rupture. It also allows the case deflector to be molded into the lower rather than attached to the upper. But in order to make use of the left-hand ejection port, a left-hand bolt will need to be fitted, obviously.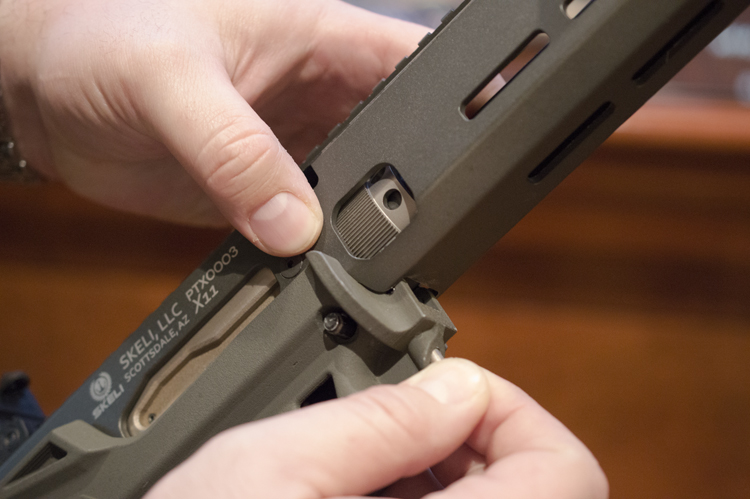 The other main feature of the Skeli design is the barrel replacement system. By simply unscrewing the barrel nut, which is accessible through two windows on the side of the upper receiver and retained by a spring-loaded pin, the barrel can be released from the action and pulled forward out of the handguard. Notably, that spring-loaded retaining pin under the nut allows for a ratcheting action on the nut as it's done up, too.
Unlike the ACR, which uses a sort of similar system, the Skeli barrel nut is conventionally threaded (the ACR barrel nut is extremely coarsely threaded) to allow adequate torque to be achieved with minimal leverage, and does not feature a captive operating rod due to the two captive action springs that reside behind the bolt carrier in the upper receiver. This makes the entire system quite simple and means replacement or conversion barrels will be very cheap.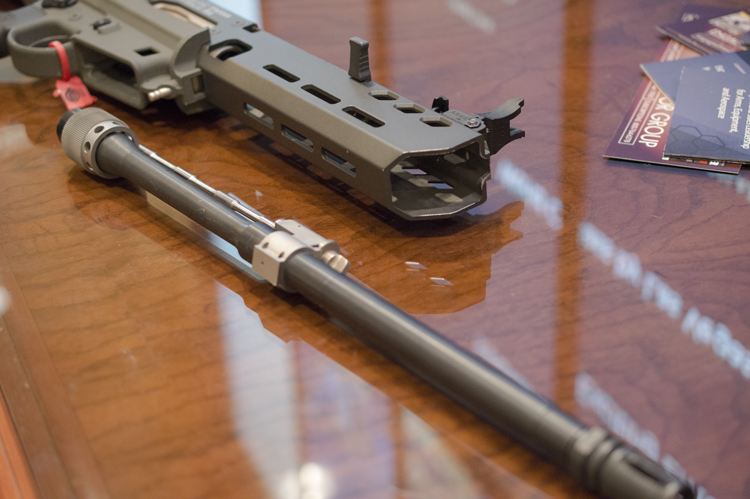 Now, like the Jard rifles, the Skeli is also appealing due to its price tag; Skeli has fixed their MSRP at $1449 USD and already has four sku's on offer; right- and left-ejecting models in dark grey and FDE. However, unlike the production-ready Jards, the Skeli rifles on display at SHOT were prototypes; wearing 3D-printed controls and lower receivers in place of their eventual molded counterparts. Furthermore, the charging handle needs to be lowered to facilitate mounting anything forward on the rail (too little clearance means nothing can be placed above the charging handle), and for all the effort involved in making the rifle ambidextrous, we would like to see ambidextrous folding stocks fitted. But… for those eagerly looking for a more affordable alternative to something like the ACR, this could be it.
3: Bergara Rifles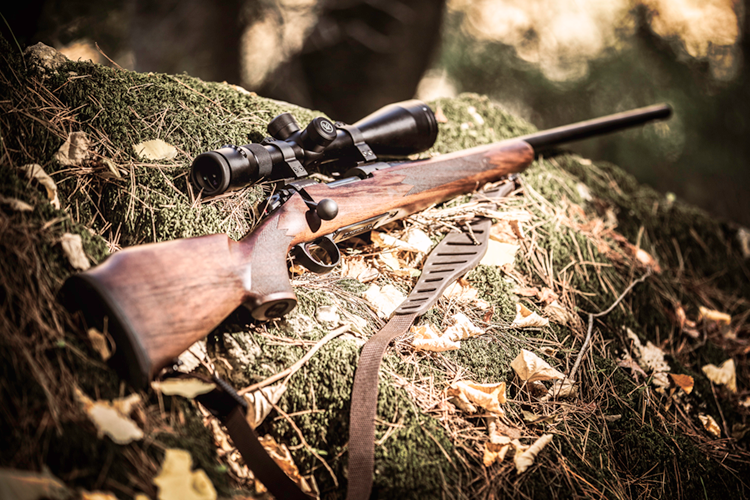 Unless you've been under a rock for the past couple years, you've probably heard about the wickedly high-value rifles coming from the Spanish/American manufacturer Bergara as of late. With a massive lineup of rifles that includes everything from lightweight mountain-friendly sheep guns to big-bore tactical long-range monstrosities, they've been taking the US market by storm, even going so far as to win numerous comparisons and awards.
Now they aren't entirely new to the Canadian market, having been imported in very limited quantities in the past, but SHOT 2017 saw their distribution agreement change hands with the new importer committing to bring in much larger volumes and greater variety than we've ever seen. And that's definitely something to get excited about.
Why? Well because Bergara's reputation makes them something you should care about. Originally a barrel manufacturer in the Basque region of Spain (specifically located in the town of Bergara), Bergara barrels transitioned into Bergara Rifles when they opened their Georgia-based (as in the state, not the country) rifle manufacturing plant. When they did so, they hired a production manager by the name of Don Hanus; a 22-year veteran of the US Marine Corp and former Chief Instructor and Production Chief for the USMC's Precision Weapons Section at Quantico, Virginia. They polish the bores to a mirror shine before button-rifling them. They ensure rifling with grooves that deviate no more than 0.0002 of an inch. And they finish each barrel by hand-lapping the bore. So to say they're pretty well made would be an understatement.
And as a result, they shoot well. Even the basic ones like the $945 USD B-14 Timber (a particularly handsome rifle) are guaranteed to shoot sub 1-MOA with factory match ammunition. And for those that want something a bit more ornate, Bergara makes a full range of tactical and long-range precision rifles ranging in price from $1150 USD to roughly $5,000 USD. Overall, they should be a good addition to the Canadian market, and might shake things up a bit.
4: Syren L4S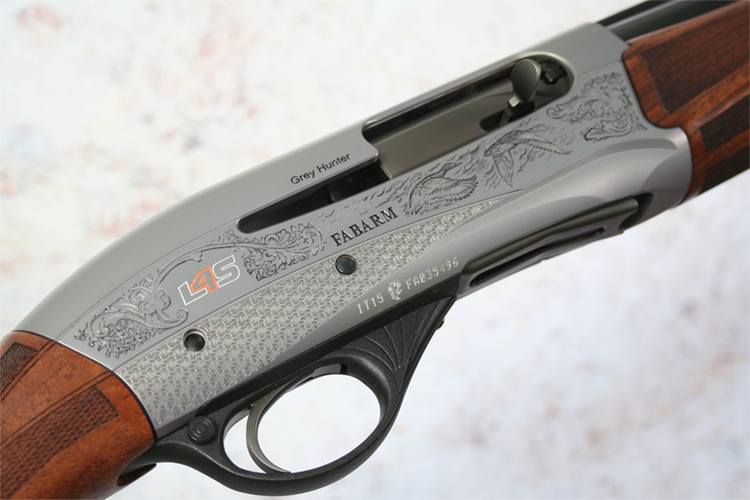 For a long time, we've lamented the "pink gun" craze as something that always struck as a bit… patronizing. With different physiology, there's a lot more that should go into creating a woman's gun that simply painting it pink or purple, and one of the best examples we've seen of that thus far was the new Syren brand of shotguns coming from parent company Caesar Guerini/Fabarm.
Initially launched in 2014, Syren's been slowly working at converting some of Ceaser Guerini and Fabarm's most popular models to women-specific guns. Having a banner year last year, they came into SHOT 2017 with a strong line of shotguns ranging from over-under trap guns to upland bird guns, but it was the all new Syren-variant of the popular Fabarm L4S shotgun that piqued our interest.
One of Syren's lightest guns, the 6-3/4 pound Syren L4S features a shorter length of pull to allow for women's typically smaller statures, and a higher comb to work with women's higher cheekbones as well. Even the grip radius has been made smaller to allow smaller hand to grip the gun more comfortably and provide a better reach to the trigger. Compared to similar Syren semi-autos like that XLR5 sporting gun, the L4S is even smaller, making it a great fit for petite women.
Inside, it's the same as the original Fabarm L4S, which has proven a capable and reliable sporting and hunting rig. However, one thing we will note; Syren quotes the Syren L4S as weighing 6-3/4 pounds. The Fabarm L4S, which features a larger stock and whatnot, weighs the same… according to Fabarm. Now, in conventional Fabarm L4S form, the gun's already relatively light weight conspires to make it a great gun to carry and shoot afield… not a great gun to crush clays with all day unless you enjoy enduring a bit more recoil than you'd normally get from a 7+ pound sporting gun. So, with even less material, we suspect the Syren might be even a bit punchier, so if you're looking for something to take to the skeet, sporting, or trap field you might be better off with the heavier Syren XLR5. But if you're a woman looking for a nice, light, quick-handling hunting gun that'll fit you better, this is one of the best you'll find.
5: 5.11 Jeans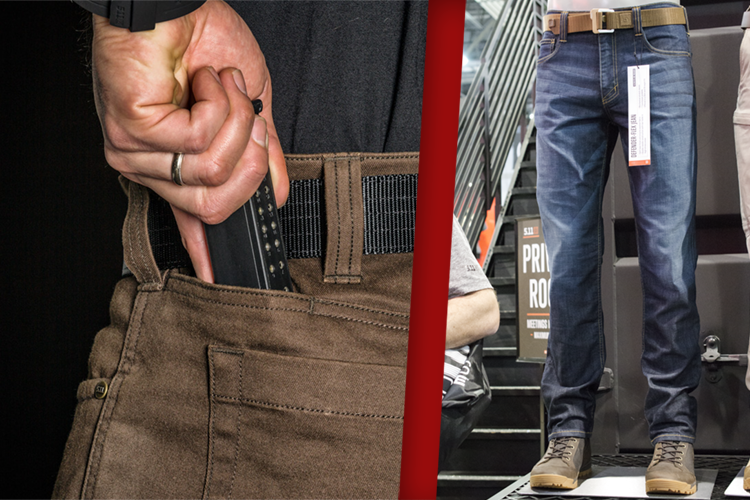 No, this isn't a gun… but let's be honest, we all spend a lot more time with our pants on than we do with a gun in our hands, right? And if we're honest, we really, really love all our various 5.11 pants… so them making a pair of jeans if kind of a big deal.
Called the Defender-Flex jeans, these pants use a cotton/polyester blend known as LycraT400 Tough Max that is supposed to provide the same wear resistance as conventional denim albeit with some built-in stretch to it, which should make them a bit easier to move around in and a bit more comfortable.
And like all 5.11 pants, the pocket game is on point, with a "tactical" take on the conventional five-pocket design. Both front pockets are extra deep for carrying all the things (in the US, they're marketing the pockets as "CCW friendly" so take that however you will) and the otherwise totally useless coin pocket has been supersized to fit either a spare magazine for range trips or a small EDC tool or knife for daily use. And of course, being a 5.11 product, there's nice big oversized belt loops for use with big gun belts and even a hidden pocket at the back of the hip.
Of course, if you're of the fairer sex or prefer a twill pant, the Defender-Flex pants will also be available in a men's Cavalry Twill fabric that provides all the same benefits in Stone, Volcanic, Burnt and Oil Green colours, while women can look forward to the same twill fabric pant in Stone, Volcanic, Thyme, and Code Red colours. And the price? $70 USD.
Comments
comments