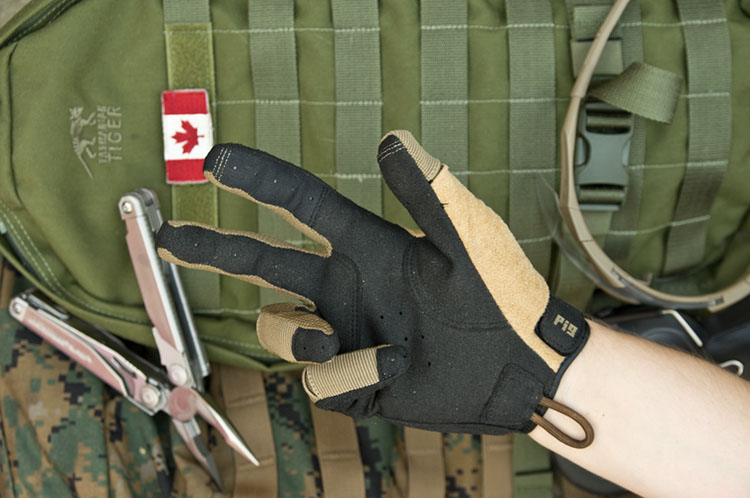 Given their name, we couldn't help but wonder if the folks at Patrol Incident Gear (PIG) were of the lighthearted variety when we got our hands on their FDT (full dexterity tactical) glove for the first time. A visit to their website confirmed our suspicions, with assurances that the gloves in question were "so sensitive that you could even wear them on your next date with PALMela HANDerson". But despite the not-so-serious approach to marketing, the process which goes into all of their tactical gear is about as serious as it gets.
Among shooters, there seems to be a love-hate relationship with gloves, which any number of Internet forums will confirm. To glove or not to glove? That is the question PIG seeks to answer with heavy investment in its FDT Alpha tactical gloves. These gloves are two years in the making and they benefit from the experience of a graduate of the Rogers Shooting School with over a decade of military and law enforcement instructional experience. Right from the get go, PIG deviates from the norm by basing the design off a sports glove rather than a flight glove – placing emphasis on full hand protection with a design that negates impact on shooter's grip, increases sensitivity and improves dexterity.
Case and point: they present a list of features which rival that of a new car, including  features which PIG claims are industry firsts in tactical gloves. Specifically, it begins with the single layer, multi-piece palm designed to ensure only one material makes contact with the shooting grip to maximize contact while shooting. Most noticeable for us was the installation of the thinnest available Clarino material available, which maximizes sensitivity on the trigger fingers, giving the shooter a much better feel of the trigger. Other features included selective forschette material for durability and moisture wicking enhancement and low profile hook closures. Flex joints on the lower knuckles of the fingers, and both knuckles on the trigger fingers, increase flexibility. Other thoughtful features include ventilation ports throughout the glove where heat and moisture build, light padding for protection where needed, "wrap over" finger tips and stretch Cordura 1000 padded knuckles. The micro suede "nose wipe" is great for those cold days at the range when the sniffles kick in.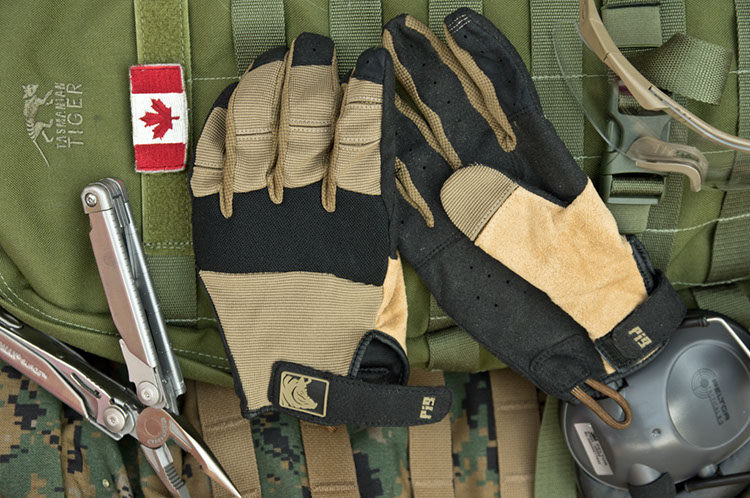 The end result was a patented glove that PIG tested while earning the FASTest commemorative challenge coin, awarded to students who complete the drill in less than five seconds. This result was previously believed to be nearly unattainable while wearing tactical gloves. When we tested them, the feel of the gloves was clearly superior to that of the similarly priced HWI's we brought along. The gloves fit better, were less restrictive when manipulating our hands and, by a large margin, provided a greater feel via its superior sensitivity construction.
While this glove provided several advantages over the HWI and other non-FR tactical gloves in their price range, we were hard pressed to notice any measurable improvement in terms of grip. While that doesn't detract from the overall appeal of these gloves, we had considerable difficulty with the "Touch" option we acquired. For an additional $6.00, the "Touch" option includes silver threading into the tips of the thumbs and index fingers, allowing wearers to operate their touch screen devices without having to remove the gloves. We'er not sure if it just takes practise, if our sample was defective or if it's simply poor design, but we found it very difficult to get consistent functionality from our phones while wearing them. In the end, it was easier to simply remove them.
Two other potential problems presented themselves as well. Though they undeniably provide better feel for objects while in use, it is a certainty there will be shooters who find the feel of these gloves insufficient for their preferences. As such, before buying the gloves, we recommend a thorough test of fit and handling of objects in store. The other potential issue is (as PIG themselves state online) durability. These gloves are built and designed for their intended purpose and simply aren't going to be as durable as more robust gloves available.
Having said that, we've had ours for a few weeks and see no reason (even if these particular gloves are still in their infancy of use) to believe the life of these gloves to be too short to justify their worth. While PIG may not have found the definitive answer to the 'glove or not to glove question', a middle ground has been established. If you're of the camp who wears gloves, we think you'll be aptly impressed with the PIG FDT glove. For those who shoot without, these ones are worth a try at the very least.
Comments
comments