At SHOT Show 2016, Outdoor Research introduced the next generation of its modular glove system, a protective glove system comprised of multiple layers and solutions. Outdoor Research says its third generation modular glove system is already being used by US Special Operations Forces (SOF). The third generation modular glove system introduces 3D patterning, draping and seam taping. This results in lower weight, less bulk and increased dexterity.
US SOF first began working on a modular glove system in 2001 and, after testing solutions from eight companies, eventually deployed a system developed by Outdoor Research in 2003. The development of the modular glove system marked a turning point for SOF in hand protection, as it was the first time that all SOF units agreed on a hand protection system and the gloves were able to pass the all important "trigger test." US SOF have been using the first-, second-, and now third-generation Outdoor Research modular glove system ever since.
Third Generation Kit includes 11 Gloves and Mitts
US SOF have continued to use Outdoor Research's modular glove system since that point. The third generation kit has evolved to comprise a "mix-and-match" selection of 11 gloves and mitts built specifically for rugged military, police and tactical use worldwide. As with the previous generation, the index finger features touch-screen compatible leather on the tip to enable the use of mobile devices in the field and most mitts/gloves have features to enhance grip.
Four of these (MGS Gore-Tex Shell Mitts, MGS Shell Gloves, MGS Soft Shell Gloves, MGS Shell Mitts) are outer layers meant for extreme wet and cold weather conditions. They can be layered over combat gloves or various liners and several can also be worn standalone.
Five of these (MGS Insulated Mitt Liner, MGS TF Insulated Liner Mitts, MGS Insulated Liner Gloves, MGS Gen3 Fleece Glove, MGS Wool Liner) are liners, meant primarily to increase warmth under one of the above extreme weather gloves. However, some of these can be used for light duty on their own and all are touch-screen compatible.
The last two gloves (MGS Midwieght Combat Gloves, MGS Lightweight Combat Gloves) are "combat gloves", meant mainly for protection against impact and abrasion. They will also provide some protection against the elements and can be layered under the extreme weather gloves for greater warmth or rain resistance. The lightweight combat gloves feature gun-cut fourchettes (the fabric between the fingers) to improve comfort while shooting.
There is also a tactical heated glove (with three that settings) that is not technically part of the kit, but is compatible with it.
The third generation Outdoor Research modular glove system will be available in Canada through Rampart International, though no release date has been specified yet. We don't yet have pricing, but you can likely look to the Gen. 2 gloves for some idea of what to expect and it probably won't be cheap. However, Outdoor Research takes pride in making an extremely high quality product and offers an almost unparalleled "Infinite Guarantee" – that's right, Outdoor Research will warranty any of their gloves at any time, forever. A product like that is going to command a premium.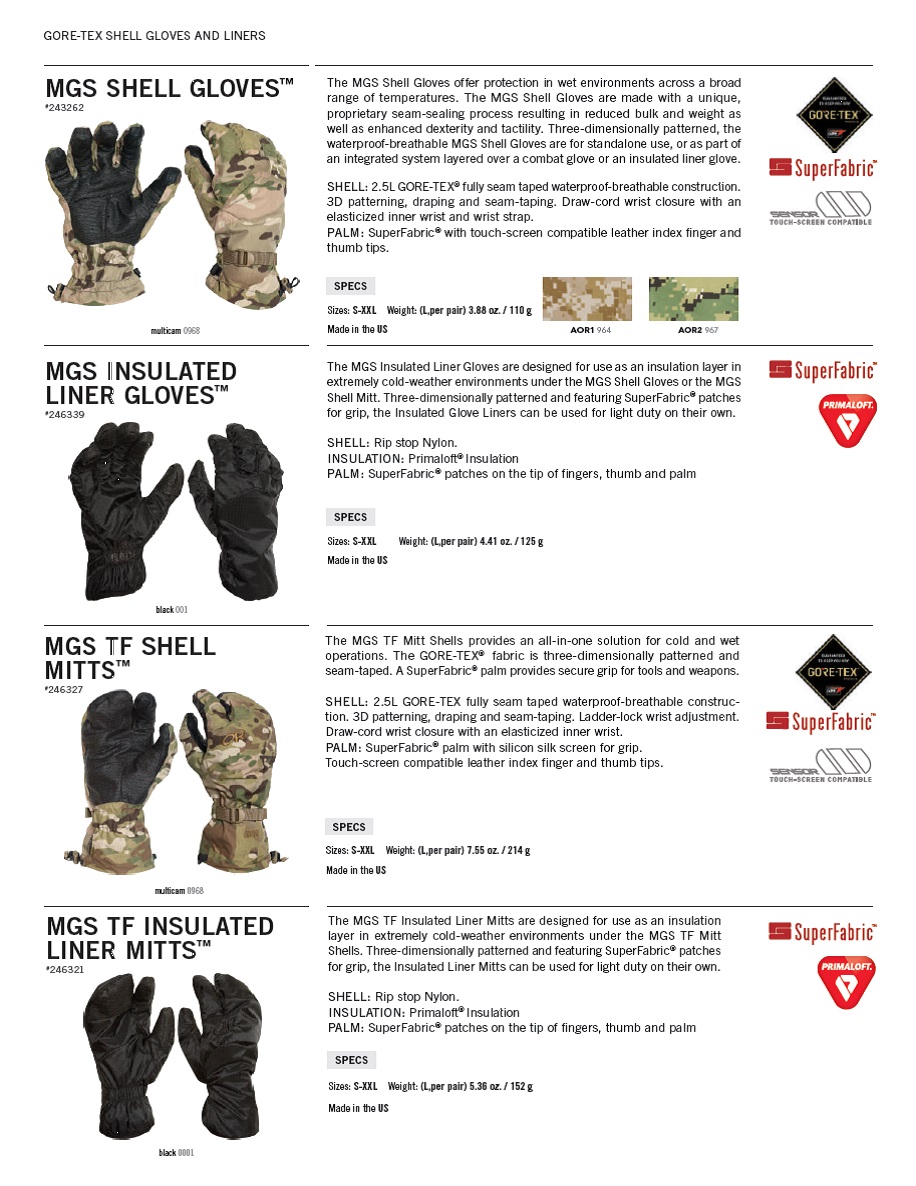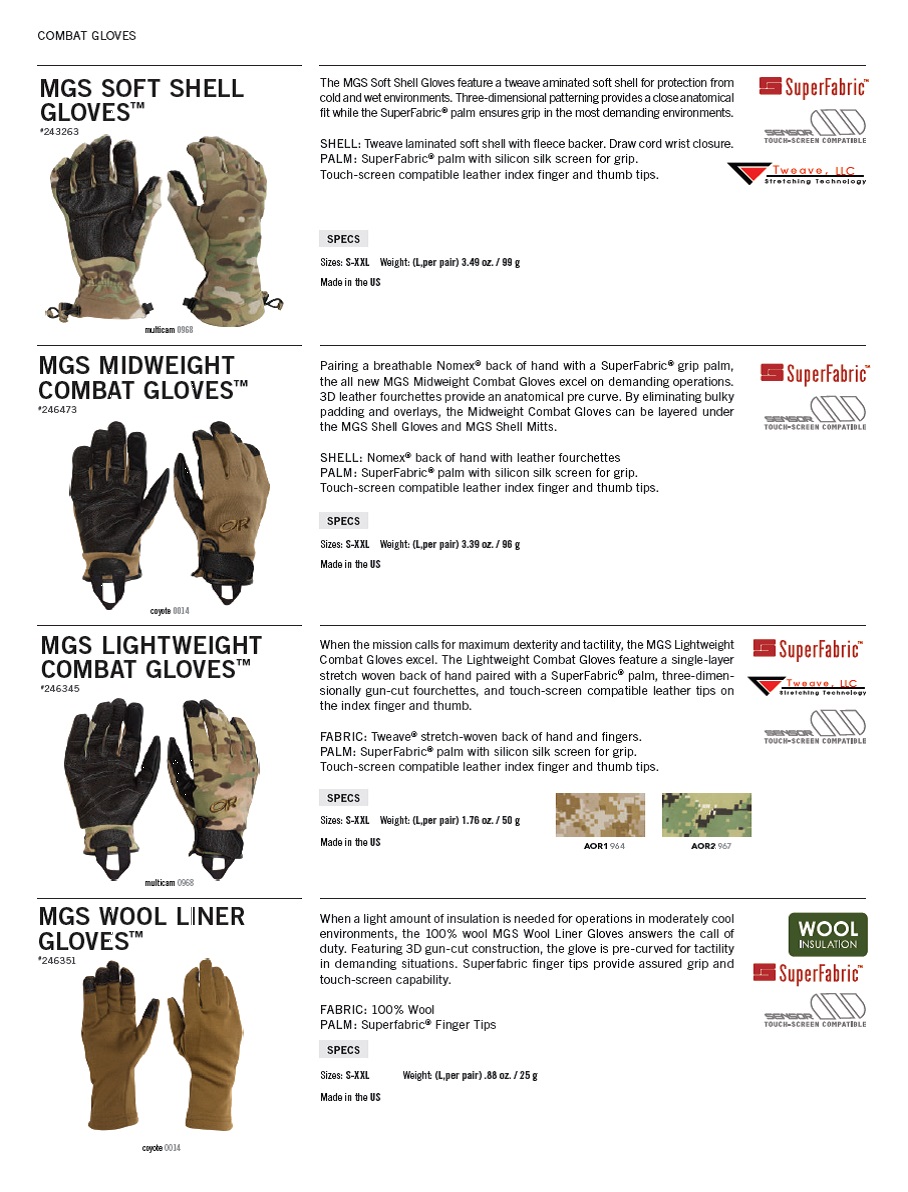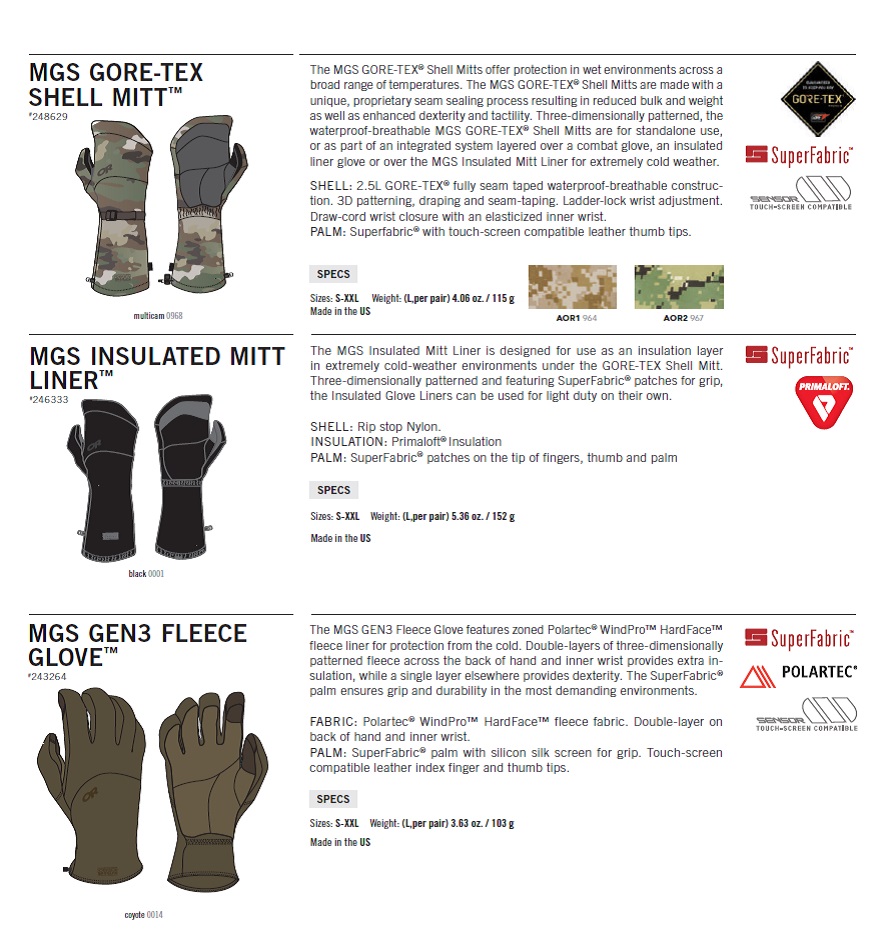 Comments
comments