SHOT Show might not be running in-person in Las Vegas this year, but the firearms industry is bringing out new products just the same. That includes Leupold, with new the VX-3HD series and other new optics.
The new Leupold VX-3HD
The VX-3HD series replaces the VX-3i line. There are several differences, but Leupold seemingly wants to emphasize low-light performance. The VX-3HD scopes use Leupold's Elite Optical System. Leupold says this means "excellent dawn-to-dusk light transmission for a bright image when it matters most, elite-level glare reduction in harsh light, and the resolution and clarity that diehard hunters and shooters demand." The lenses also have Leupold's Guard-ion treatment, a hydrophobic lens coating that sheds dirt and water.
Leupold also says the new scopes have match-grade repeatability, always a good thing for saving time and ammo. Some scopes in the VX3-HD series features a throw lever (removable). Supposedly the controls are crisper than the previous VX-3i line. The new scopes have Leupold's CDS-ZL elevation dial; working with Leupold's Custom Dial System (see it demonstrated here, on a different scope), Leupold's design helps shooters keep their crosshairs dead on, with no need for guessing holdover at various ranges.
Taking a look at Leupold's website, there are models with 1.5-5×20, 2.5-8×36, 3.5-10×40, 3.5-10×50, and 4.5-14×50 magnification. Leupold says some scopes will be available with illuminated reticle. At this point, the only scopes listed have Boone & Crocket reticle, or Wind-Plex reticle, or classic duplex design.
As always, these scopes have Leupold's lifetime warranty. Leupold says the new VX-3HD line is shockproof, waterproof and fogproof, like the rest of its optics. They're made in Leupold's Oregon.
For more details, visit Leupold's website. There's no Canadian pricing, but Korth Group (Canadian distributor) says MSRPs will start at $799 and run up to $1599. Your local dealer may do a bit better on the pricing, though, so check with them.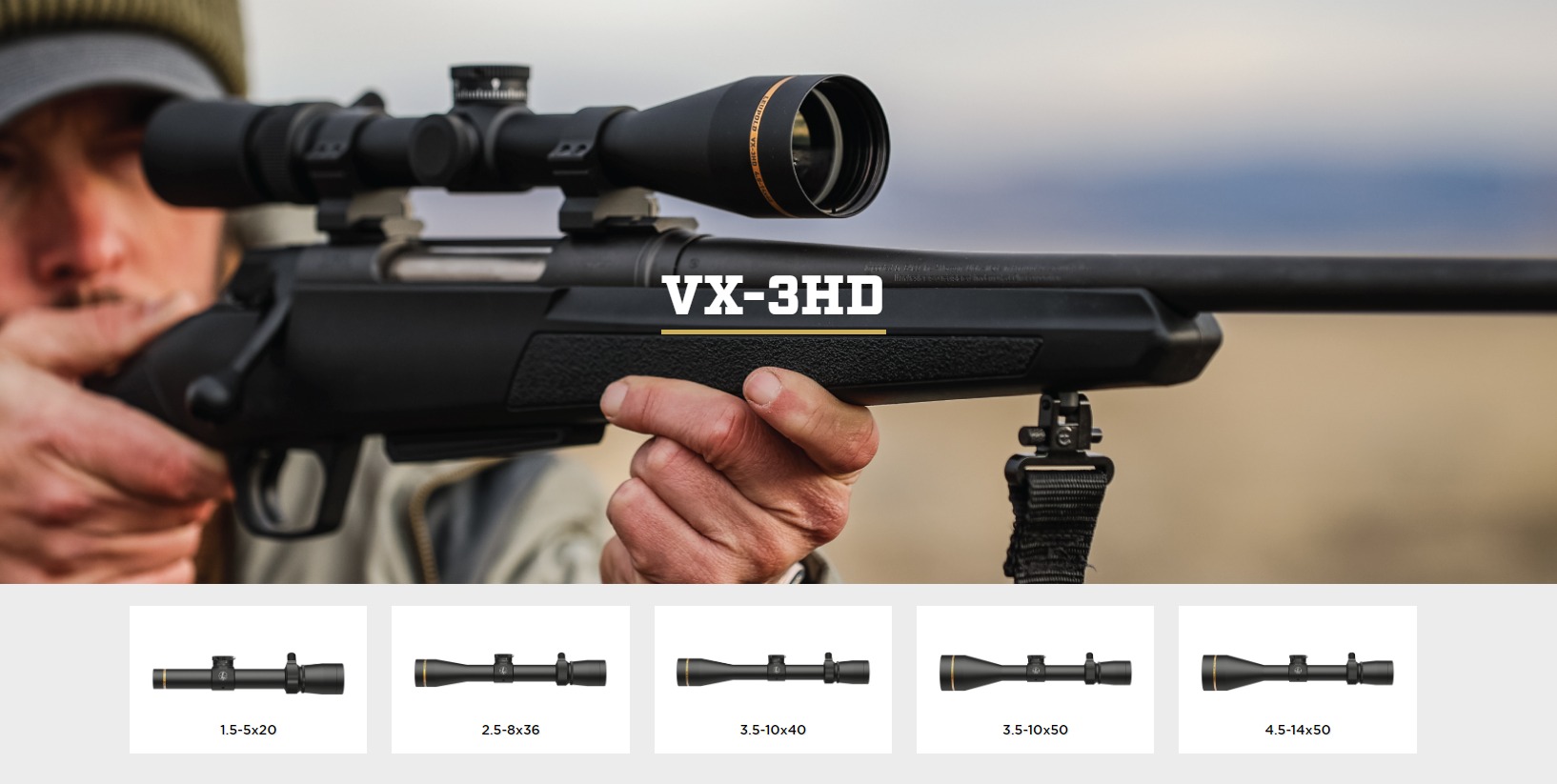 The Mark 3HD line
Leupold also launched a new series of tactical scopes that are very similar to the new VX-3HD optics. They come in the same magnification range and tube sizes as the VX-3HD series, but with a Firedot illuminated reticle. The scopes have MIL-based adjustments, but aside from that, Leupold's website has very little information on the new tactical range. These scopes will see pricing start at $799, running as high as $1119, although your dealer might cut you a break.
Other updates
Leupold also updated other scope series with new models, or made new reticles or other options available in its existing models. There's a lot to see for 2021, and if you're interested, you can check out Leupold's full announcement here. Leupold also features many of the products on its YouTube channel. In Canada, Leupold scopes are distributed by the Korth Group; a company representative says the VX-3HD series is starting to show up in Canada, but the Korth is waiting on production from the US to arrive.
Comments
comments