I'd been flying for about sixteen hours when we touched down at JFK.  It was about one a.m. and by the time I got through security and out of the airport, more like two.  I had a single backpack that I used as a carry-on so I didn't have to go through luggage pickup, at least.  Outside, it was pouring rain and I climbed into the first cab I saw.  I gave the driver the address of the apartment I'd rented and we started driving, but within a few minutes I realized he was unsure of what he was doing.  My phone was dead and I don't know New York well at all, but he took a few turns that were obviously wrong, even to me.
"Do you know where you're going? I asked.
He didn't respond with much that I could understand.  "GPS broken" was definitely part of it.
"Pull over," I said. We argued briefly but he pulled over.  I paid him for the time I'd been in the cab and got out. It was still pouring rain.  I looked around at the unfamiliar streets and addressed a couple of guys walking close to me.
"Hey," I said, "what part of town is this?"
"Flatbush," one of them said.  I didn't know where that was exactly, but I'd heard of it.  I was staying near the Brooklyn Bridge.   
"Is that near Brooklyn?"
"It's part of Brooklyn."
"How far is the bridge?"
"The Brooklyn bridge?"
"Yeah."
"Maybe ten miles."
I realized I was going to be spending a lot of time just travelling around the city.  It made me think of Mexico City, another huge metropolis I'd had to endure, and how alien it had been.  I'd hauled my daily supplies around in a backpack, but the first day I was there, somebody tried to grab stuff out of it  by sneaking up behind me and then jamming their hands into it.  Then, later, on the subway, someone tried to grab it out of my hands when I was holding it low in an attempt to keep better control of it.
It was a problem with the backpack that was hard to solve.  I don't carry a ton of stuff all the time, but I write, professionally.  I need a laptop and a camera.  And I'm always on the move, so I need a jacket and food and water, and I keep a combat dressing and a tourniquet on hand just in case.  I need some kind of bag, but my backpack wasn't working well for me anymore.  I stood on the street in Flatbush at two in the morning, looking for a subway stop and considering the meeting I was going to have to get to the next day, taking the train with thousands of commuters in the unbelievable crush of New York.
That was the first moment I wished I had a messenger bag.
That was about a year ago.  Since then I've traveled a lot, written a lot, and handled a lot of gear.  Having never gotten over the need for a simple, shoulder-carried bag that could be conveniently slid around to the front of my body, I decided to contact a few gear manufacturers that had made it to the top of my "preferred" list to see if they could offer me anything that might fit my needs.
I wanted to go two directions: one tactical, one sleek.
MISSION WORKSHOP RUMMY
Below you'll see the Mission Workshop Rummy.  It's their medium-sized edition, at 27 litres – about the size of a decent daypack.  If you need to go larger, you can step it up to 35 which is pretty cavernous; if you need less capacity there's a 21 litre option.  For our purposes, the medium bag works well as it holds enough to take on the road if you travel light, but it's also small enough to carry daily.
The Rummy, like all of the Mission Workshop bags, is based on the roll-top principle, like a dry bag.  The bag is a lot deeper than it needs to be, and then you roll the top down, making it impossible, for all intents and purposes, to get water inside.
But you don't have to set it up that way; you can just fold it over if you like, and it works just fine for any conditions that wouldn't drown a walrus. 
The craftsmanship is truly incredible.  This bag absolutely belongs to that upper echelon of truly overbuilt-at-every-corner gear and you could probably get away with something that isn't half this carefully constructed.  In fact in a sense, this bag may only be worth it for two groups of people: actual couriers, and people who just want the best gear, because owning and using top flight gear is inherently satisfying.
Calibre Magazine happens to employ one ex-bike courier, who actually literally drooled on the Rummy.  That's not hyperbole; that actually happened.  Everyone else at Calibre, however, falls into category 2: we just love quality, for its own sake.  And that's exactly what Mission Workshop provides.  This bag is actually simple; it's just simple, done to perfection.  There aren't a ton of pockets, there are just the necessary ones.  There isn't a pen organizer with twenty slots in it.  There aren't zippers everywhere.  There are no provisions for attaching any modular pockets to the outside.
And if you're the kind of person that wants a Mission Workshop bag, that's exactly what you're looking for.  You want sleek, stylish gear that will survive a nuclear war, and that's what you get.
Behold the following kickass features:
A removable stabilizer strap if you're going long distances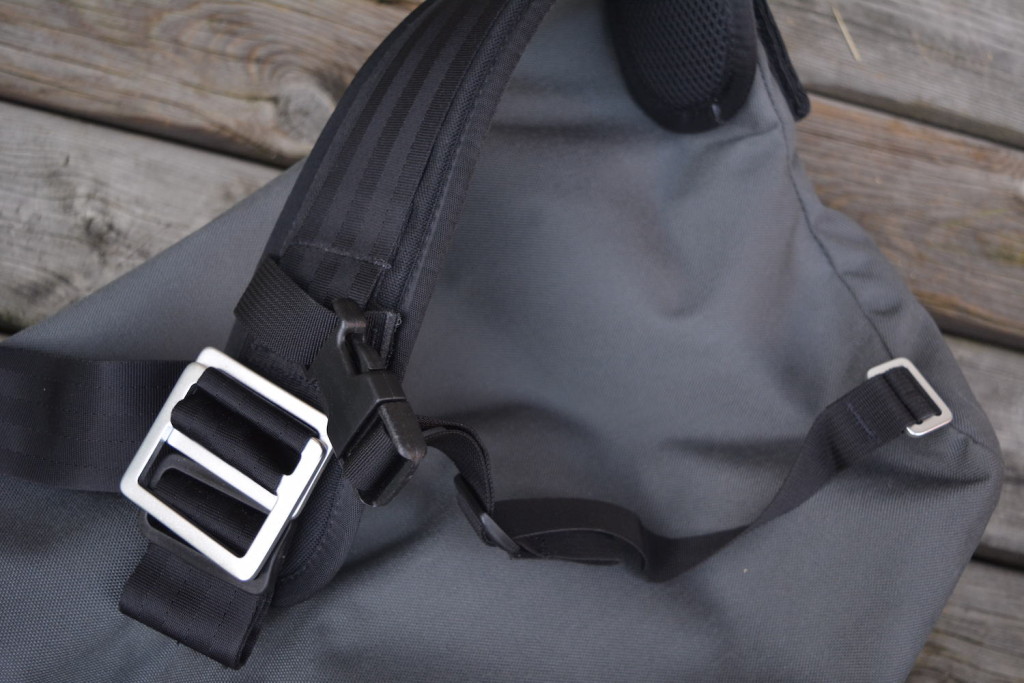 The option to use it like a roll-top drybag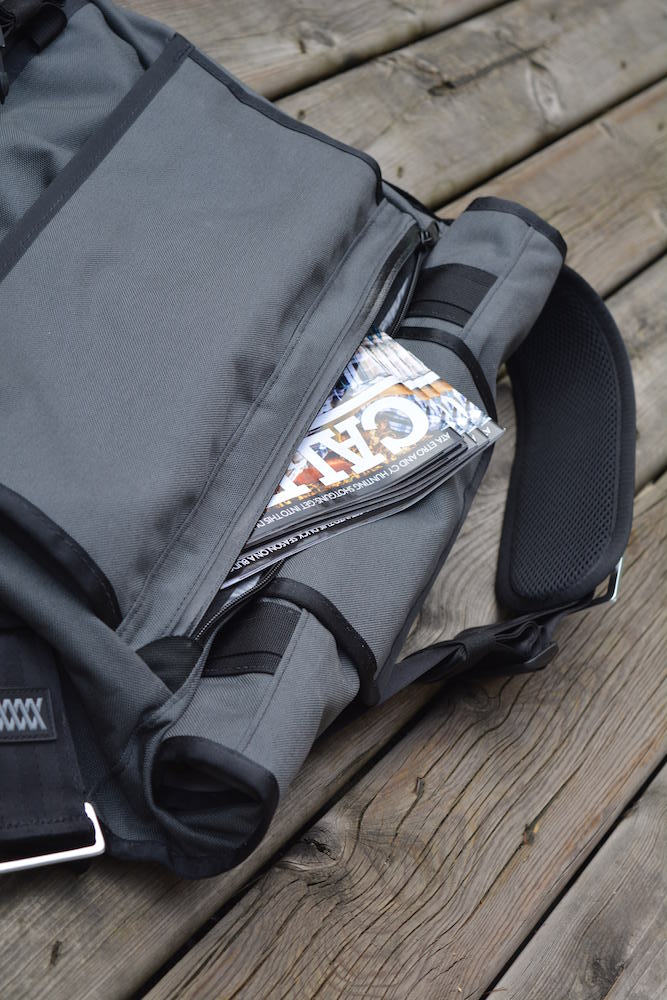 Flaps that velcro AND buckle into place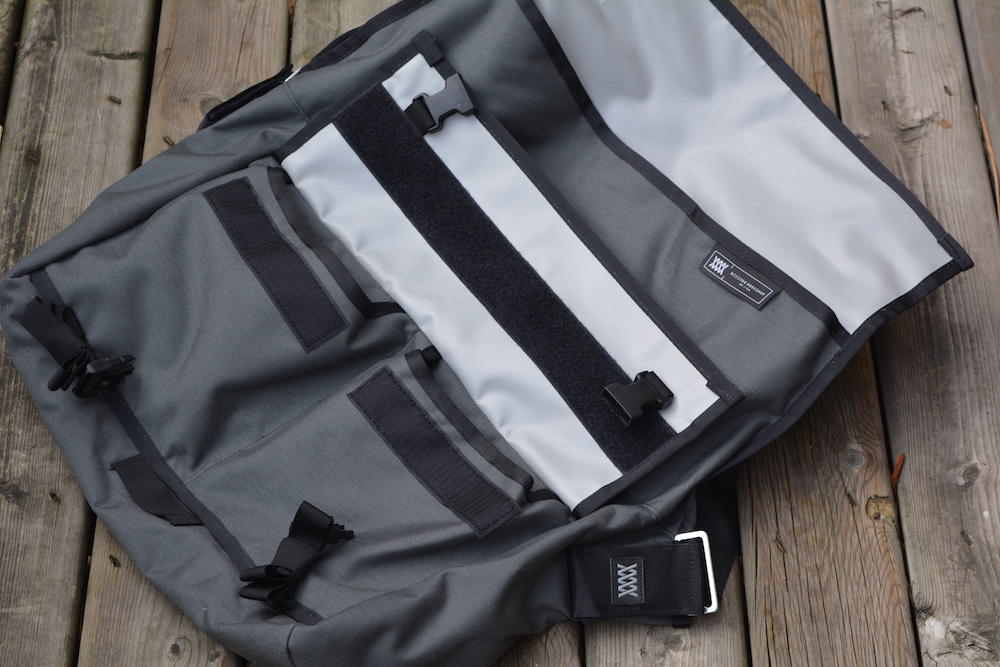 Made in a country that Canada is proud to have served alongside…for generations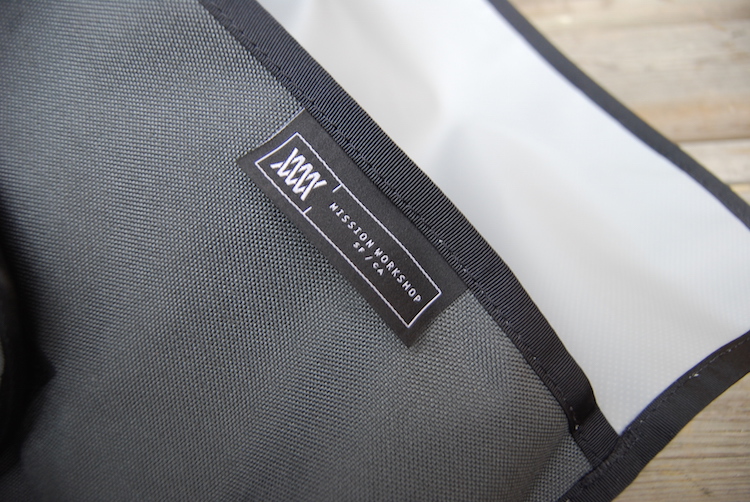 Strap that can be reversed any time…but is locked down by doubled tabs of industrial velcro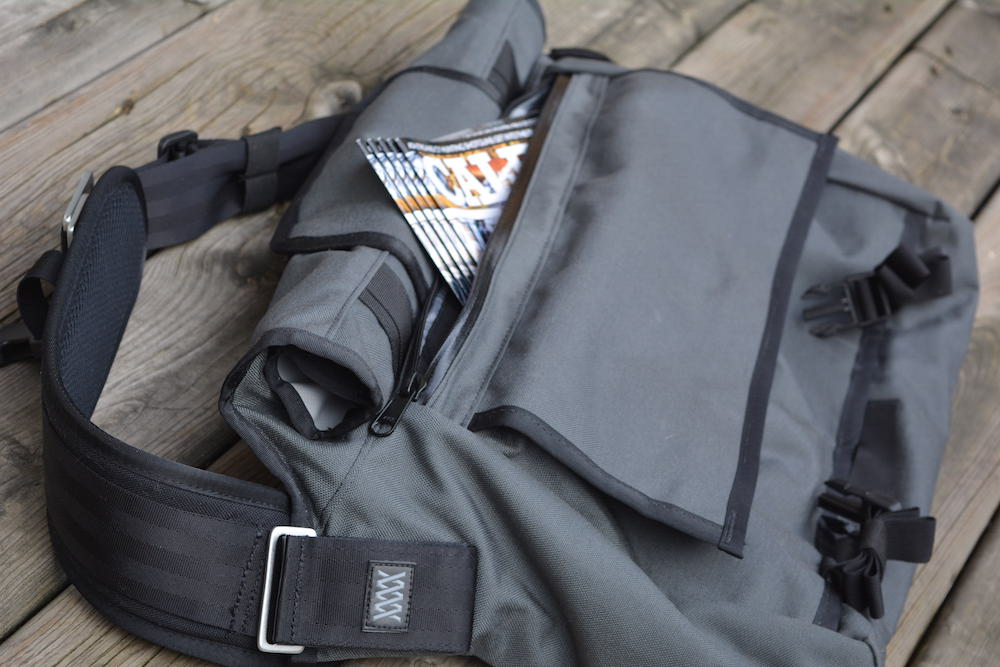 The one and only zipper, which looks like it belongs on a drysuit, because it does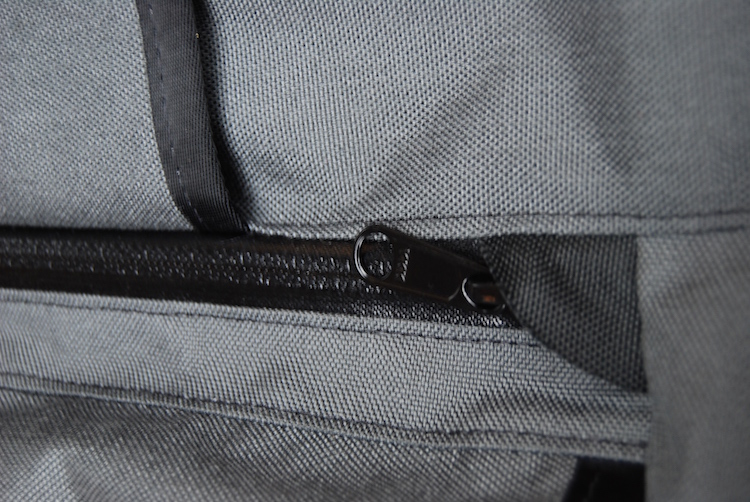 Custom aluminum hardware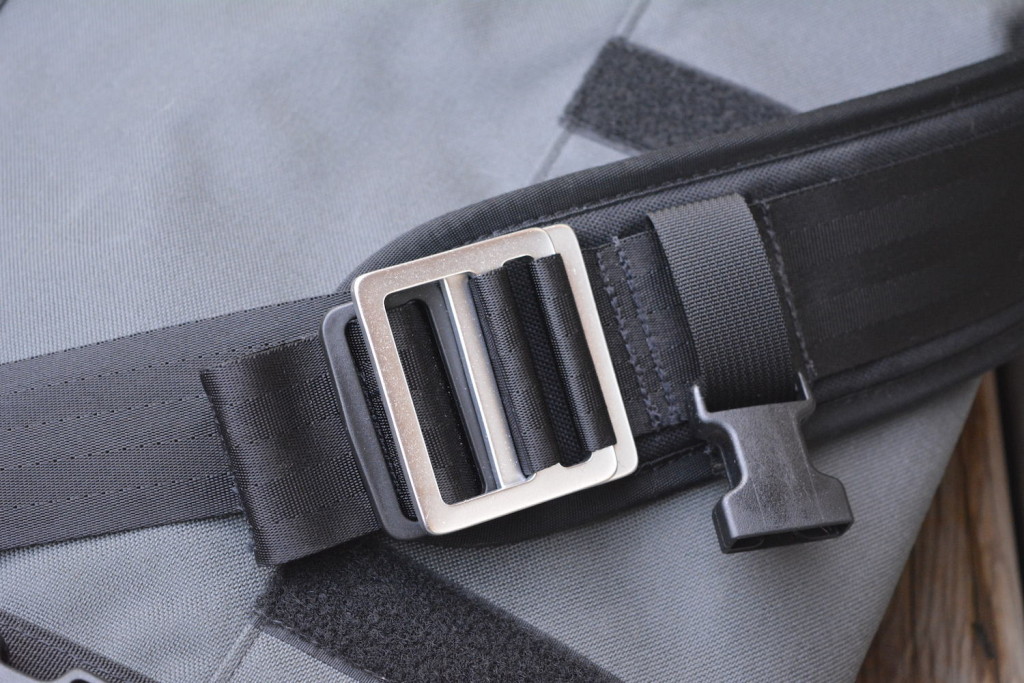 The overall sleek appearance, which, okay, won't go with a three piece suit.  But it looks pretty slick with everything else.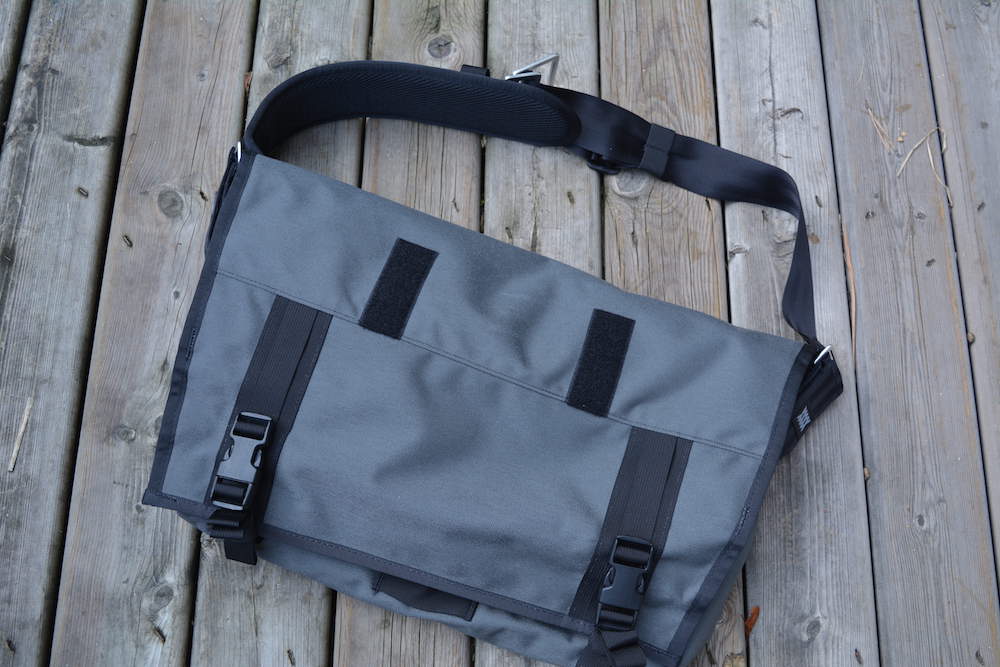 So there you have it.  If you wear a lot of multicam, this bag is probably way too subdued for your tastes.  But if you're someone who threw a party when companies like Arcteryx and Blue Force Gear started making their equipment in grey because you want to have ultra-high performance gear that no normal human being could kill, but you only want to draw the attention of other gear obsessives…this is your bag.  As for me, I've already hauled the Rummy through three airports and countless miles of foot, subway, and motorcycle travel.  It's carried 1911s and Glocks to ranges and gunsmiths, and I've never once worried about being "made".
This is the ultimate grey man gear, if you intend to be the last grey man standing…no matter what.
HAZARD 4 DIAGONAL MESSENGER BAG
All right.  We've had a look at the ultimate grey man gear.  But not everyone needs that blend-into-urban-settings factor.  Some people just want the no-holds-barred, I-don't-care-if-it's-pretty-because-I'll-coat-it-with-my-enemies'-blood-today, this-is-for-the-apocalypse gear hauler.
Say no more.  The Hazard 4 Diagonal Messenger Bag is your bag.  This is hands-down the most comfortable way to haul around a shoulder-bag's worth of gear I've ever seen.  The design ethic is radically different than the the last bag we looked at; there's ample helpings of MOLLE webbing and zippers and buckles, but even though it's much more complex, everything serves a purpose.
Let's start with the diagonal strap, because this is the core of what makes this bag unique: it's not clipped to the top corner at both ends, like any other courier bag.  It's a padded strap, stitched to the side and back.  This makes the bag hug your back and stay in place better than any messenger bag we've seen.  It's incredibly comfortable.  You can wear this thing for hours, loaded right up with heavy stuff, like books and ammo (we're gun-toting writers.  This is relevant to our interests).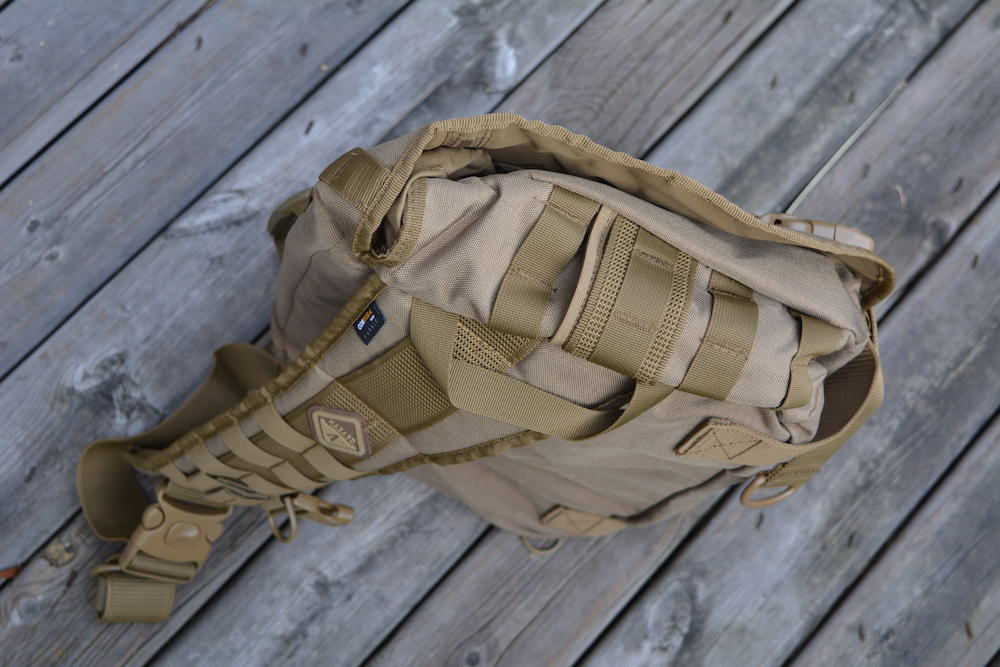 The padded laptop compartment will easily hold a 15" laptop, although anything significantly larger will need to go in the main bag.  This is probably the only serious complaint we've heard about the bag and of course it won't be an issue for everyone.  But it's worth knowing ahead of time.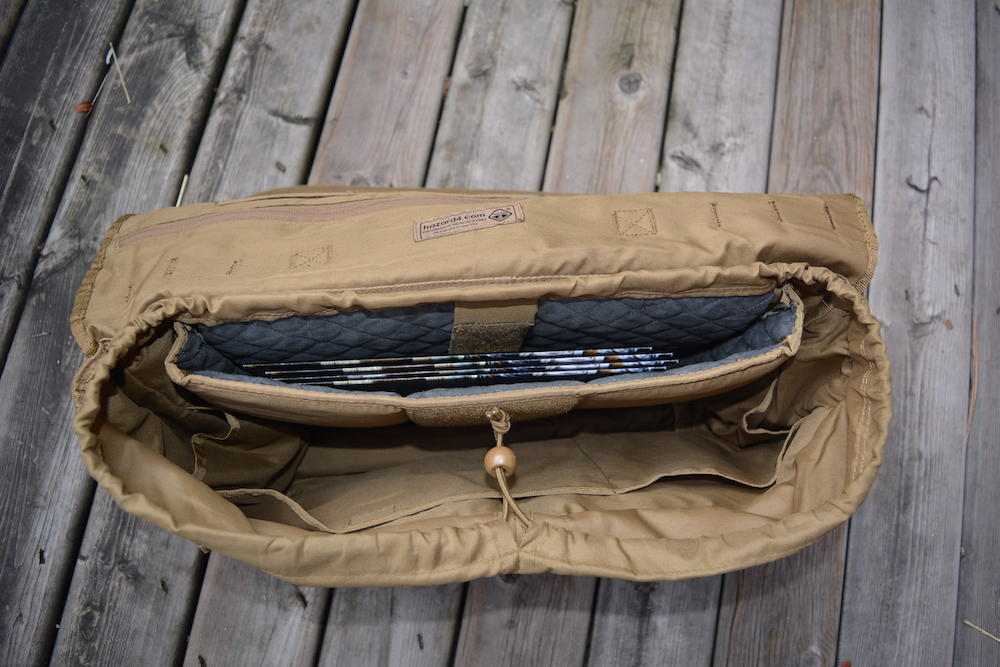 Surrounding the main compartment is what we'd call a spindrift collar; it's a shock-corded layer of thin nylon that provides a bit of extra protection for the contents while remaining both flexible and adjustable.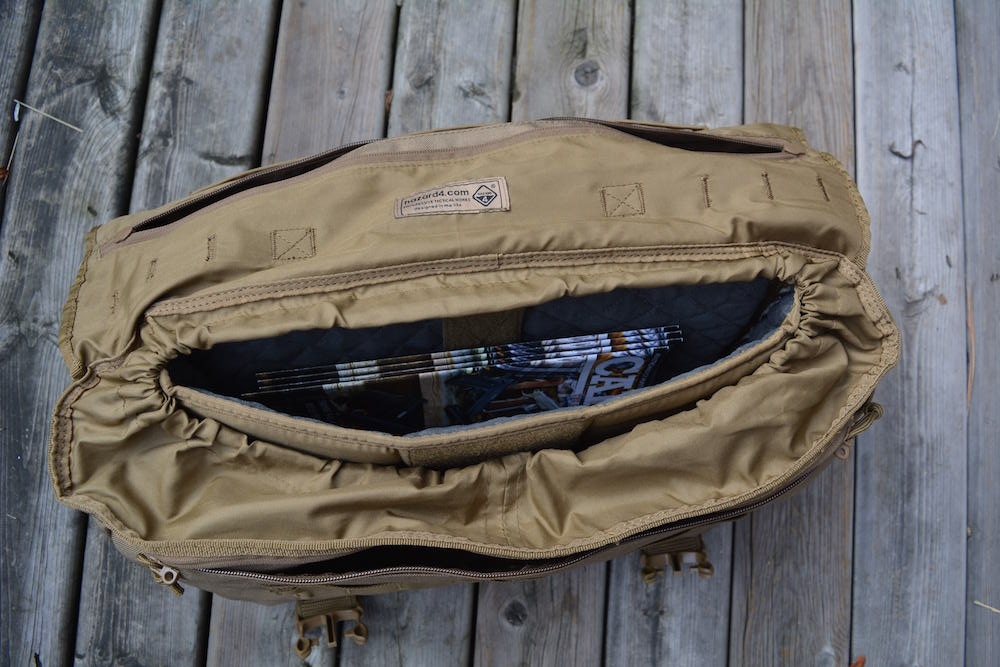 There are myriad internal pockets: five in the main compartment (plus the padded laptop sleeve) and about a dozen in the front compartment.  There's no excuse for not staying organized here.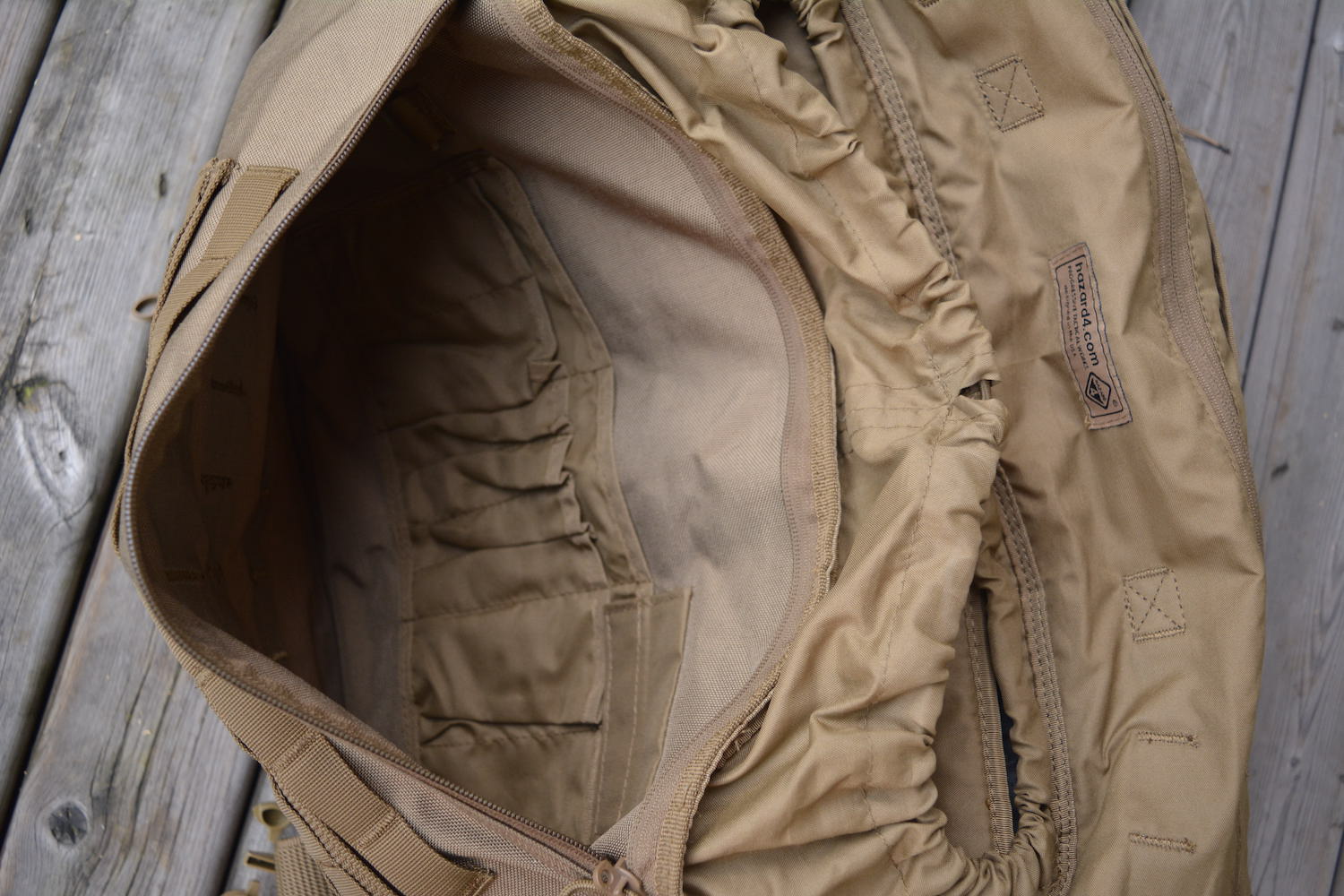 The front surface is covered not just in MOLLE webbing, but also features a clever strip of heavy, two-inch rigid nylon designed to hold anything from the ubiquitous tactical nylon carriers to duty belt gear; this may not apply to everyone in Canada but for those of us who have to wear duty belts, this allows the user to transition gear directly from the belt to the bag when leaving work.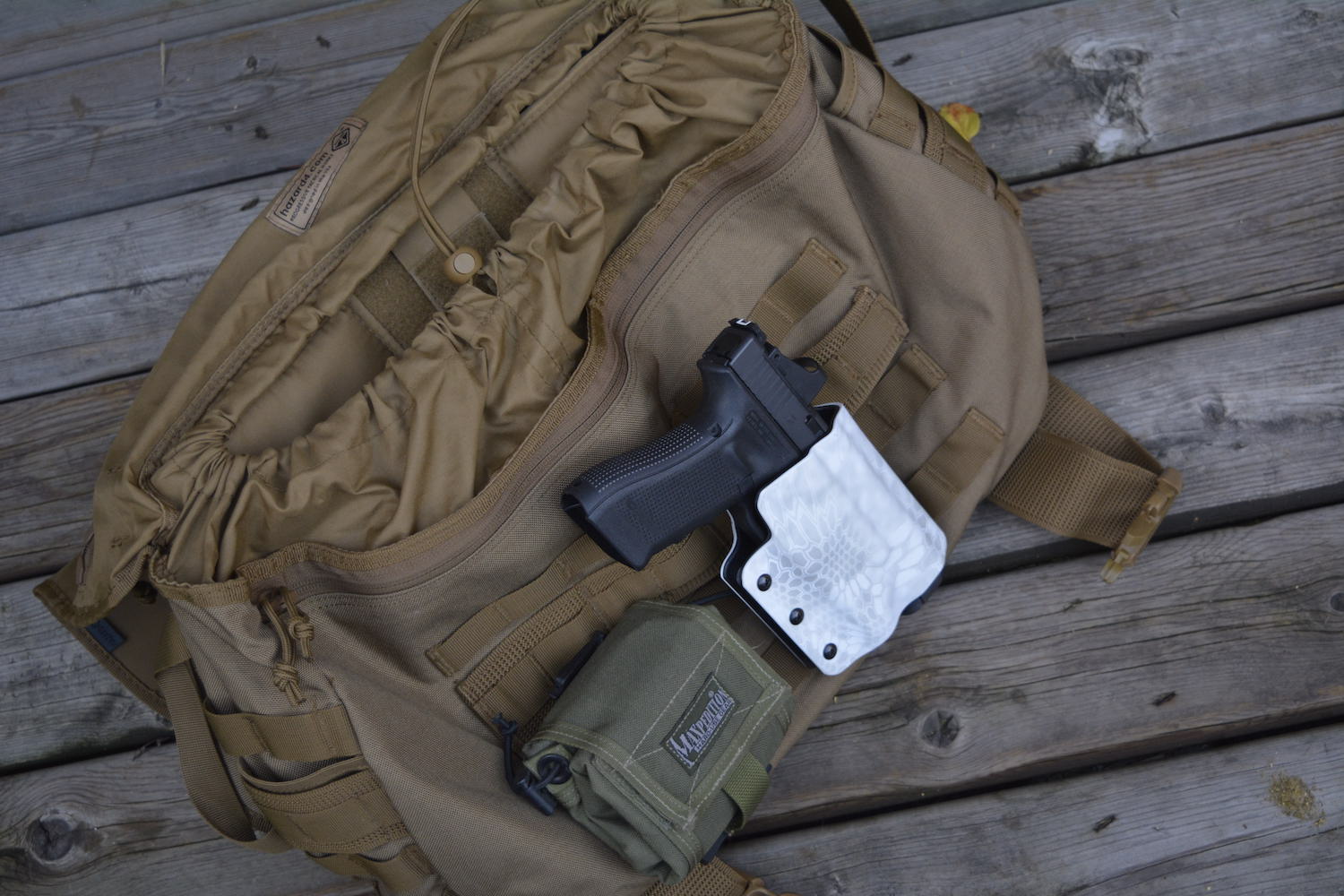 The main flap closes with two, two-inch buckles which have locking closures.  That certainly secures it well for long hikes and makes it a little tougher for pickpocket types to sneak objects out of it in a crowd.  Even closed up, though, a full-width flap-covered zipper provides access to the contents.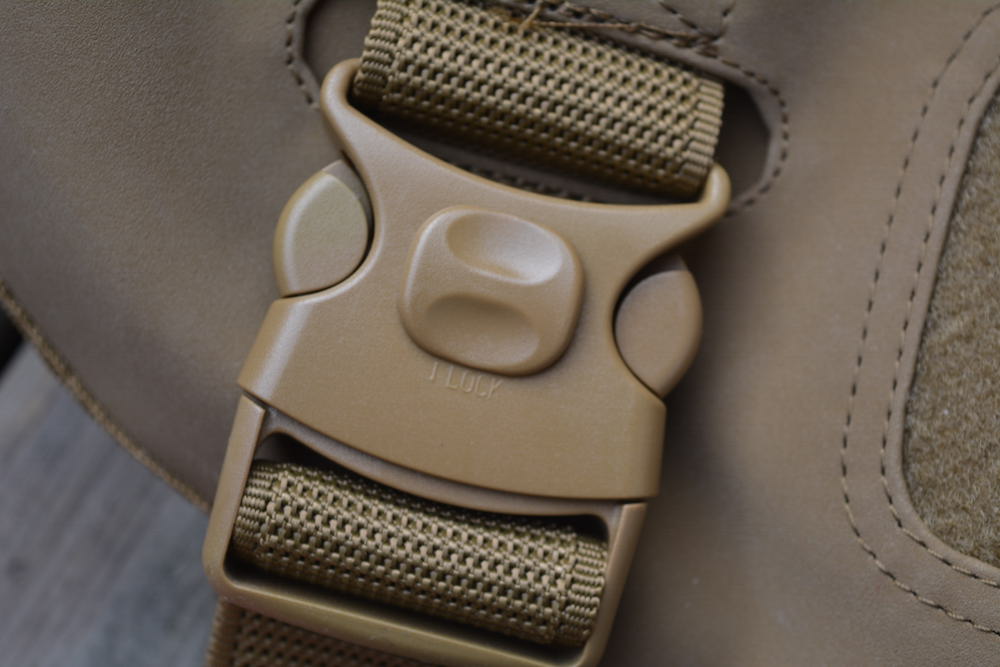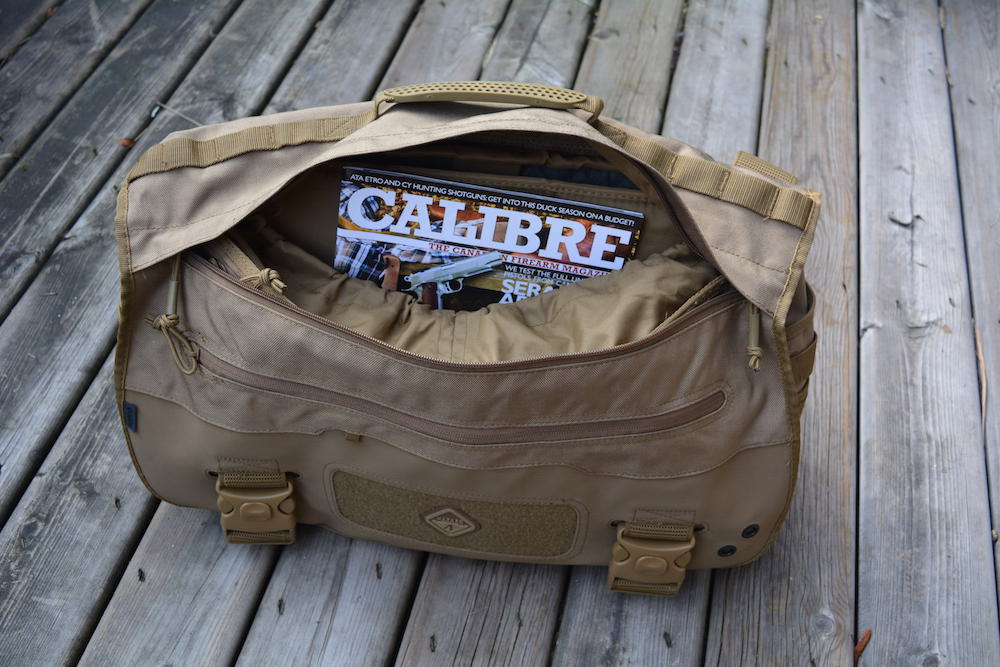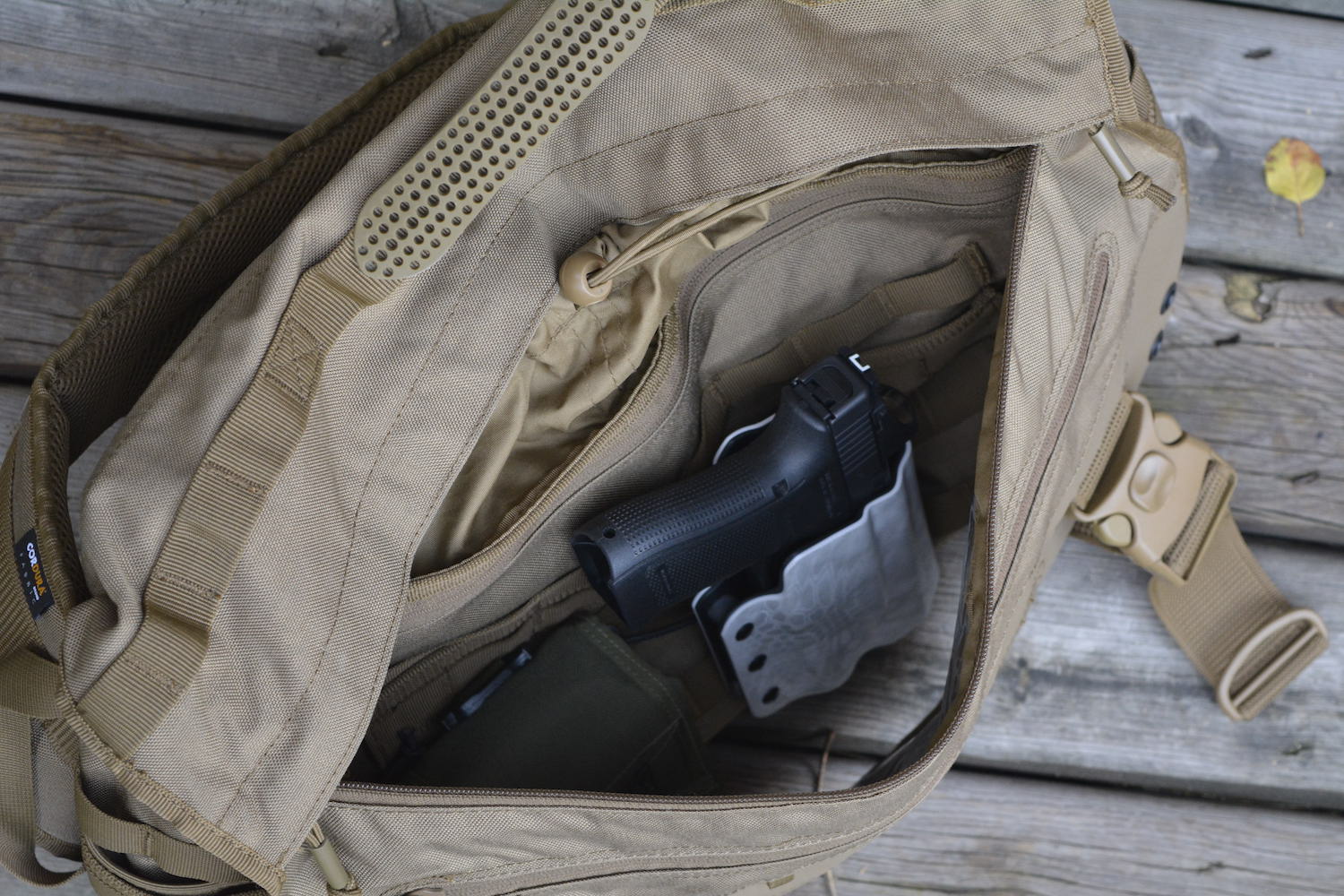 That main flap is itself a fairly large pocket with a rubberized surface that renders it fairly weather resistant; in fact there are actually grommeted drain holes in the end that sits low when slung to keep water from accumulating in the cover.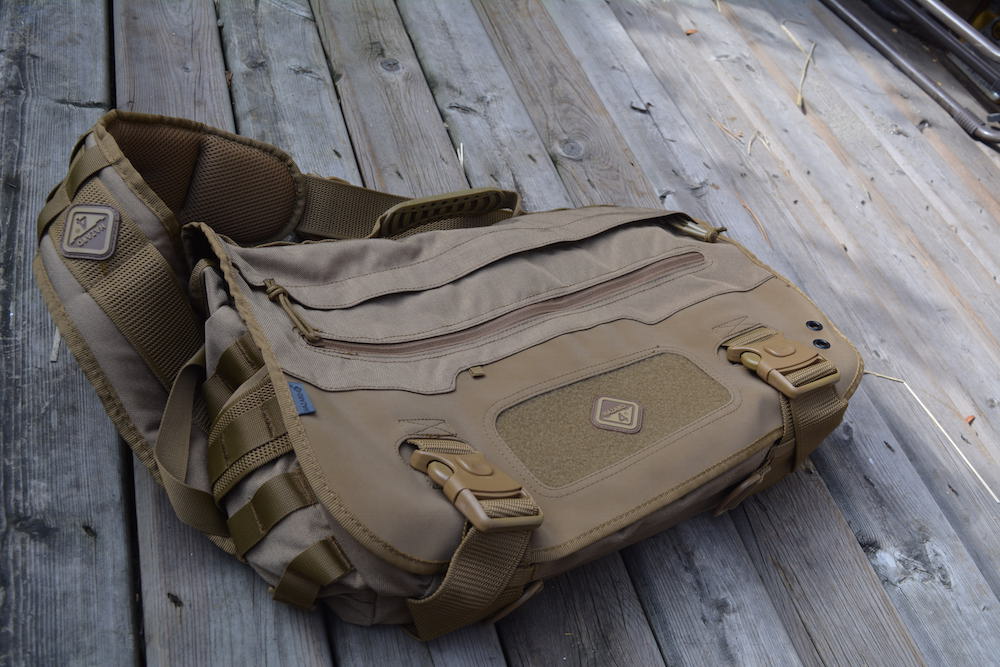 Overall it's very hard not to enjoy this bag.  The comfort factor is not to be ignored and the capacity is pretty huge, at just over 29 litres.  The diagonal strap does commit you to slinging it on your left shoulder one hundred percent of the time, but the payoff is a bag you can load up with, for example, a half-dozen legally-locked-in-your-jurisdiction handguns and five hundred rounds of ammo for oh, let's say a magazine that might employ you…and take it all to the range on a motorcycle in total comfort and security.
Conclusion: get both, and here's why: 
The Mission Workshop Rummy will blend in, and whenever you carry it past a mirror you can look at yourself and give a single, serious nod and make eye contact with your own steely gaze, and know that you are the silent agent of change that has willingly erased his own identity in order to serve a higher purpose: the distribution of Canada's gun magazine (it's okay if you substitute your own goal, as long as nobody gets hurt.)
The Hazard 4 Diagonal Messenger Bag won't blend in at all, and you won't care, because you're not here to cater to the delicate sensibilities of a bunch of pencil-necked pantywaists.  You didn't bring luggage, you brought a machine that transports gear through conditions no human could survive.  But you're barely human yourself: you are the living manifestation of firearms publishing in the Great White North (again if you can think of more important missions that's okay.  Just be careful.)
Now go get yourself some primo gear, and tell them Calibre sent you.  Otherwise they'll make us give the stuff back.
Comments
comments