The Klarus XT2C was brought to our attention by the legendary Craig Douglas, aka Southnarc, of Shivworks Training. Douglas' career covers a lot of undercover work, a lot of SWAT work, a lot of SWAT command work, a lot of martial arts and a whole lot of deeply heavy dives into the motivations and unconscious behaviour patterns of violent criminals. So when he throws out a morsel of information, we're all ears.
The XT2C came up in a discussion of flashlights to use for his course, Armed Movement In Structures, which is aimed at training people, who are themselves armed, to move through buildings with armed threats. It's dangerous stuff and makes use of a lot of lighting tactics to get people through successfully, and one of the most heavily employed tools is a tactical flashlight which had been reviewed on Survival Cooking with a strobe feature.
What makes the XT2C work in this role is its interface, which is a two-button setup that gives the user access to the strobe without cycling through modes or requiring two hands or a change in grip. The 2C has a centre button on the tailcap which is either momentary or click on, and a crescent-shaped button adjacent to that which is controls a strobe if used by itself, or the intensity of the constant beam if tapped while the constant beam is on.
The switch interface is really well thought-out and it's one of the best we've tried, but our long-term use of this light identified a couple of issues.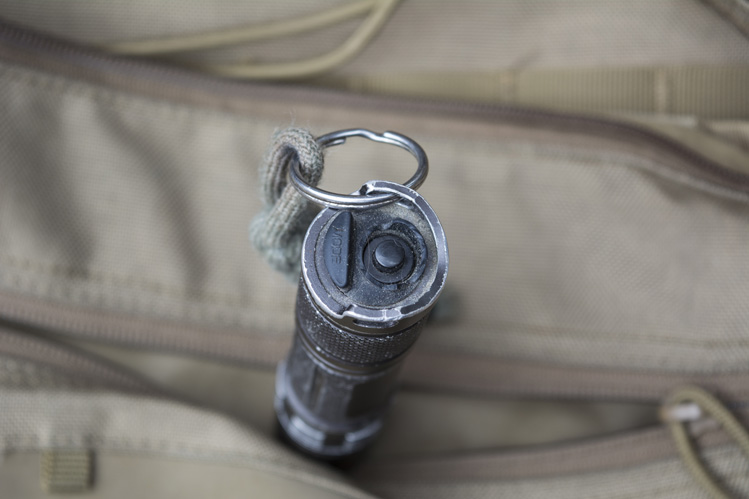 Most importantly, the 2C devours batteries. It ships with the usual CR123a batteries that every tactical flashlight seems to use these days, and if you keep using disposable batteries, you're replacing them almost weekly if it gets any use at all. We switched to a rechargeable 18650 batteries, one of which replaces two CR123a batteries. This is the only way to fly on this light; it's just too fuel-hungry to do it any other way.
The other problem that eventually turned up was that the soft rubber cover of the switches eventually began to break down. Granted, the light rode in a pocket for two years and saw heavy use almost daily, so that's not unreasonable wear. But that's how the Klarus XT2C will most likely show its age, if you have one.
Craig Douglas himself ultimately found the battery consumption to be to great of a factor to put up with, and stopped recommending them. But if you can deal with 18650 rechargeable batteries, it's not a bad light, especially for the money. And the user interface is just perfect for a mixed defensive-utility light.
The original Klarus XT2C had a high mode of 480 lumens, a medium of 165, and a low of just four, plus a strobe at 480 lumens. They've since upped the maximum to 580. For a street price around $75, that's tough to beat.
Comments
comments