The formula for a highly effective gun club is simple. Add equal portions of safety, efficiency and a welcoming attitude, then add three portions of volunteers.
In reality, it's not quite so easy.
Here's how clubs across the country handle their biggest challenges, both internal and external, that directly affect the experience of their members and the future of our sport.
Create a Red Team
A Red Team is a small group formed to challenge the status quo in an organization. It roots out bureaucratic stagnation epitomized by the attitude "it's always been done that way." Its adversarial nature forces everyone to evaluate whether the current rules and procedures solve problems efficiently and effectively.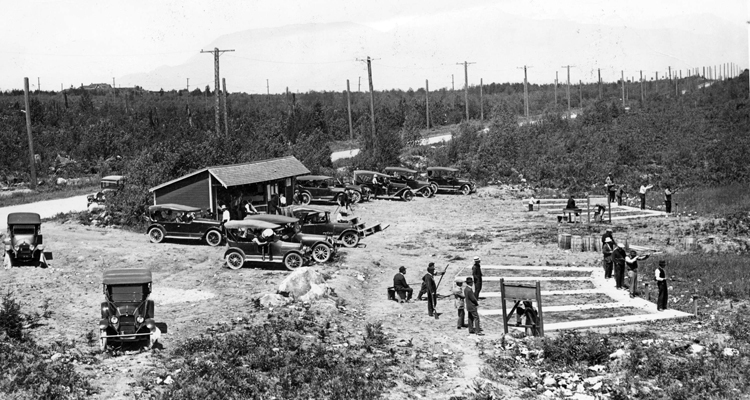 Your gun club could run a Red Team exercise on everything from its policies and procedures to its core rules.
For example, at one pistol club in Toronto new members can only shoot .22 calibre handgun during their first 9 visits to the range. Another gun club says you cannot bring a guest during your first year of membership. Some gun clubs restrict handgun shooters to 5 rounds per magazine when the legal maximum is 10. They restrict rifles to a single round when the legal maximum is 5.
No one knows why they created these rules, yet they stand behind the them. Adamantly.
Gun clubs who restrict their members beyond the legal limitations of magazine capacity unwittingly create a huge political danger for all firearm owners. When anti-gun activists, whether in lobby groups or government, see us restricting ourselves further than the law requires, they leap at the opportunity to transform our voluntary action into a legal requirement.
"The experts at the gun clubs say the legal limit is too high. We need to change the law to what is safe," they cry, and we face another political battle.
Other clubs outlaw what they call "rapid fire."
Penalizing members who use a firearm as designed makes no sense. All semi-automatic firearms operate with the same fundamental limitation – one pull of the trigger sends one bullet downrange. The mechanics of the firearm limit the rate of fire. No matter how skilled the shooter, the gun only fires so fast.
Rules like these drive current and prospective members away. A "Red Team" exercise could help transform your club to make it more inviting.
Encourage Volunteers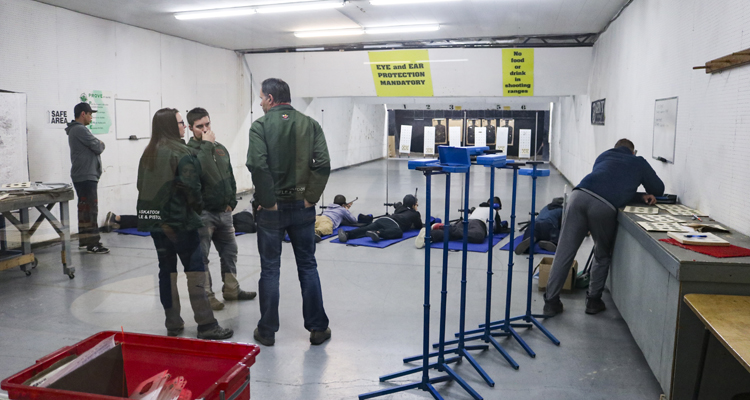 Gun clubs don't run themselves. It takes time, effort, money and volunteers. A lot of volunteers.
John Holdstock, former president of the B.C. Wildlife Association, Olympic shooting coach and lifelong political activist, ended every email with his signature tagline, "The world is run by those who show up." Holdstock lived those words every day until Christmas Day, 2010, when he died sitting at his desk working on a new article.
We must show up. We must do our part. Easy to say. Much harder to practice.
Lambton Sportsman's Club in south-western Ontario makes it mandatory to volunteer 8 hours per year. Those who do not meet their volunteer hours requirement must pay a fine. "I do my best to make volunteering easy, but the work to maintain the club still needs to get done," says Caron Ball, the club's volunteer coordinator. Regular maintenance is required on the archery and sporting clays trails, shooting ranges, target stands and shooting benches. The lawn must be mowed twice a week in the summer. Kitchen facilities must be kept clean. Each shooting discipline also has its own specific requirements.
Caron learned the system works best when members to set their own schedule. They work at their own pace with no time pressure from her and the work always gets done.
Pinecrest Pistol and Revolver Club in St. Catharines, Ontario, takes a different approach. Volunteering is not mandatory but it does come with rewards. Every time a person volunteers, be it on one of the committees or at their weekly Tuesday New Shooter Night, members receive a $5 credit toward next year's membership dues.
"If a person wants to, they can earn their entire membership fee by volunteering. For example, every Tuesday night we need a minimum of 12 volunteers to operate the shooting line and train people how to handle a firearm safely," said Robert Maclean, president of the Pinecrest club.
Treat Your Volunteers Well
This should be obvious, yet many clubs don't express any appreciation to those members who step up to the plate and volunteer.
"Twice a year we take all our volunteers out for pizza and beer. It's not much, but it is important to express our appreciation," said Pinecrest club president Robert Maclean. The gun club picks up the tab, the members feel appreciated, and the social evenings provide another opportunity to build the club's sense of community and camaraderie.
If you haven't volunteered at your gun club this year, do it now. Call up your club president and ask what needs to be done, then go do it. He or she will be grateful, and you'll feel good knowing you contributed to the health of your club.
Break Down Barriers Between Shooting Disciplines and Cross-Promote Club Events
Work with your fellow sub-groups and promote each other's events. Promoting and attending another shooting discipline's event increases the social fabric of your gun club. The added bonus is you just might learn something, too.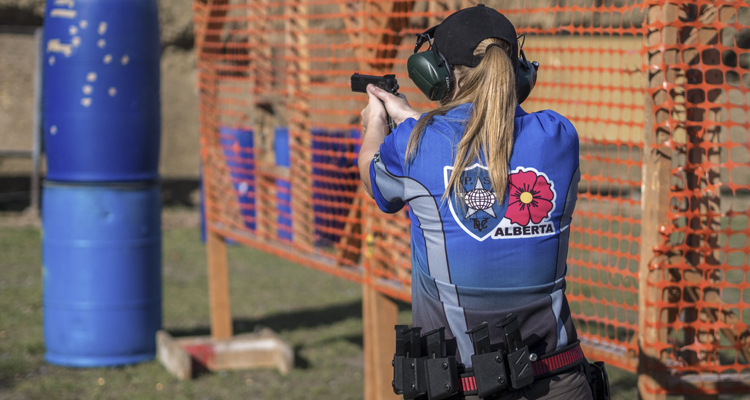 Gun owners are an insular bunch. When we find a shooting discipline we like, we focus on it with tunnel vision to the exclusion of all else. This creates horrible divisions in our ranks, divisions the anti-gun crowd happily exploits.
"I don't own handguns. Why should I care about that law?"
"I don't own semi-automatic rifles. Why should I care if they're banned?"
These attitudes are still rampant after generations of "gun control" in Canada.
Teach Youth the Outdoor Skills of Our Heritage
Without young people there is no future for the shooting sports. The executive of the Chilliwack Fish and Game Protective Association realized it and, in 2003, developed a program to ensure our heritage is passed on.
"We started the Youth Outdoor Skills Camp for one very simple reason: We were not seeing any youth in the field. If we want our culture and heritage to survive, we must ensure today's youth have the same opportunities we did when we were kids," said Bill Wimpney, former club president and co-founder of the program.
The annual Youth Outdoor Skills Camp takes 20 people, aged 12-16, and brings them to the facility for a 12-day intensive series of training courses. This training gives participants all the skills required to partake of our traditional way of life: hunting, fishing, and the conservation of natural resources we all enjoy.
The primary focus of the camp is to teach young people
1. The Canadian Firearms Safety Course (CFSC), which enables each participant to obtain their Minors Firearms License;
2. The Conservation and Outdoor Recreation Education Program (CORE), which teaches animal and bird identification, hunter etiquette and ethics, and basic first aid.
The CORE course is required to get their B.C. Hunter Number, a pre-requisite for obtaining a hunting license. The CFSC course allows them to apply for their Minors Firearms License and, once they turn 18, their adult Possession and Acquisition License.
The Youth Outdoor Skills Program transforms the lives of its participants and its volunteers. It builds a sense of community within the club membership and guarantees the continuation of our heritage, but it can't happen without a ton of dedicated volunteers willing to train our young people – the shooters, educators and politicians of tomorrow.
"We're promoting a lifestyle here, a lifestyle we've been proud of all this time, but for some strange reason has kind of gone on the back burner and become out of vogue," Wimpney said.
Offer Firearm Safety Training to Disadvantaged Youth
One of the best ways to inoculate young people against a life of crime is to train them in the safe and responsible use of firearms. A 1994 study found proper firearms training removed the mystique surrounding guns and helps take away the allure of using them to obtain social status.
The Saskatoon Wildlife Federation (SWF) created a youth outreach summer camp to help young people from all walks of life learn to use firearms responsibly. Participants learn to fish for trout in the club's on-site fishing pond, as well as the basic skills of geo-caching, archery, firearm safety, air rifle and native arts. Reaching out to First Nations elders from the surrounding community is another key component to the camp's success and adds an important multi-generational aspect to it.
"We've been reaching out to the native communities," said Bob Freberg, SWF president. "We've been reaching out to the small outside towns that don't have facilities. We actually take our air rifles and gear into their community centres and set them up and try to get the kids engaged and get them hooked on shooting."
Volunteers and fundraising are key components to the success of their youth outreach program. Since most of the kids come from broken homes and single moms can't afford to pay, the club uses its many fundraising events to give them the opportunity they would not experience any other way.
"We use that money to help kids who are disadvantaged, that can't afford to come to a summer camp and we bring them into the program. It's been a huge success."
Educate College and University Students
The Pinecrest Pistol and Revolver Club sits at the end of a cul-de-sac in the heart of a residential neighbourhood in St. Catharines, Ontario. Instead of hiding and hoping no one notices they exist, Pinecrest hosts a New Shooter Night every Tuesday.
The gun club provides everything. Targets, firearms, ammunition, safety gear, shooting coaches and trainers. With Brock University and Niagara College close by, their emphasis is on introducing as many young people as possible to the shooting sports.
"We average about 50 people, mostly college and university students, every Tuesday night," said club president Robert McLean. "We take each person through a brief firearm safety course using CSSA-certified firearm trainers. We give them 50 rounds of .22 ammunition and a personal shooting coach and they move inside to the shooting line. Then the fun begins."
While McLean doesn't recommend a club begin hosting a weekly event like they do, a monthly new shooters night is simple and relatively easy event to start.
1. Encourage your members to participate. Get firm commitments in advance.
2. Charge $20 per person to come out and shoot. It's not about making money, it's about ensuring people take the training seriously and value what they receive from your club.
3. Use .22 calibre handguns ONLY for training new shooters. Start light, and when individuals gain more confidence and join the club, they can try larger calibres.
4. While you must rely on members to provide firearms for the shooting line in the beginning, purchase "Club" guns as soon as you can. The less you rely on your members to provide firearms, the better.
5. Credit the membership account of every member with $5 each time they volunteer.
6. Make it as easy as possible for new shooters to become members. Run PAL courses specifically for new shooters who want to become a member and get more involved.
Leadership and Volunteers – Your Club's Keys to Success
What separates effective gun clubs from the rest is their willingness to do two things well. First, find creative solutions to the problems they face. Second, find innovative ways to inspire and engage their membership. As this article shows, success leaves clues. When you emulate the actions of highly effective gun clubs, you will probably enjoy their same level success.
If you don't like the way your club does something, offer to help fix it. If you see something that needs to be done, just do it. Run for a position on your board of directors. Or you could follow Dan Fritter's lead and run for club president.
One thing is certain. If you don't get involved, nothing will change.
Comments
comments