Firearms Advisory Committee Vice-Chairs: Nathalie Provost & Lynda Kiejko
Following up on yesterday's proclamation of former Supreme Court justice John Major's appointment as the new Firearms Advisory Committee Chairman, this morning brings with it the much-anticipated naming of the committee's oft-rumoured female vice-chairs: Lynda Kiejko and Nathalie Provost.
Lynda Kiejko
Lynda Kiejko is a Canadian Olympic athlete who has competed in numerous international competitions, including the 2016 Rio Olympics, and who earned two gold medals in Toronto's 2015 Pan-Am games for her performance in 10m Air Pistol and 25m Pistol.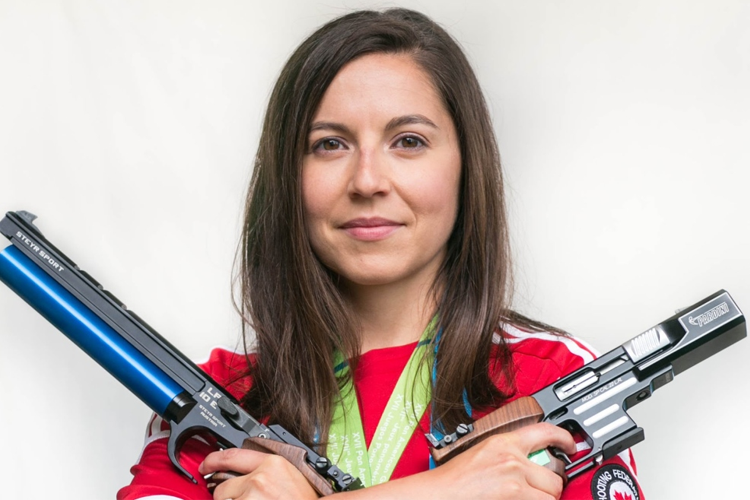 Coming from a competitive shooting family with a three-time Olympian father that competed in the shooting sports, Kiejko grew up with a pistol range in her basement, and is now joined by her sister; Olympic competitor (2012 in London) and fellow shooter Dorothy Ludwig. Both Ludwig and Kiejko follow in the footsteps of their father, Bill Hare, who was known jokingly in shooting circles as the Pistol-Packing Preacher. Although Bill Hare passed away from injuries sustained in a car crash in Calgary some 12 years ago, his legacy obviously lives on in both of his daughters, as well as those that knew him. Interviewed by the National Post in 2012, Fran Hare, Bill's wife mother of Ludwig and Kiejko remarked on her husband's love of shooting; "People used to ask him: 'Isn't shooting a terribly violent activity for somebody in the ministry?'" Fran Hare said. "And his response was: 'No, it's a very expensive way of making holes in paper."
Kiejko herself has, like many athletes at the upper echelons of the Olympic shooting sports, remained relatively quiet on the status of guns in Canada. Having been interviewed by TheGunBlog last year prior to her competition in the Rio Olympics, Kiejko had this to say about Canada's gun laws;
"I'm a law-abiding citizen. I lock everything up, I put everything away. I travel with it appropriately. I make sure I don't have my ammunition stored in the same place, you know the long laundry list of laws that we follow.
I follow them because I respect them. This is precious sporting equipment. It can unfortunately be used in the wrong ways, but usually the people who are using it in negative ways aren't the law-abiding citizens. Those aren't the people who are following the rules. If someone has the intent to do something dangerous, having a rule in place isn't really going to stop them."
Nathalie Provost
A spokesperson for the gun-control organization PolySeSouvient, and survivor of the mass murder at Polytechnique 28 years ago, Nathalie Provost has been an ardent supporter of Canada's gun control regime.
As an engineering student at Polytechnique, Provost was shot four times by the perpetrator of Canada's fifth worse mass murder, and has since championed gun control in various forms; most notably her outspoken stance on the since-departed long gun registry and Quebec's continued attempts to rekindle the same on a provincial scale. Speaking to the Public Safety and National Security Committee on the subject of Bill C-391, the first attempt by the Conservative government to scrap the long gun registry in 2010, Provost had this to say:
"As a society, we cannot disregard the instrument through which Marc Lépine expressed himself. That firearm has marked me forever. It is on this that I intend to focus today. I believe that Canada must be as vigilant as possible when it comes to controlling firearms—all firearms."
As a spokesperson with PolySeSouvient, Provost has continued her efforts, working with Heidi Rathjen at PolySeSouvient to lobby government to increase restrictions on firearms and their use.
However, a Tweet released earlier today by PolySeSouvient referencing Minister Goodale's appointment of Provost as vice-chair of the committee and saying simply "Vice-Chair Nathalie Provost of Montreal is a survivor of the Polytechnique shootings and a spokesperson for PolySeSouvient" may land the new appointee and the organization she publicly represents in legal hot water.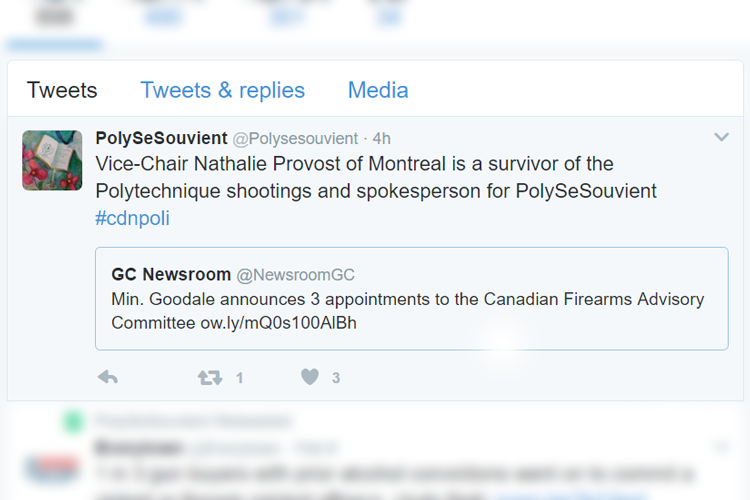 According to the terms laid out by the Ministry of Public Safety that reference the purpose of the committee, its composition, and the regulations its members must abide by; "Any member participating in this committee in his or her own personal capacity or as an authorized representative of a specific organization or corporation agrees for the duration of his or her term as a member of this committee not to:
Participate in any contractual process, competitive or otherwise, involving Public Safety Canada;
Apply for or accept receipt of any monies obtained through a Grant or Contribution Agreement involving Public Safety Canada; and
Engage in lobbying activities or work as a registered lobbyist on behalf of any entity making submissions or representations to the Government of Canada on issues relating to the mandate of this committee."
As the spokesperson for an organization lobbying government specifically on the subject of firearms regulation, in appointing Provost as not only a member of the committee but also it's vice-chair, it would appear that Provost's appointment contravenes the Ministry's own rules regarding conflict of interest.
How this will be addressed by the committee chair and former Supreme Court justice John Major will be among the first issues the committee will undoubtedly face, to say nothing of the effect this apparent conflict of interest may have on the committee's validity in the eyes of the Canadian public.
See also: The new chairman of the Firearms Advisory Committee, John Major.
Comments
comments