The ongoing weird fallout from the government's firearms program continues. Now, the federal government is trying to recruit gunsmiths to become certified for legally deactivating firearms.
On March 5, the Chief Firearms Office sent out a letter in every province, looking for more help with deactivations. Tracey Wilson of the Canadian Coalition for Firearms Rights says this letter went out in every province. Every business licensed to deal with restricted and prohibited firearms received this letter, whether or not they had a gunsmith on staff (for instance—gun ranges offering pistol rentals).
See the full text of the letter below: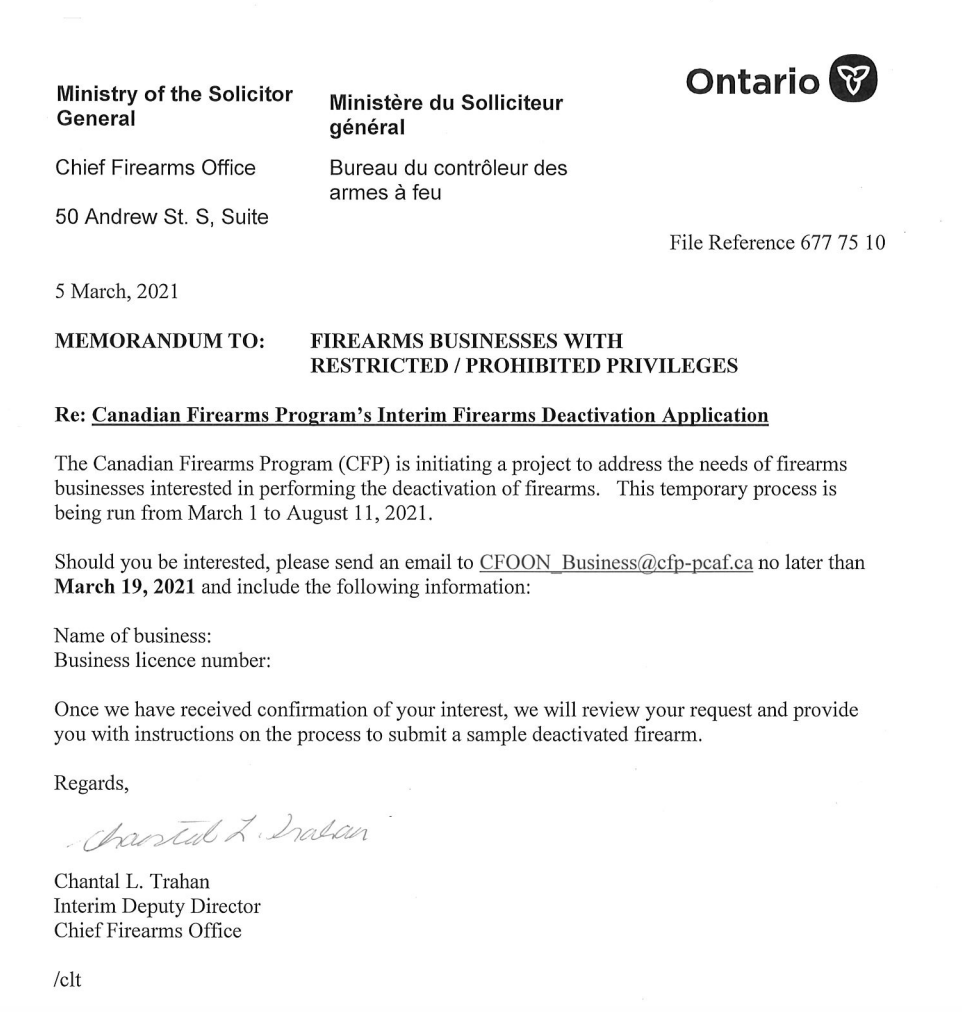 This isn't a new idea. The federal Canadian firearms program had looked to recruit gunsmiths for deactivation in previous years, but in very limited numbers. Now, it seems they're looking for more help, quickly. It sounds as if the testing requirements may be less stringent, as a result. Reportedly, government officials are requiring gunsmiths to submit two examples of their deactivation work. If these samples pass the feds' scrutiny, the gunsmith can get their deactivation certification.
Remember that deactivation might render a firearm unusable, but sometimes there are reasons for that move. You can see the Canadian Coalition for Firearms Rights' response below:
Other industry insiders have a similar viewpoint: Sometimes it's better to have firearms deactivated than totally destroyed. This is especially true when families wish to keep inheritance heirlooms, and don't have appropriate licensing. Museums may face similar problems, solved by deactivation.
Expressions of interest
Reportedly, 23 firearms businesses expressed interest in the offer. There's been considerable flap over this move this week, in the Canadian shooting community. Many saw this as a tactic to get gunsmiths to work with the federal government. The recruited gunsmiths could help destroy firearms banned by last spring's Order in Council, according to that theory. However, it seems that probably isn't the case here. Working the equipment required to completely destroy a firearm does not require a trained gunsmith.
Instead, some industry insiders suspect this is a divide-and-conquer technique, aimed at getting shooters angry at businesses who sign on. Other insiders believe the government simply expects many firearms owners will want their firearms legally deactivated, so they can keep them, instead of handing them over for confiscation. Currently, only about 70 businesses are legally registered to perform this service in Canada. That number could be overwhelmed if thousands of gun owners decide they want their AR-15 turned into a wallhanger.
But, there does seem to be some hidden plan behind the offer of deactivation. Currently, officials say the choice for owners affected by the OIC is either confiscation with compensation, or ownership with no use. Why deactivate, in either case? Is the federal government planning to require deactivation, if owners retain possession of their affected firearms?
The CSAAA perspective
With that question in mind, many Canadian shooters and insiders in the shooting industry are suspicious. Here's what the CSAAA posted to its website this week:
CSAAA Business Members,
You may have recently received a request from your provincial CFO office asking you to register to have your business license upgraded to allow you to perform restricted/prohibited deactivations (sample letter included below).
It is our belief at this time that this program is part of the Government's efforts to build out the OIC buy-back and/or OIC grandfathering programs. You should be aware that your enrollment/participation in the program could be used to show that firearms businesses are ready to participate in OIC Gun Ban. By enrolling in this program, you could be identified and promoted as a business where firearms owners can bring their now prohibited firearms for deactivation or in the future as a drop off location for those wishing to participate in the buy-back program.
The CSAAA has requested clarification on this project from the Government and are awaiting a response. While the CSAAA cannot direct you in your business operations, we thought it important to know that we were not consulted on this initiative, nor did we agree to or recommend this process.There are currently only 78 businesses licenced to deactivate restricted and prohibited firearms in Canada, many of them are CSAAA members. This presents a significant obstacle for the Government to the collection and deactivation of OIC prohibited firearms and we believe this is why they have launched this accelerated program to add restricted and prohibited deactivation to as many firearms businesses as possible.
Again, we are providing this information for your awareness, not to direct you in your business operations. We will share any additional information as it becomes available.
Basically, the CSAAA is advising its member businesses to approach the federal offer with skepticism.
Comments
comments