Let's be frank: The argument for the small truck is, or at least was, dwindling. With full size trucks being offered in more configurations than ever before, and benefiting from more powerful and more economical engines, small truck sales in North America waned. This of course meant the highly-profitable full-size truck market grew larger, which meant more competition between the brands, with more investment required in the full-size lineups to remain competitive. And in and amongst all this, the small truck died.
But Chevrolet hopes to change all that, with the first significantly revised small truck in recent memory; the second-generation Chevrolet Colorado. With attractive and thoroughly modern styling that mimics that of many of the Australian and European compact trucks, the Colorado's exterior finishing is easily matched by its pleasant and equally modern interior. Even in its most austere trim, the interior is well-laid out, easy to use and comfortable. That said, with fabric seats and a dearth of the luxury options we're used to seeing in modern trucks, our basic six-speed manual-transmission, four-cylinder-powered model felt decidedly "work trucky." Not that that was a bad thing, since the inclusion of a third pedal and a stick shift in a truck of any sort is something of a revelation, as far as we're concerned.
Few vehicles manage all environs as well as small pickup trucks typically do, and the Colorado is the best among them. On the highway, its longer wheelbase and softer suspension give it a supple and very smooth ride, while a sharp steering rack, small turning circle (12.6 metres to pull a u-turn!), and tall vantage point give it the nimble qualities of a much smaller vehicle in the city. Splitting our time in the Chevrolet Colorado between city and highway almost equally, we never found the truck to feel anything other than comfortable, in fact this is probably the most easy-driving truck we've ever driven.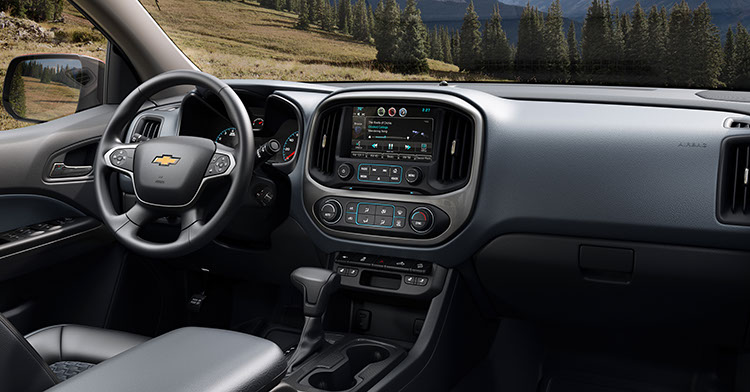 And yes, that is bordering on hyperbolic praise, but it's not untrue nor are we alone in this assessment. In fact, the new Colorado has been such a big hit that Chevrolet themselves have been relatively caught out by the demand, and are currently running the plant that produces these trucks at maximum capacity in an attempt to meet demand. Note, we said attempt, because in many markets around North America these things are still selling within moments of touching their dealership lots. And why not? If the Ranger and S-10 were buoyed to immortal popularity based on their user-friendly nature and thrifty powertrains, the Colorado is destined for the same future. Because in and amongst the models, from the basic four cylinder to the upper models with their 7700-pound towing capacity, there's probably a Chevrolet Colorado that can do 99% of what most truck owners need their truck to do… and manage all the rest of its tasks with more grace and better economy.
So what will it cost to get one? Well, like all modern trucks, that varies… greatly. In its most basic form, a six-speed, four-cylinder base model, with no options, will set you back just $21,695. By the time you spec the V6-powered, range-topping Z71 package with its leather interior, fancy wheels, luxury features and 4×4 off road package you're looking down the barrel of a $31,745 bill.
Comments
comments