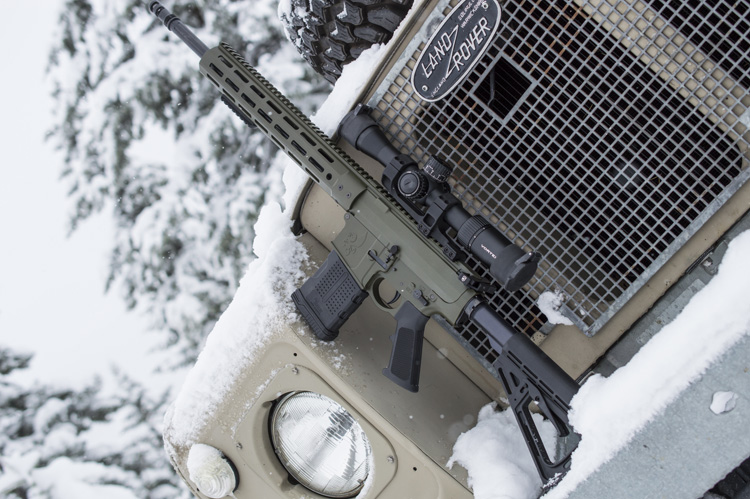 The Black Creek Laboratories BCL102 may be the most anticipated gun Calibre Magazine has ever covered.  Never have so many of our suppliers, so many of our contacts, and so many of our readers said the exact same thing in response to our announcement that we had one to test, and this is the comment that we have heard, over and over and over:
"This will either be the greatest victory in that company's history, or they're done for.  No middle ground."
We agree.  This is a gigantic moment for Black Creek Labs.  But to explain why will take a few moments, so bear with us until we get back to the rifle.  We promise you, it's worth the wait.
The Armist Formerly Known as NEA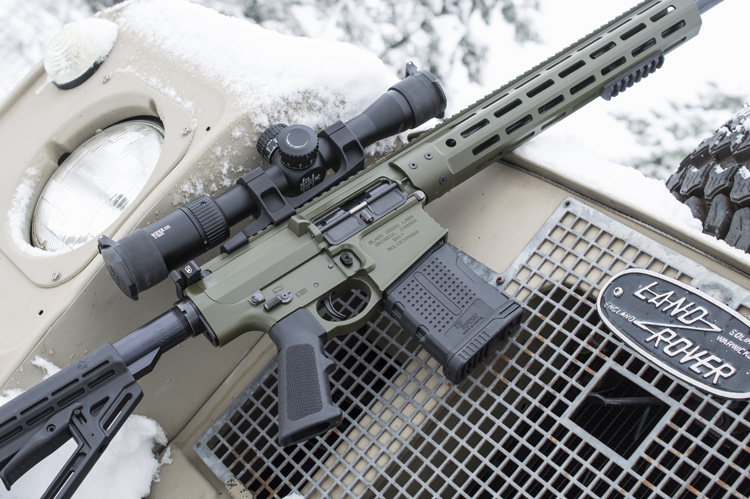 Black Creek Labs is a new entity, which bills itself as a "Global Defense Company."  But their small arms manufacturing wing, at least, was previously a well-known Canadian manufacturer of AR15s and accessories: Northeastern Arms, or NEA.  NEA has a complicated history in its own right: they began as a small manufacturer of popular accessories for the Vz.58 series of rifles, and expanded over several years into the AR15 market, ultimately launching their own AR15, which they called the NEA15.
The NEA15 was built in Canada, and priced below a thousand dollars, which at the time was a scorching bargain.  Only mass-produced Chinese guns came close in price, and NEA15s flew off the shelves and into the hands of Canadians.  But quality control problems abounded as NEA frantically sourced parts to meet the surging demand, and accusations of shilling and other questionable marketing manoeuvres gave NEA's reputation a serious beating.
Overseas, sales remained steady, and the fact that NEA's rifles were not controlled by the International Traffic in Arms Regulations, or ITAR, allowed the company to build on its somewhat shaky Canadian foundation and grow into a well defined, though at times still controversial, brand.
During this phase of growth, NEA quietly pursued a goal that many thought impossible: the development of a non-restricted AR10.  The concept hinged on what was for most a long-forgotten tidbit of gun lore: the fact that the AR10 was developed before the AR15.  This is important for one simple reason: the AR10 is restricted in Canadian law only because it is listed as a variant of the restricted-by-name AR15.  And, to be fair, the overwhelming majority of AR10s in production today are, in fact, scaled-up renditions of AR15s.
But the minds at NEA were restless.  What if, they wondered, someone were to start over?  What if the very first, theoretically non-restricted, AR10 design became the foundation of a whole new rifle?  Would it not be non-restricted?  And if a non-restricted semi-automatic rifle, retaining many of the features that make the AR series so popular, could be made…the achievement would be singular.  A modern hunting rifle, with all of the advantages of the modular AR system.  Finally, Canadians would have access to a rifle equivalent to the gun that utterly dominates the market just south of the border.  That is, if it could be done.  If the RCMP firearms lab agreed with the manufacturer's legal arguments.  If the rifle worked.
NEA, BCL, FRT, FTW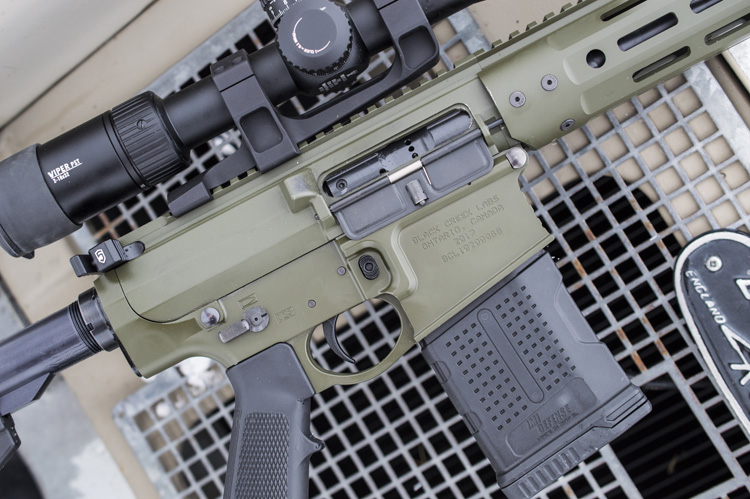 The news that a non-restricted entry for the NEA102 semi-automatic rifle in .308 Winchester had made it into the RCMP's Firearm Reference Table, the legal master list of the Canadian gun universe, exploded across the internet within hours of its publication.  Jeff Hussey, the mad genius behind Northeastern Arms, had been right.  He had persuaded the RCMP firearms lab that his research was correct, his timeline was accurate, and his design was independent of the restricted AR15.  The new rifle was a reality.  Almost immediately, NEA reorganized, and was purchased by Black Creek Laboratories, who immediately registered the BCL102 with the RCMP as a rebranded version of the original, non-restricted NEA102.  The classification is rock solid.  After years of work and countless setbacks, the legal war was over.  The rifles began production.  But would they work?
The BCL102: Heavy Hitter
By the time our test rifle arrived, the first generation of 102s had already made it into the hands of a few buyers who'd committed to a presale.  The second generation is currently being manufactured, with minor changes to the original design, although nothing that will affect its legal status.  We'd hoped to get a look at the second generation guns, but they likely won't be complete until well after this issue hits the stands.  Instead, BCL's distributor, SFRC (everyone involved in this industry is heavily acronym-dependent) sent us their olive drab-cerakoted sample gun, which came outfitted with a Vortex PST 2-10×32 optic mounted, a Phase5 ambidextrous charging handle, and which is otherwise functionally stock.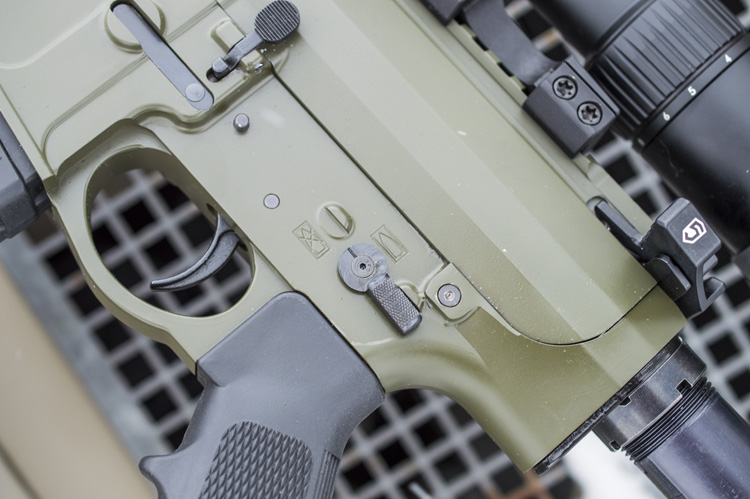 Out of the box, we had two immediate responses: it's beautiful, and it's heavy.  With the optic on there, it's a twelve pound rifle.  The lightest configuration you'd be able to shoot would be a nine pound gun.  It's no mountain rifle.  But boy, oh boy, it's beautiful.
The 102 comes equipped with a 14" rail cerakoted to match the gun.  The finish on upper and lower receivers as well as the rail is even and smooth and the aesthetics are a serious improvement on the early NEA rifles, while still retaining a few nods to their first builds such as the diagonal cuts on the front of the magazine well, which sports NEA's characteristic angular flare, and the NEA griffin logo (although rather than a simple line cut into the side of the magwell, the logo is now a positive relief in the same position.)
Somewhat surprisingly, the upper and lower receiver don't line up perfectly.  It's a meaningless aesthetic detail, but the projection on the left side of the magwell that allows for the retention bump on the magazine is slightly misaligned with the corresponding projection on the upper.  Given that the section on the upper has no use to begin with, it's an odd oversight, and one that led us to begin looking in detail at the upper receiver in general.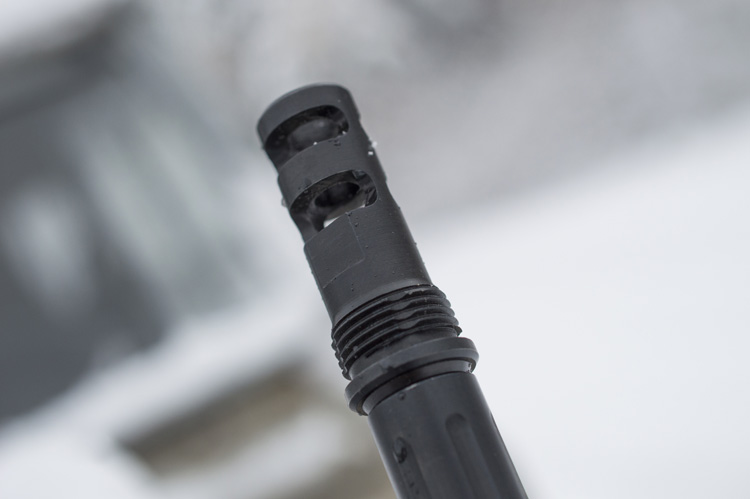 The surface texture is slightly different than the lower or the rail and as such, the cerakote has a more matte texture.  It's subtle, but it's there.  With the bolt carrier out and the charging handle removed, the rather cavernous forging displays smooth surfaces throughout, with wear areas that are even and appropriate for a gun that's seen a bit of use.  The feed ramps are cut from the barrel extension into the upper with no discernible lips to interfere with feeding; this is a traditional point of evaluation on AR15s and it's encouraging to see it done well.
The bolt carrier group is typical of the AR-10, although the entire platform suffers from competing standards: DPMS and Armalite.  Looking at the upper receiver, the rounded rear edge would ordinarily cause us to conclude the 102 is using DPMS specs, but the handguard thread is Armalite-type, so there's no guarantee aftermarket parts from one side of the aisle or the other will align properly.  As such, casually swapping bolts and carriers is definitely not recommended; the parts may work but improper matching of the two standards can result in dangerous headspace issues.  It's also worth pointing out that although similar, DPMS uppers will not safely pin to the BCL 102: the upper lug is too narrow, and while the pins align, there's excessive side-to-side play.  We strongly recommend sticking with bolt carrier groups sourced directly from the manufacturer in this case.
One downside to single-sourced parts, of course, is that the owner is at the mercy of the manufacturer to produce quality parts.  Our tester rifle is beginning to show signs of premature gas ring failure.  We'll get to the range trip shortly, but on the bench, the bolt now flops freely back and forth inside the carrier under its own weight.  That's a clear indication that the gas rings are no longer sealing well enough against the inner wall of the carrier, and it will definitely begin to cause ejection failures before too long.  To be fair, we don't know the exact round count of this rifle, although it's well over a thousand, but it clearly hasn't had enough use to wear out gas rings unless the rings are defective, or the internal surface of the carrier is too rough.  The bolt carrier feels relatively smooth inside, but the machining on the carrier seems a little rougher than the rest of the rifle, so it's possible there's a combination of factors involved.  New rings will solve this, and BCL warrantees these guns for life so they will sort you out if you get bad rings.  We've also checked with the distributor, and we're assured that the problem was discovered and corrected very early in production.  But to be let down by a part with manufacturing costs that have to be under a nickel, it's a little annoying.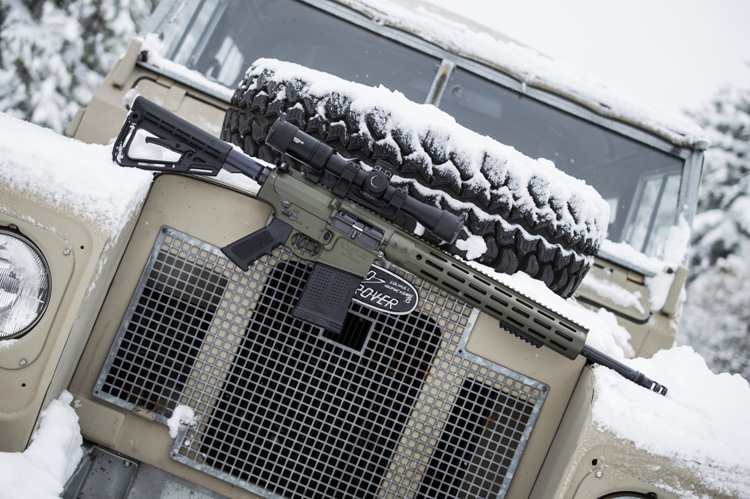 The lower receiver is very nicely finished.  Like the upper receiver, this first generation lower is machined from a forging; we're told subsequent generations will be billet aluminum.  Technically a forging ought to be stronger, although this can vary depending on the application, the alloy, and the heat treatment.  Billet manufacturing is a popular way to do runs of custom rifles, so it's not as though this should interfere with the product in any reasonable way.  But people who insist on forged upper and lower receivers might be a little disappointed.  The magazine well is nicely chamfered for smooth insertion, although the next generation has an even more generous flare, and the fence around the magazine release button is well executed.  The BCL102 plays well with magazines of almost every manufacture, from Magpul to IMI.  We're hearing reports of some trouble when using steel DPMS magazines, but these days, we hardly see anyone using anything but polymer mags, all of which work just fine.
This rendition of the lower has an integral trigger guard; early pictures of the next generation lowers show a more standard arrangement with a guard that is pinned in place.  The first generation rifles are supplied with a standard bolt catch, but generation two will have an ambidextrous bolt release.  The safety is already ambidextrous and the stock, a polymer six-position adjustable job branded with the familiar griffin logo, is lightweight and effective, although the butt is a little slippery and thin for this beast.  Still, there's no point in supplying it with something more expensive: like the classic A2 grip, most buyers even remotely familiar with the platform will probably replace the stock and grip before it even warms up after getting dropped off by the mail truck.  The factory stock rides on a buffer tube that fits a milspec AR15 stock perfectly, although it's about an inch longer than a typical carbine tube.  But aside from preventing a standard stock from collapsing fully, it's basically the same six-position tube used on adjustable-stocked AR15s.
The railed handguard is of the tube variety, with a full length picatinny rail at twelve o'clock and seven rows of slots cut to fit the popular M-Lok modular mounting system accessories.  The M-Lok cuts are set at 45 degree increments all the way around the barrel, so mounting options are plentiful.  At first glance, it appears to have integral quick-disconnect sockets for attaching a sling, but confusingly, although the diameter of these holes, cut just forward of the rail mounting screws at three and nine o'clock, is exactly right for a QD socket, they're just holes.  There's no way to put a QD swivel in them.  The rail wall is also extremely thick and is probably contributing a bit to the weight of the rifle, although we're told that plans for a lighter rail are in the works.  The second generation rail, however, won't be a significant weight savings.  We're hoping it has working QD sockets because that's exactly where we mount our sling.  If not, well, there's always the M-Lok modular mount, which typically installs in about the time it takes to say "KeyMod is dead".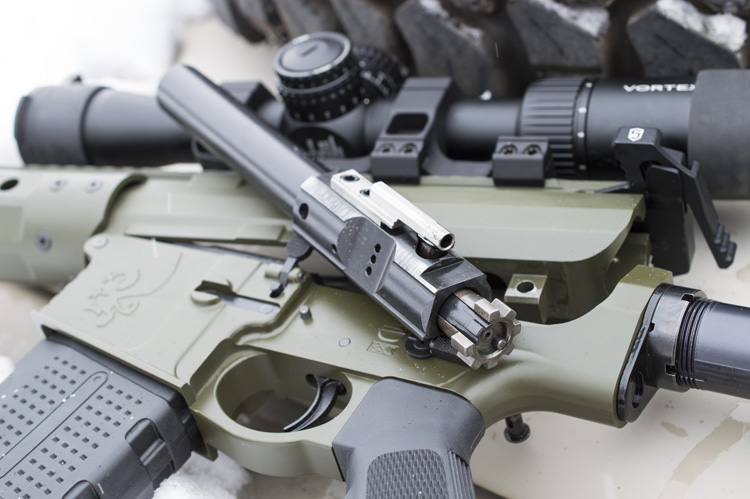 Of course, the weight of the rail is nothing compared to the weight of the barrel, and the BCL102 is sporting a pretty heavy barrel, at .800" in diameter forward of the gas block, at which it steps up to .875".  For comparison's sake, the GI M14 barrels were around .595" for most of their length, so a free-floated barrel at the size BCL has used should be extremely rigid.  It's lightly fluted, which both reduces the weight and increases the surface area for heat dissipation, so that's a bonus.  If the accuracy is good enough to warrant the heavy barrel profile, the 102 starts to move into legitimate sharpshooter territory.
The next round of barrels promises to get really interesting.  Not only will a 6.5mm Creedmoor be offered in mid-2018, but an entirely new barrel with a thin profile and carbon fibre tube is scheduled for release in late 2018.
The barrel nut is an interesting setup: it's a two-piece design which seems to allow for precise torquing during installation.  Interestingly, despite using Armalite-type thread on the upper receiver, the barrel extension is DPMS-type, which makes replacing the barrel easier if you get the urge.  But we're not thinking about replacing barrels at this point: the chamber is described by Black Creek as a "match" chamber and we've heard reports they're cut fairly tight, and between that and the accuracy we've seen on older NEA guns, we're moderately hopeful, so we'll take this one out to the range, and see how she does.
Hammertime: Shooting the BCL102
Right out of the box, we knew the BCL102 was going to check a lot of boxes for us.  It had the modularity, it had the looks, and it had that sweet, sweet non-restricted status that made it an almost guaranteed home run for Black Creek Labs.  The only way for things to go wrong would be if it didn't run.  It had to be reliable, and it had to be accurate.  Not custom bolt gun accurate, but it had to be a rifle.  We hit up Vancouver's Reliable Gun for ammo, and we went a little…crazy.
We bought hunting ammo.  We bought target ammo.  We bought surplus ammo.  We bought blasting ammo.  We bought meatgun ammo and we bought precision ammo.  We walked out with a bag of bullets worth half as much as the gun, and we went to town.
We started off shooting surplus.  The chamber having been described to us as tight, we had to know: will it shoot steel cased ammo?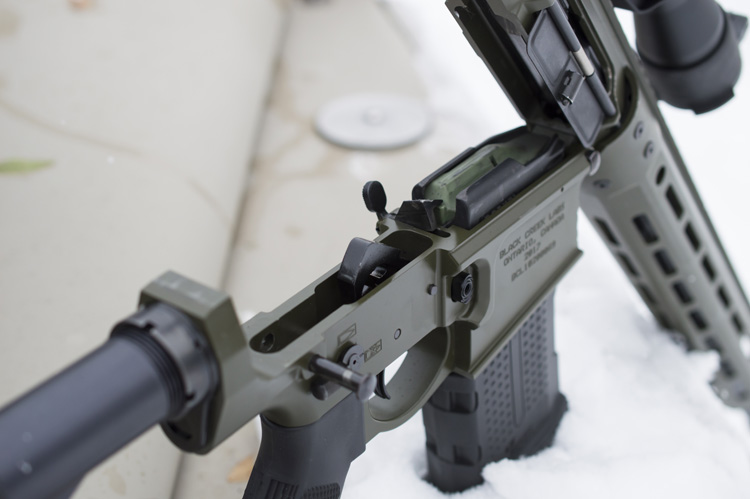 Yes it will.  We put old green box Norinco through it for a while, and even the prematurely aged gas rings didn't stop it from extracting and ejecting.  So we switched to Barnaul.  Its lacquered exterior gets stickier than Stalin's moustache after a May Day after hours party, and anything as freedom-loving as a non-restricted AR was bound to hate it.  But the Barnaul was fine.  We tried Hornady Steel Match.  It ran without issue.  Whatever match chamber rumours you've heard, they don't seem to be causing any issues with extraction.  None of our guaranteed-to-cause-problems steel case had any failures at all, on a gun with dying gas rings.  This gun runs as designed.
And so we began to shoot groups.  We didn't put on a reference optic intended for bench rest shooting; we didn't clamp the BCL into a hundred pound lead sled.  We just laid it in a Caldwell Stinger rest to eliminate as much of the shooter issues as we practically could, and shot it with the Vortex PST 2-10×32 that was on it.  We shot five rounds at a time, and made no specific effort to cool the gun off between strings of fire.  Every group was shot at 100 yards.  Any time we called a miss, we shot a whole new group.  Any "flyer" that wasn't called was included, and if it seemed egregious, we shot another group and compared results.  We therefore feel absolutely, positively confident that these groups could be replicated with no issue by anyone willing to spend a bit of time with the gun.
We settled in behind the rest, and loaded up a magazine of Remington Core-Lokt.  And then disaster struck.  The trigger would not reset.  We put the rifle on safe, which made a horrible clunk.  We removed the magazine.  We extracted a round.  Suddenly the trigger would reset again.  Something was not right.  We separated the upper and lower, and saw the problem immediately: the hammer was sitting cockeyed.  The hammer pin had snapped.
Friends, it gets no more frustrating than this.  Two hours of driving, hundreds of dollars in ammunition, a rifle and an optic that combine for three thousand dollars, and what is letting us down?  Parts with a total value of about a quarter.
Thankfully, we're prepared individuals.  And the BCL takes AR15 trigger components.  And to swap a hammer pin takes a skilled individual only seconds to replace.  At least, we assume.  It took us a few minutes.  But we were back on the bench.
The full results are tabulated for you, but here's the meat and potatoes of it: this rifle loves Federal Gold Medal Match, hates Nosler Accubonds of a similar weight, and it will happily shoot plain-jane hunting ammo into a two and a half inch group at a hundred yards with little effort.  With the crunchy, heavy factory trigger (which we would replace with something a little slicker anyway, even if this one hadn't broken a pin leaving us very suspect about the remaining small parts) we could easily shoot the Federal GMM into groups under an inch and a half.  Those are excellent real-world results.  The 168 grain GMM had a standard deviation of under half an inch, which is to say that you can realistically be confident that, at 100 yards, your rounds will land within a half an inch of your point of aim.  With a good trigger and tailored hand loads, this gun is going to be capable of extremely accurate fire.
The Verdict
This gun drove us insane because it came so close to sheer perfection, and was let down by two of the silliest small parts issues we've seen.  But for us here at the magazine, the end result doesn't change.  Would we buy one?  Absolutely.  In fact, we're buying two.  The gas ring issue has already been dealt with, and the accuracy potential with no modifications other than a better trigger is too good to ignore, so replacing the trigger group with something better doesn't bother us.  We're interested to see the new handguard, because a few improvements could definitely be had there, but in the end, this is a rifle that we feel every Canadian should own.  Even the first generation is good, verging on great, but the improvements found in BCL102: The Next Generation, namely the ambidextrous bolt release, the 6.5mm Creedmoor option, the possibility of carbon fibre barrels, and the high-speed magazine well ought to really bring out the best in the rifle.
And, of course, the pure joy of owning what is effectively a non-restricted AR10, designed and built in Canada by a company committed to turning the firearms registry on its head, is something no one should pass up.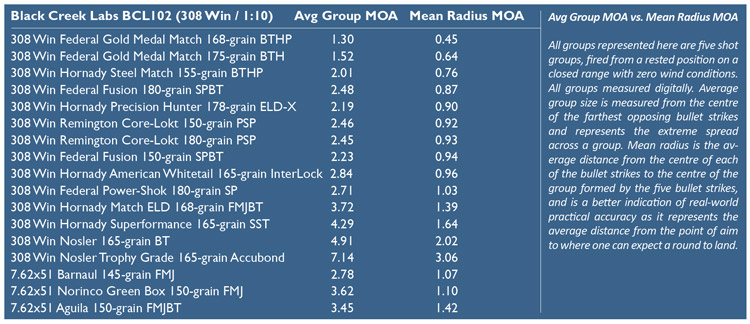 Comments
comments