First things first: we somehow didn't take pictures of the SR556 Takedown, because we got so focused on the disassembly/reassembly feature our cameras just hung there, forgotten.  So we stole the above picture right from Ruger's site, because a) we're jerks, and b) just look at it.
In an age in which everyone has standardized on the AR-15, this year's SHOT show seems mostly concerned with incremental improvements to a mature platform.  One of the more interesting variants is the Ruger SR556 Takedown.  This is a piston AR – we'll leave that debate for elsewhere – with a pushbutton release system for the barrel assembly.  The whole thing breaks down into assemblies about 18 inches long, and the process takes seconds.
Despite the takedown feature, the current version is more than a pound lighter than the original SR-556.  This was accomplished in part by going to a Keymod hand guard instead of the original picatinny quad rail, but nearly half the weight savings comes purely from more efficient machining.
Additionally, the pushbutton barrel release allows for the quick change of the upcoming .300BLK barrel.  It does necessitate the use of a specific (supplied) front sight, with windage and elevation adjustments, so that zero can be maintained with barrel swaps, but Ruger assures us that zero shift is negligible when the swap is made – they haven't seen a measurable shift at all.  The front sight stays on the barrel, so once it's zeroed, it's good to go, and changing calibres doesn't require a bunch of re-zeroing.  Slick.
So if you're like us and you have this need to transport guns to the range on motorcycles or tiny sports cars…the SR556 Takedown fills a niche we didn't even know we needed filling.  But now we do.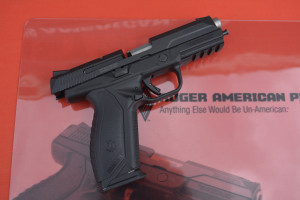 Much has been written about Ruger autos, and not all of it kind.  The SR9 and SR40 never quite managed to find a foothold (despite being almost freakishly comfortable guns to shoot) possibly as a result of recall issues, and the P-series were chunky guns that should have made it as duty weapons for law enforcement, but just didn't.  Now the Ruger American tries to shake off past missteps, and gets accused by bloggers of being uncomfortable to grip, and bloodying a knuckle if pushed.
Well, we could only put a few dozen rounds through the Americans that Ruger had on display, but honestly…it works fine.  The trigger reset is long enough to warrant a "flip and press" technique, like you'd use with a double action revolver, letting the trigger all the way out every time, but that's our only real nitpick.  The backstraps are interchangeable, the break on the trigger is pretty much what users have come to expect from a striker-fired polymer, and we didn't notice it beating up our hands.
One interesting note: the trigger reset is significantly more pronounced on the .45acp version than the 9mm.  We'd never tell you to choose your calibre on that basis, but it's a quirk.  The reset on the 9mm is long and indistinct, but the gun is workable and very easy to get hits with.  We're betting they sell truckloads of them.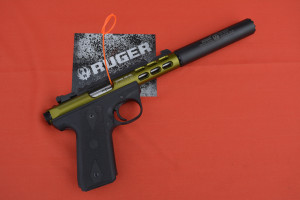 Finally, we're going to remind you of the first paragraph, the one in which we admitted to being jerks.  Above is the new 22/45 Lite, suppressed.  We're not going to go on a long explanation of how much fun this was, because that would just make you angry.  We're not going to explain how the grip mimics a 1911, and the whole thing weighs so little you can just effortlessly hang it out there, popping targets without a care in the world.
All we're going to do is to say if you've never given it any thought before, please consider two possibilities for a brighter future:
A .22lr out of a pistol is less dangerous than any non-restricted gun.  Period.
A hearing-safe target pistol with minimal recoil would be about the best gun to expose a child to shooting sports.
So one day, when the insanity ends and we adopt a suppressor policy that's more in line with other Nordic nations, please check out one of these babies.  They're a hoot.
Comments
comments