No other vehicle on earth has the same remarkable genesis as that of the Jeep. I have been a huge fan of Jeep for years. I've owned one for over 20 years and driven it in conditions most cars would simply breakdown in. Aside from having to search small universal joint uk once in a while, I've had zero problems with this masterpiece of a car. While companies like Ford can lay claim to historic innovations like the assembly line, and brands like Ferrari woo customers with romantic tales from days gone by of road-going automobiles sold to fund a Grand Prix racing effort, none can match the story of the Jeep: A vehicle created 75 years ago with the express purpose of fighting the Nazis.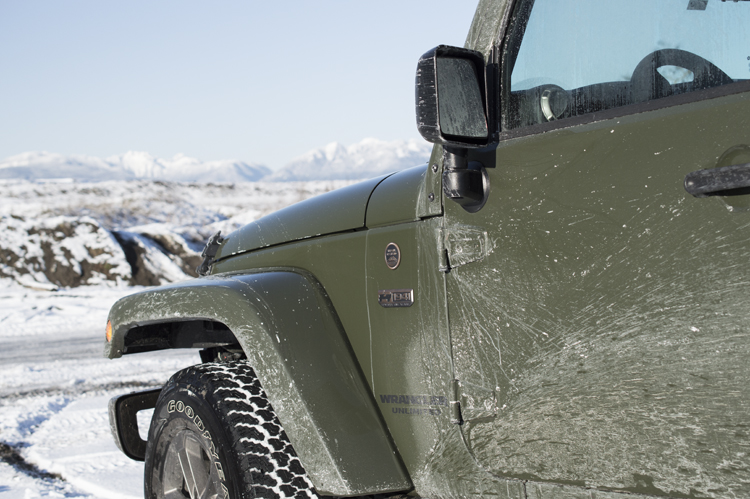 But Jeep hasn't spent much time crowing about those early, darker days, because in the 75 years since they've set about gaining a well-deserved reputation as America's most fun vehicle; the diminutive little 4×4 serving everyone from mail carriers to outdoorsmen to college students equally well. And with the announcement of the four-doored Wrangler Unlimited in 2007, the lovably simple, exceedingly capable Jeep entered the 21st century serving an entirely new subset of proud owners: Families. And so, for the next fifteen years, a vehicle once considered the plaything of the delightfully optimistic and unfettered became even more popular, and even more capable.
Which makes it all too fitting that, for the final year of what's been the most popular generation of Jeep ever created, Jeep should turn to their distant past to create the Wrangler 75th Anniversary Edition. Unfortunately though, the 75th Anniversary Edition seems to lean a bit more heavily on the recent past created by the Wrangler's newfound status as a family commuter than it does on the historic GPW and CJ models that gave birth to the brand.
What do we mean by that? Well, the 75th Anniversary Edition is mostly comprised of appearance package goodies, like the admittedly fetching Sarge Green paint (not obligatory on the 75th Anniversary Edition, but not available on any other models), and accessories borrowed from the Rubicon X such as the bronze-coated bumpers and handsomely sculpted hood. Additional exterior highlights also include bronze-coloured 17" wheels, bronze-tone tow hooks, and bronze-coloured badging. Inside, it comes with 75th anniversary-specific ombre-coloured seats with mesh inserts (heated up front), "Moroccan Sun" gauge trim, a Bluetooth Connectivity Group, and of course… a 75th Anniversary-badged grab handle on the passenger side.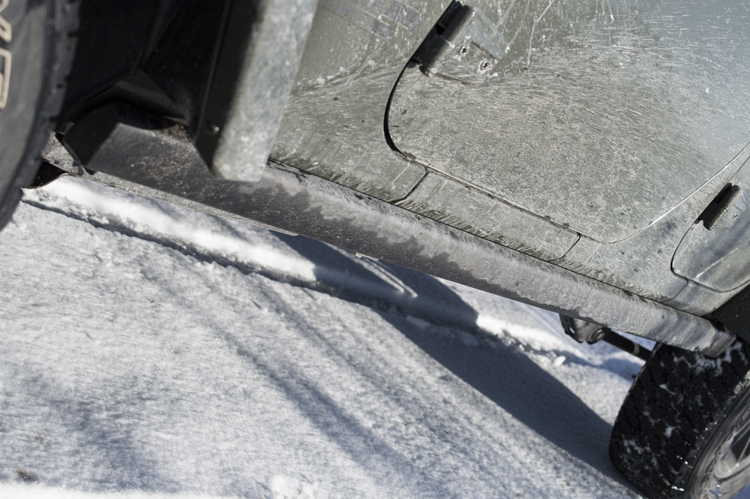 Of course, it's not all appearance package items; the 75th Anniversary model also comes equipped with rock sliders (also borrowed from the Rubicon) protecting the door sills, and a limited slip rear differential in addition to the standard complement of 4×4 goodies that accompany all Wranglers. These include the manually-shifted high- and low-range transfer case, and underbody skid plates protecting the vehicle's soft underbelly. Also, in the case of our test vehicle, the Trac-Lok limited slip had been replaced by perhaps our favourite item off the Jeep option list: An electronically activated Tru-Lok locking rear differential. With the simple press of a button, this allows both left and right axles protruding from the rear differential to be locked together; a vastly superior system compared to an open differential (where power is typically directed towards the wheel with the least grip) or even a limited slip differential that attempts to literally limit tire slippage… usually with varying levels of success.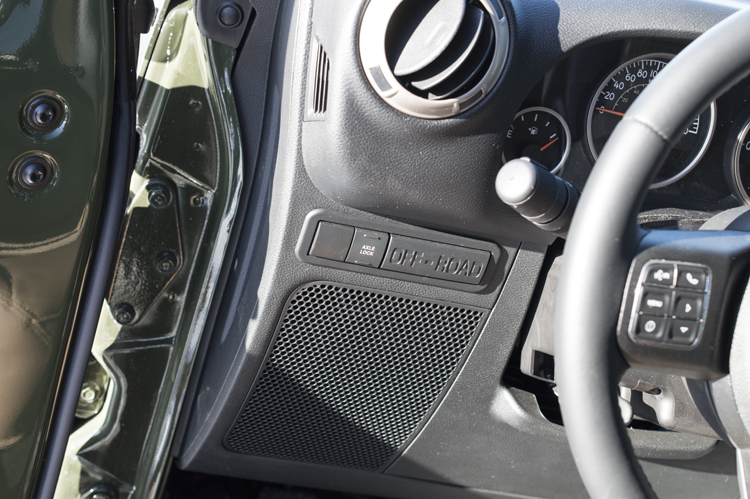 Driving the Wrangler 75th Anniversary
Now, we've been big fans of the Wrangler for some time now; in fact we've said it was the single greatest vehicle on the Canadian market in the past. It'll tow trailers well, has more off-road prowess than almost any other factory mass-produced vehicle, and still has a windshield that can fold down onto the hood. In many ways, the JK-series of Wranglers is an American answer to the Land Rover Defender that's so ubiquitous around the rest of the world, and as owners of a 1973 Land Rover it's easy to see why the Wrangler so well loved. It does all the things that's made the Land Rover brand famous, but it does them with more ease, and greater comfort.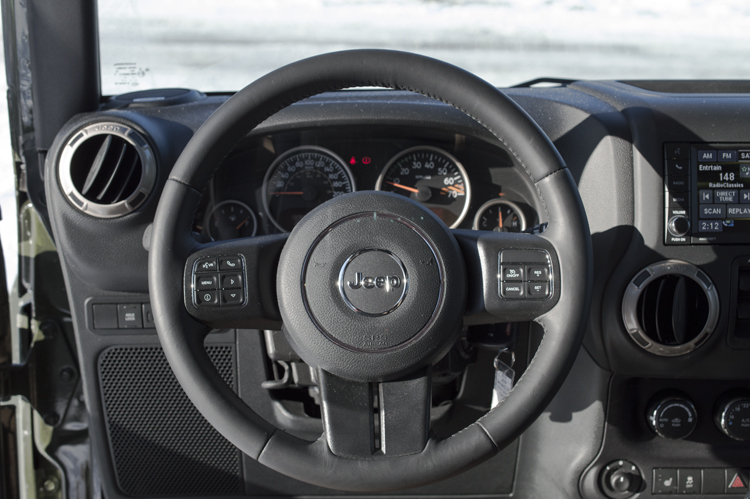 But, while the addition of four doors has made the Wrangler an acceptable mall cruiser for the average family with 2.5 kids and a dog, it's never been an exceptional on-road SUV. With an old-school ladder frame, solid front and rear axles, and squishy suspension built to handle rutted tracks with aplomb, the Wrangler's often been maligned for being something of a dinosaur on pavement: Tippy, slow to stop, and relatively asthmatic on the throttle. And while mid-life updates in 2010, 2011, and 2012 refined the Wrangler package there's no denying that the passage of time has left the 2016 Wrangler feeling its age. The 3.6L Pentastar engine transmits a lot of noise and vibration into the cabin. Small air leaks around things like the steering column mean the occasional cold draft on winter drives. The rear side windows are perennially fogged up. And the various noises and vibrations emanating from our tester's manual shifter and transfer case made us seriously wonder if the gearbox wasn't crushing rocks as we went down the highway.
It's not all bad though. In the case of the popular four-door, extended-wheelbase Unlimited model, the Jeep handles rough roads, bumps, and potholes extremely (and unsurprisingly) well. Cruising around Vancouver's potholed streets, the combination of the Jeep's robust and accommodating suspension and tall tire sidewalls made for a confidence-inspiring ride. Likewise, we've always found the truck's smaller footprint to be a welcome feature in urban confines, even if does make for a bit tippier ride on the highway. And for a not insubstantial car, the turning circle is excellent, making it overall quite wieldy.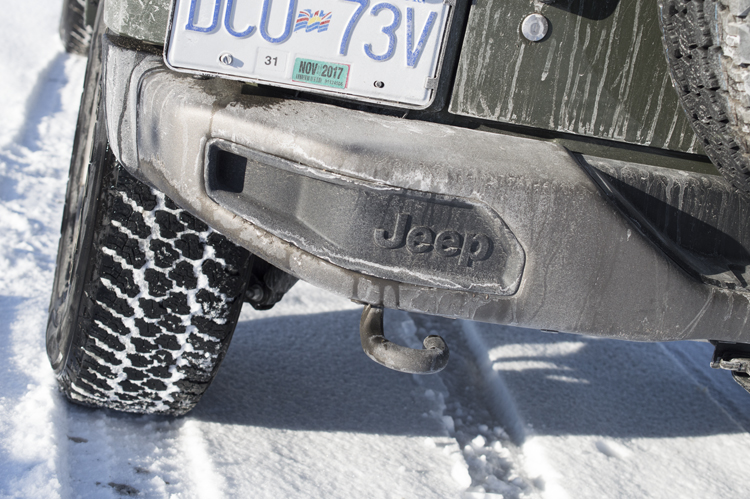 Likewise, a lot of the design traits that make it so good off-road also make it quite comfortable on-road. The best example of this is the overall upright nature of the thing. Instead of slouching down in the seat, the passengers sit upright, with a good commanding view in almost all directions. In the case of the driver and passenger, this also means the Jeep's various controls are all close at hand, since you sit in close proximity to probably the most vertical dashboard and control stack on the market. If you're driving a manual example, your right hand will literally be mere inches away from everything from the HVAC controls to the infotainment system, and due to the Jeep's simple control layout and large buttons it's entirely possible to manipulate any of the controls without ever looking away from the road or moving your hand far from the shifter.
And of course, being an SUV, it's pretty practical too. We've always been big fans of the Jeep tailgate, which uses a side-swinging lower tailgate and an upward-hinging glass portion, as it makes it very easy to load cargo over the rear bumper and into the rear cargo area. Likewise, if you need additional cargo space, simply fold the rear seats; they flop down and form a nice flat load floor from the back bumper all the way to the front seats. And passenger comfort is pretty good too, if you find yourself transporting more people than things. The front seats give a good amount of space (although the footwells are somewhat narrow), and the back seat gives spacious seating for two… we wouldn't put three adults back there unless we had to, though.
Off Road
One of the big benefits to the Jeep is, of course, that it needn't stop when the pavement does. With a manually engaged transfer case splitting the power mechanically fore and aft, and plenty of ground clearance all Wranglers are quite good off-road, and with a locking differential our tester was even better.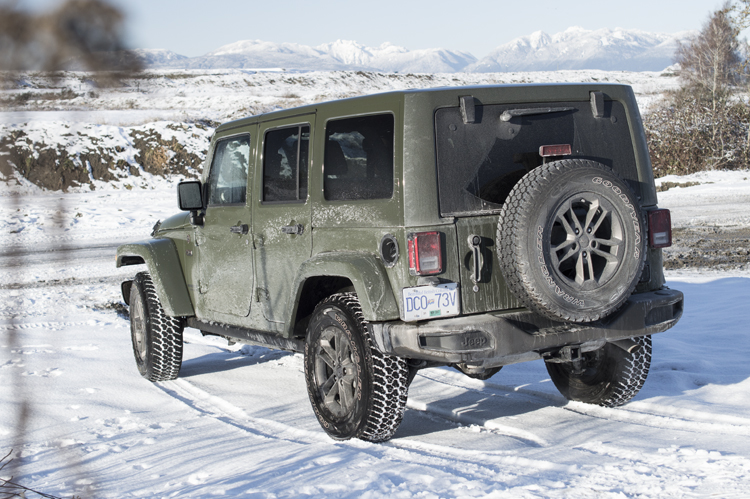 Unfortunately though, our attempts at off-road testing were thwarted by some heavy snow fall in the BC mountains, so we never really got a chance to test the truck's approach and departure angles nor suspension capability; snow having a certain smoothing effect on the average trail. However, we did direct it up some forestry roads and in doing so got the opportunity to put the Wrangler into 4-low and lock the differential. So engaged, the Wrangler proved surprisingly capable even in deep snow; keeping up with and even doing better than lifted and snow-chain equipped trucks with far larger tires. All credit for that performance is owed to the combination of the Jeep's relatively low weight (just over 4,000 pounds; roughly 600 pounds lighter even than a Toyota 4Runner) and that locking differential. Climbing snow-covered hills, with most of the weight falling on the back axle, the ability to have both rear tires mechanically locked together ensured both rear tires turned smoothly over the snow as opposed to doing the spin-stop-spin cycle typically seen on vehicles with traction control and limited slip or open differentials. As with all off-road situations, it's always easier to maintain momentum with slow but consistent traction than to overcome a lack of traction with high speed wheel spin, and that's exactly what a locking differential helps with.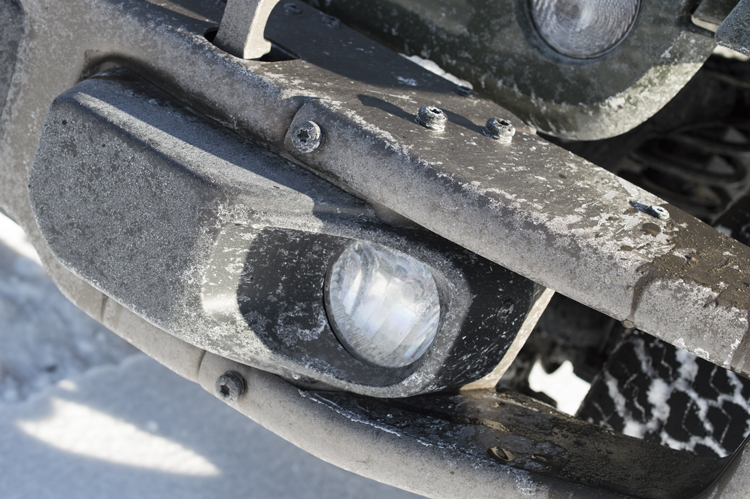 It's worth noting as well that although we never had the chance (or bad luck) to use any of the other off-road accoutrements, the Wrangler has quite a few. For example, tow hooks poking out of the bumpers front and back keep your recovery points easy to access, and the Rubicon X-sourced front bumper isn't just there for looks; it's a durable metal component that can actually be disassembled and narrowed with nothing more than a screwdriver. Removing a set of Torx-headed bolts left and right allows the removal of the left and right wings, opening up the front tires completely, a real plus to off-roaders who may need that clearance to gain purchase on a rock face or hill side.
Conclusion
Throughout our test period with the Wrangler Unlimited 75th Anniversary Edition, we couldn't help but think of the elephant in the room: This is the last hurrah for the JK platform. And while we appreciate the unique look of this truck designed to commemorate a pretty big anniversary for Jeep, we also found ourselves somewhat nonplussed with it… it simply seems fitting to us that a vehicle designed to win a world war should be commemorated with practical upgrades moreso than appearance packages. But, that simplistic assessment is probably why we're working for a gun magazine, not an automotive manufacturer.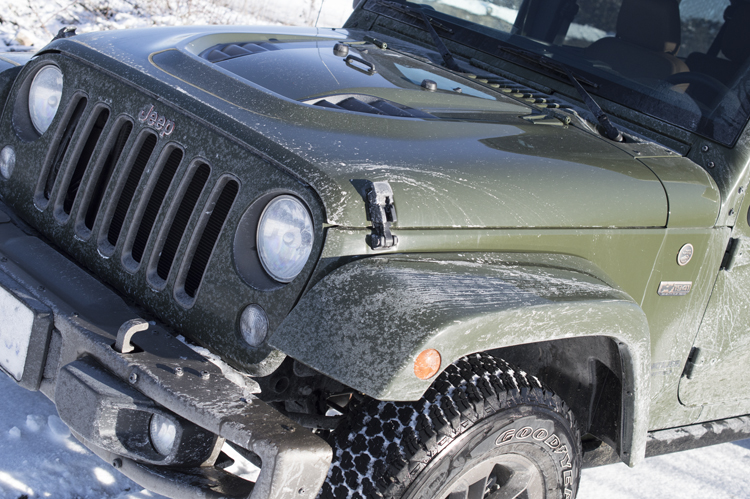 What it did do was pique our curiosity for what the 2017 model year holds for the Wrangler. Actually truth be told it simply reminded us about why we've been interested in the 2017 Wrangler for about four years. See, that was roughly when we learned that Jeep was going to take the wraps off their next Jeep Wrangler platform and that, for the first time in recent memory, the Wrangler platform would be used to underpin a pickup truck variant, if you're interested in trying to get a 75th anniversary edition Wrangler, you might want to look at different auto dealerships as well as automobile shipping services so you can have yours delivered if possible! And as longtime fans of the Land Rover Defender double-cab pickup truck, we've had high hopes that a Jeep Wrangler double-cab pickup truck might be precisely the vehicle we've been looking for; pairing off-road capability with pickup truck practicality, much like a comfortable Ford F-150 that the nation has grown to love.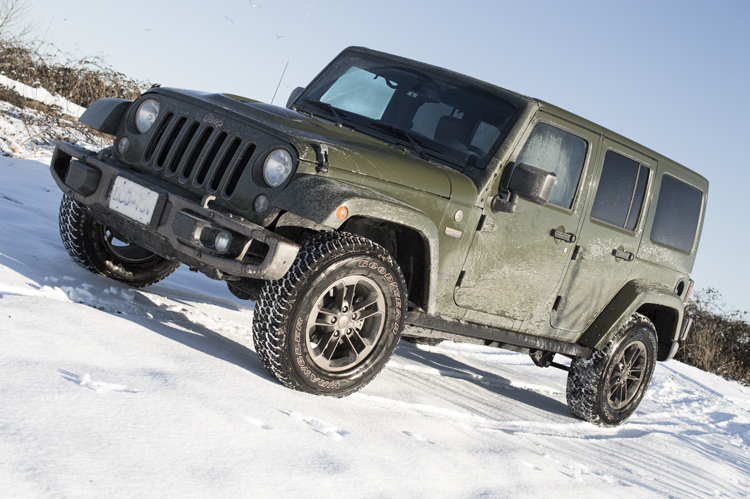 In the meantime though, the very fact that the 2016 Wrangler can make us excited about the upcoming Jeep pickup truck is a testament to the viability of both the JK's 9 year-old platform and to a greater degree, Jeep's 75 year-old ethos. We'll always love a truck that puts a greater emphasis on simplicity and capability over novelties like adjustable ambient lighting and massaging seats. We'll always love a truck that does that because trucks that are simple and capable are good at doing what trucks should do well: Actual stuff. They shouldn't make you feel good about merely owning them. They should make you feel good about what you can do when you own them. And Jeep Wranglers have always been great at that. A Honda Civic in a driveway looks like a Monday morning commute waiting to happen. A Jeep Wrangler in the driveway inspires you to adventure. And we like that.
Comments
comments